From Uplift: "As a sustainability philosopher and social engineer, I spend much of my time contemplating the root of our unsustainable culture and civilisation. I believe that war, ecocide, and extreme inequality all result from the felt experience of separation from the Universe and everything else in it . . .
If you feel separate from a purposeless, objective, and deterministic Universe, then you are likely to experience life from a perspective of fear. You probably [feel] that nothing else in the Universe cares whether you exist or not and it is up to you alone to ensure your own survival. Everything else in the Universe is also doing their best to ensure their own survival and what results is a world where survival belongs to the fittest. This is the default worldview of modern society that is reinforced by our government, culture, media, school, medicine, sports, religion, and every other major institution of our time.
Stemming from this fear and the [feeling of] a separate self is the desire to protect ourselves by controlling the external, perceived-to-be-hostile world . . .
When we feel separate from the world, we try to compensate for our lost sense of belonging by owning it. The more of it we own, the more of it we bring under our control, and the more secure we [think we will] feel.
We are addicted to control
We control and dominate our fellow animals – our brothers and sisters – mostly to meet human desires. We destroy our forests – the lungs of our planet – to make room for our controlled animals to graze. We attempt to control human behavior through a system of laws backed by punishment, even prohibiting under threat of imprisonment what people can put inside their own bodies. It is hoped that by controlling human genes, we will finally have the tools to eradicate disease, to engineer pest and drought resistant monocultures, and possibly even to design the physical and emotional features of your future children . . . All of these attempts to control the world we call 'progress.' Left unsaid is the subject of this particular 'progress,' which is our quest to control the Universe.
Individually, we also desire to control our immediate surroundings and circumstances to the extent possible. We want to control how other people perceive us. We want to control our children's behavior. We want to control our homes and the activities that take place there so we make 'house rules' that others must follow. We have a desire to control our appearance to look a certain way. On both the personal and collective levels, control is the tool of the separate self to shape the world in a way that will be perceived to be safer and more secure.
Control creates boredom
. . . Part of the problem with the world we've created is that we don't even want to arrive where our 'progress' is taking us. The unfortunate but practical fact for control-seekers is that the attempts to control both others and ourselves actually lead to a kind of slavery, only in this version we become both the slave and the slave master at the same time . . .
Our insatiable appetite for control is the action that is causing the major sustainability crises of our time. We are attempting to control nature, both external and internal, to satiate our fear that comes from feeling separate . . . and through these attempts at control, we are increasingly limiting the freedom of the world, whether it is the right of the forest to exist in a particular place or it is the freedom of people to roam about their planetary home."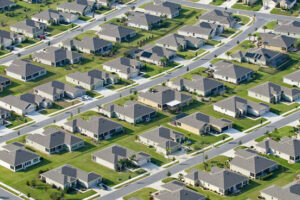 ***
Back to Around the Web