From The New Yorker: "This year, I spoke about hospice with more than a hundred and fifty patients, families, hospice employees, regulators, attorneys, fraud investigators, and end-of-life researchers, and all of them praised its vital mission. But many were concerned about how easy money and a lack of regulation had given rise to an industry rife with exploitation. In the decades since [Dame Cicely] Saunders and her followers spread her radical concept across the country, hospice has evolved from a constellation of charities, mostly reliant on volunteers, into a twenty-two-billion-dollar juggernaut funded almost entirely by taxpayers.
For-profit providers made up thirty per cent of the field at the start of this century. Today, they represent more than seventy per cent, and between 2011 and 2019, research shows, the number of hospices owned by private-equity firms tripled. The aggregate Medicare margins of for-profit providers are three times that of their nonprofit counterparts. Under the daily-payment structure, a small hospice that bills for just twenty patients at the basic rate can take in more than a million dollars a year. A large hospice billing for thousands of patients can take in hundreds of millions. Those federal payments are distributed in what is essentially an honor system. Although the government occasionally requests more information from billers, it generally trusts that providers will submit accurate claims for payment—a model that critics deride as 'pay and chase.'
. . . Some hospice firms bribe physicians to bring them new patients by offering all-expenses-paid trips to Las Vegas night clubs, complete with bottle service and private security details. (The former mayor of Rio Bravo, Texas, who was also a doctor, received outright kickbacks.) Other audacious for-profit players enlist family and friends to act as make-believe clients, lure addicts with the promise of free painkillers, dupe people into the program by claiming that it's free home health care, or steal personal information to enroll 'phantom patients.' A twenty-nine-year-old pregnant woman learned that she'd been enrolled in Revelation Hospice, in the Mississippi Delta (which at one time discharged ninety-three per cent of its patients alive), only when she visited her doctor for a blood test. In Frisco, Texas, according to the F.B.I., a hospice owner tried to evade the Medicare-repayment problem by instructing staff to overdose patients who were staying on the service too long. He texted a nurse about one patient, 'He better not make it tomorrow. Or I will blame u.' The owner was sentenced to more than thirteen years in prison for fraud, in a plea deal that made no allegations about patient deaths.
A medical background is not required to enter the business. I've come across hospices owned by accountants; vacation-rental superhosts; a criminal-defense attorney who represented a hospice employee convicted of fraud and was later investigated for hospice fraud himself; and a man convicted of drug distribution who went on to fraudulently bill Medicare more than five million dollars for an end-of-life-care business that involved handling large quantities of narcotics.
Once a hospice is up and running, oversight is scarce. Regulations require surveyors to inspect hospice operations once every three years, even though complaints about quality of care are widespread. A government review of inspection reports from 2012 to 2016 found that the majority of all hospices had serious deficiencies, such as failures to train staff, manage pain, and treat bedsores. Still, regulators rarely punish bad actors. Between 2014 and 2017, according to the Government Accountability Office, only nineteen of the more than four thousand U.S. hospices were cut off from Medicare funding."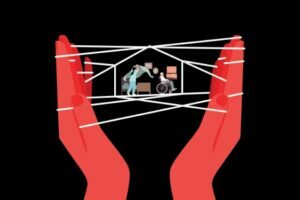 ***
Back to Around the Web