From Common Dreams: "While the mayor framed the plan to forcibly remove people with severe 'mental illness' from streets and subways as a compassionate policy for those 'in urgent need of treatment,' motivated by a 'moral obligation' to act, critics called the former New York City Police Department captain's plan ineffective and harmful.
. . . 'New Yorkers will see this plan for what it is: a draconian attempt to say the Adams' administration is tackling a problem, while only making it worse,' said Jawanza Williams, director of organizing at VOCAL-NY. 'Mayor Adams is using progressive language around care and compassion to distract from his continued budget cuts to services and agency staff, while fueling the NYPD budget.'
. . . 'If the Adams administration actually cared about helping people experiencing mental health crises, Daniel's Law would be at the top of his legislative agenda, and he would halt his austerity budget measures immediately. Anything less, will only do more harm.'
The proposed state law—named for Daniel Prude, a 41-year-old Black man who died in 2020 after being restrained by Rochester, New York police while experiencing a mental health crisis—would create trained response units to deescalate such emergencies instead of armed officers.
. . . NYCLU executive director Donna Lieberman noted that Adams' new plan may also violate state and federal restrictions on detaining people with 'mental illness.' She declared that 'the mayor is playing fast and loose with the legal rights of New Yorkers and is not dedicating the resources necessary to address the mental health crises that affect our communities.'
'Forcing people into "treatment" is a failed strategy for connecting people to long-term treatment and care,' Lieberman stressed. 'The decades-old practice of sweeping deep-seated problems out of public view may play well for the politicians, but the problems will persist—for vulnerable people in desperate need of government services and for [other] New Yorkers.'
Adams' effort to 'police away homelessness and sweep individuals out of sight' is a page from the failed playbook of former Mayor Rudy Giuliani, she added. 'With no real plan for housing, services, or supports, the administration is choosing handcuffs and coercion.'"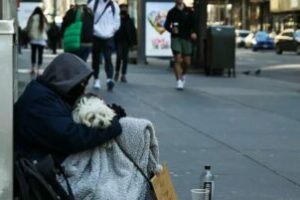 ***
Back to Around the Web