From The New York Times: "The Food and Drug Administration's process for approving the Alzheimer's drug Aduhelm, despite great uncertainty about whether it worked, was 'rife with irregularities,' according to a congressional investigation released on Thursday. The agency's actions 'raise serious concerns about FDA's lapses in protocol,' the report concluded.
The 18-month investigation, initiated by two congressional committees after the FDA approved the drug, also strongly criticized Biogen, Aduhelm's manufacturer. Internal documents showed the company set 'an unjustifiably high price' of $56,000 a year for Aduhelm because it wanted a history-making 'blockbuster' to 'establish Aduhelm as one of the top pharmaceutical launches of all time,' even though it knew the high price would burden Medicare and patients, the report found.
The investigation said Biogen was prepared to spend up to several billion dollars — more than two-and-a-half times what it spent developing the drug — on aggressive marketing to counter expected 'pushback' over whether Aduhelm was worth its price. The report said the campaign planned to target doctors, patients, advocacy groups, insurers, policymakers and communities of color . . .
The FDA is now evaluating two other Alzheimer's drugs for possible approval early next year, including one that Biogen helped develop."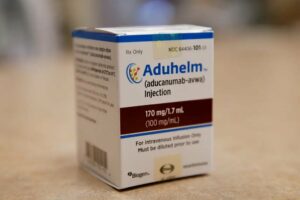 ***
Back to Around the Web