From NPR: "Judy Heumann was the first person I called when, in 1987, I reported my first story on disability rights. Judy, who contracted polio when she was 18 months old, gave me the quote that perfectly summed up that little-known civil rights movement.
'Disability only becomes a tragedy when society fails to provide the things we need to lead our lives — job opportunities or barrier-free buildings, for example,' she said. 'It is not a tragedy to me that I'm living in a wheelchair.'
That idea seemed so unexpected and strange that my editors at a newsmagazine decided not to publish my story.
It was still a radical claim that disabled people didn't see themselves, or their conditions, as something to be pitied. Or that they insisted what most held them back wasn't their health condition but society's exclusion — maybe attitudes that they were less capable to do a job, go to college or find romance; or a physical barrier, like a sidewalk without a curb cut.
That reimagining of what it means to be disabled did gain traction over the years — the passage of the Americans with Disabilities Act just three years later in 1990 was a milestone — thanks to leaders like Heumann, who died suddenly on Saturday at age 75 at a hospital in Washington, D.C. She'd been hospitalized the previous weekend with breathing problems.
Heumann was a major American civil rights hero who remained little known until a flurry of attention in the last three years of her life. It started with the publication of her autobiography, Being Heumann: An Unrepentant Memoir of a Disability Rights Activist, co-authored with Kristen Joiner and released in February 2020, in the weeks just before the pandemic.
The celebration of Heumann took off shortly after with the release of the documentary Crip Camp: A Disability Revolution. Filmmakers James LeBrecht and Nicole Newnham found forgotten film of a summer camp in upstate New York for children with disabilities and used it to smartly explore issues of identity. The young people using wheelchairs and with various disabilities long to be included in a world that rejected them, but also find commonality and pride at a place that's exclusively for them. Heumann, who had attended Camp Jened from the time she was 8 and was a counselor at the time of the original film footage, quickly emerges as the documentary's star — a smart and self-confident organizer.
When the ADA marked its 30th birthday, in July of 2020, I and a lot of other journalists dialed up Judy. For NPR, I got Judy to share wisdom with a young activist, Imani Barbarin, who'd been born just four months before the ADA became law. Judy, who was working to spread knowledge of disability civil rights to the moment she died, noted the importance of the new directions of young activists like Barbarin who don't see the ADA as a capstone of rights, but as just a floor for achieving equality."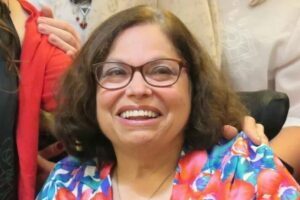 ***
Back to Around the Web