From AP: "Video from a state mental hospital shows a Black Virginia man who was handcuffed and shackled being pinned to the ground by seven deputies who are now facing second-degree murder charges in his death, according to relatives of the man and their attorneys who viewed the footage Thursday. Three people employed by the hospital have also been charged.
Speaking at a news conference shortly after watching the video with a local prosecutor, the family and attorneys condemned the brutal treatment they said Irvo Otieno, 28, was subjected to, first at a local jail and then at the state hospital where authorities say he died March 6 during the admission process.
They called on the U.S. Department of Justice to intervene in the case, saying Otieno's constitutional rights were clearly violated.
'What I saw today was heartbreaking, America. It was disturbing. It was traumatic. My son was tortured,' said Otieno's mother, Caroline Ouko.
Otieno's case marks the latest example of a Black man's in-custody death that has law enforcement under scrutiny. It follows the the fatal beating of Tyre Nichols in Memphis, Tennessee, earlier this year and comes nearly three years after the killing of George Floyd in police custody in Minneapolis.
Ben Crump, who represented Floyd's family and is now working with Otieno's, quickly drew a comparison.
'It is truly shocking that nearly three years after the brutal killing of George Floyd by police, another family is grieving a loved one who allegedly died in nearly the exact same manner — being pinned down by police for 12 agonizing minutes,' Crump said in a statement.
Mark Krudys, another attorney for Otieno's family, said at the news conference that the video showed all seven of the deputies now facing charges pushing down on Otieno, who was in handcuffs and leg irons.
'You can see that they're putting their back into it. Every part of his body is being pushed down with absolute brutality,' he said."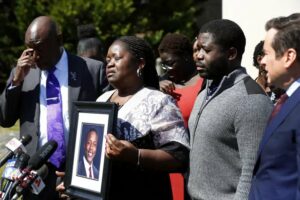 ***
Back to Around the Web