From The Walrus: "Most psychiatrists used to be extensively trained in talk therapy and other techniques. However, after the discovery of 'neuroleptic' drugs with anesthetizing effects in the 1950s (later marketed as 'tranquilizers' and then 'antipsychotics'), political pushes by psychiatric guilds alongside new legislation and policy changes reinforced a trend of hospitals hiring primarily biomedical psychiatrists. By the 1990s, psychoanalysts, psychologists, psychotherapists, and other non-medical mental health specialists had much diminished roles or no presence at all in most psychiatric hospitals. Yet [Tracy] Myers was the first to tell me what I'd soon learn abundant evidence shows—that altered states with spiritual tones like [Gerald] McVeigh's and traumatized states like Myers's are common among psychiatric patients, and many would prefer to explore their feelings in hopes of understanding their meaning and finding healing. They often don't want invasive biomedical treatments like tranquilizers and electroshock therapy and don't respond well to them. Such people get 'coerced, pressured, forced,' said Myers. 'Their lives can become unmitigated terror.'
Myers later attended a public reading by Vancouver author Irit Shimrat, who recounted her own experiences with unusual states of consciousness and forced treatment. Myers described it as 'revolutionary' for her to see a talented, intelligent woman speaking 'without shame' about madness. 'I remember just weeping listening to her. I had never talked with anybody about the kind of thoughts I'd had. The most painful thing for me was the isolation and loneliness.' Myers met McVeigh at the event, and they launched a group for people to share their experiences of unusual states and forced treatment.
Myers went on to work at a nonprofit as a counsellor for children who'd been exposed to violence, and she then went into private practice. She did not take psychotropics and was never again psychiatrically hospitalized. When we talked in 2021, I asked if she still felt the same way about involuntary treatment.
'People are suffering,' she said. 'The idea that sticking them in a cell and giving them drugs is a solution for this is insanity.'"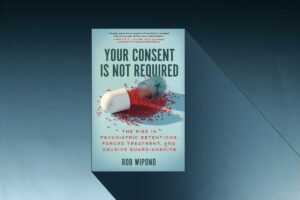 ***
Back to Around the Web