In recent years, females have greatly surpassed males in academic performance in high school and college1. This, along with their seemingly superior social and verbal skills, should have narrowed the gender pay gap of late. Yet it's stayed basically the same for the past 20 years. Women only earn 82% as much as men2, and are still vastly underrepresented in executive roles3.
Two obvious contributors to this are 1: Men in executive positions may be biased against women and thus reluctant to promote them, and 2: Women are more likely to divide their time and energy between working and caring for their kids. But there may be a third, unrecognized factor at play:
Women are 50% more likely than men to be diagnosed with mental disorders4 (which are often chronic), and 60% more likely to be diagnosed with widespread chronic pain syndromes5. They're thus prescribed nearly twice as many benzodiazepines6 (Xanax, Ativan, Valium, etc.) and opioids7 as men. These are sedating, so they impair performance. They're also addictive and are often given continuously, so they'll produce withdrawal symptoms in time that further lower productivity. Electroshock therapy, another psychiatric treatment used twice as often on women8, causes permanent memory loss9. So it's also incapacitating.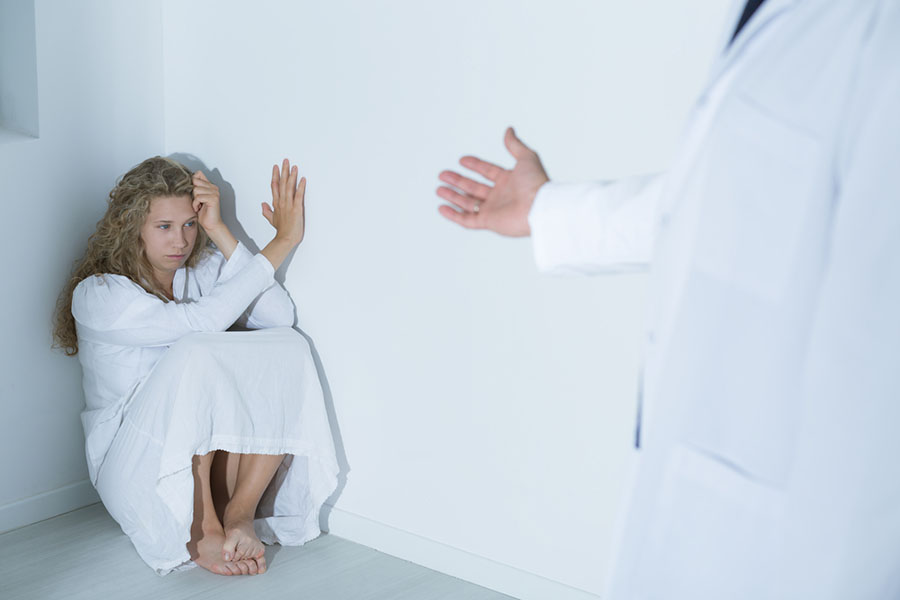 Even if women don't accept these treatments but do accept the diagnoses, then they'll likely take on the mindset that comes with them: They'll believe that they have permanently defective brains and bodies. Hence, as their doctor advises, they'll accept their perceived limitations and thus will lower their expectations and aspirations. Their doctor may urge them to focus more on protecting their fragile mental/physical health while at work, rather than on struggling hard to get ahead. They may take more time off for medical leave and appointments. They may even quit and go on disability. Mental illness and chronic pain are by far the most common reasons for Social Security Disability awards10.
For all these reasons, such women may be less likely to seek promotions and their bosses may be less inclined to give them. Nearly a third of women were dispensed opioids in 200811. Over 21% take psych meds12. These are high enough percentages to have had a big negative impact on women's overall work-place success.
But none of this is new: Since ancient Greek times, when men deemed women to be too emotional, they were diagnosed with hysteria, a term coined by Hippocrates13. From the 1700s to early 1900s, it was often treated with the addictive sedative laudanum—a combination of opium and alcohol. (Today's benzodiazepines tranquilize by acting on the same receptors as alcohol (GABA), so they're essentially alcohol in pill form.) Hysteria was also treated with the 'rest cure'—the avoidance all strenuous intellectual and physical activity (akin to going on SSD nowadays). Hysteria wasn't taken out of psychiatry's Diagnostic and Statistical Manual of Mental Disorders (DSM) until 1980.
But was it really removed? 1980 is the same year that the DSM introduced the new diagnoses of major depression, panic disorder, and bipolar disorder. As with hysteria, these turned emotions (sadness, anxiety, and mood fluctuations) into diseases. Soon after, the AMA declared fibromyalgia (Latin for pain in fibers and muscles) to be a disease. As with hysteria, these were all heavily aimed at women: Valium was promoted as "mother's little helper". Antidepressant ads depict women eight times as often as men14. Fibromyalgia was pitched so much to middle-aged women, that it became nearly a women-only illness15.
Hysteria is now retrospectively seen as a pseudoscientific farce that pathologized women. But today's newly discovered 'brain diseases' and chronic pain syndromes are also unmeasurable, subjective perceptions rather than scientifically-proven disease processes. No physical exams, lab tests, or x-rays are ever done to verify them, either. No underlying 'chemical imbalances', 'bad genes' or 'overactive nerves' were ever found. So as with hysteria, they're merely man-made concepts that primarily medicalize women.
It's unrealistic to think that the 'hysterical female' construct, which was so ingrained in our society for so long, could have gone away so easily. It didn't really die out; it lives on under today's new names. The same process is going on now as in the past, with the same result: Women are being kept down. The status quo has been maintained.
So Western culture, throughout its 2800-year existence, has instilled the idea that women are inherently weak, helpless, and ill17. This sets women up to trustingly seek/depend on strong, authoritative doctors to manage their distress for them. Doctors then label them with invented diagnoses which reinforce their sense of defectiveness, and which justify sedating them into docility and inactivity. In old movies, doctors even slap women who are expressing emotions, in order to shut them up. And these women then thank their doctors!
Why does the medical field target women for suppression? Doctors have always served dual roles: curing illness and upholding the patriarchic society. This used to be more obvious: In the 1800s, if men found it hard to control their hysterical wives, they could easily get them declared insane and put into asylums by doctors18.Today this second role is more subtle, but it's still there. To women who hope to end the patriarchy, I recommend:
Develop a healthy distrust of doctors, especially psychiatrists (present company excluded).
Only seek doctors if you're truly ill. How do you know which illnesses are real? If you can diagnose yourself with it, it's probably fake. If it's constantly being proclaimed to be a real illness, it's probably not a real illness. If your illness is said to cause itself to occur, such as: "You're depressed because you have depression" or "Your pain is caused by fibromyalgia (i.e. pain)", it's likely a scam.
If you've been molded into the frail patient identity, discard that yoke. And
Use your free will and infinite capabilities to adaptively manage your own life challenges.
References
1.O'Dea, R., et al "Gender Differences in Individual Variation in Academic Grades Fail to Fit Expected Patterns for STEM" Nature Communications 9,Article No. 3777, 2018.
2.Aragao, C. "Gender Pay Gap in U.S. Hasn't Changed Much in Two Decades",  Pew Research Center, March 1, 2023.
3.Mishra, S. "Women in the C-Suite: The Next Frontier in Gender Diversity" Harvard law School Forum on Corporate Governance, Institutional Shareholder Services, Inc., Aug 13, 2018.
4.2021 National Survey of Drug Use and Health Releases, Section 6: Mental Health Tables, SAMHSA.
5.Andrews, P., et al "Chronic Widespread Pain Prevalence in the General Population: A Systematic Review" Eur J of Pain, 2018,Jan:22(1)5-18.
6.Olfson, M. "Benzodiazepine Use in the U.S." JAMA Psychiatry 2015 Feb;72(2)136-42.
7."United States for Non-Dependence: An Analysis of the Impact of Opioid Overprescribing in America", Sept 26, 2017, QuintilesIMS National Prescription Audit, QuintilesIMS Institute.
8.Read, J., et al "An Audit of ECT in England 2011 – 2015; Usage, Demographics, and Adherence to Guidelines and Legislation" Psychol Psychother:2018, Sep;91(3)263-277.
9.MacQueen, G., et al "The Long Term Impact of Treatment with Electroconvulsive Therapy on Discrete Memory Systems in Patients with Bipolar Disorder", J Psych Neurosci 2007,Jul:32(4)241-149.
10."Annual Statistical Report on the Social Security Disability Insurance Program, 2021" Social Security Administration: Research, Statistics & Policy Analysis.
11.Schieber, L. et al "Variations in Adult Outpatient Opioid Prescriptions Dispensed by Age and Sex – United States 2008-2018, CDC Morbidity and Mortality Weekly Report, March 20, 2020/69(11)298-302.
12.Terlizzi, E. and Norris, T. "Mental Health Treatment Among Adults: United States, 2020" NCHS Data Brier No. 419, Oct 2021.
13.Sigerist, H. "A history of medicine. Primitive and archaic medicine" New York: Oxford University Press; 1951.
14.Asadi, L. and Shah, A. "Gender Bias in Antidepressant Direct-to-Consumer Pharmaceutical Advertising" Comp Psych Vol 123, May 2023, 152384, as referenced in Lee, Woanjun "Gender Bias in Antidepressant Ads – 82% Target Women" Madinamerica.com, Mar 29, 2023.
15.Yunus,M. "Gender Differences in Fibromyalgia and Other Related Syndromes" Journal of Gend Specif Medicine 2002,Mar-Apr,5(2)42-47.
16.Bai, F. et al "Female Gender is Associated with Long Covid Syndrome: A Prospective Cohort Study" Clin Microbiol Infect 2022 Apr;28(4)611.
17.Ormiston, C. "The Mad Medicalization of Victorian Women" featured in The Making of the Modern World Writing Showcase, 2020.
18.Moore, K. "Declared Insane for Speaking Up: The Dark American History of Silencing Women Through Psychiatry" Time Magazine, June 22, 2021.
***
Mad in America hosts blogs by a diverse group of writers. These posts are designed to serve as a public forum for a discussion—broadly speaking—of psychiatry and its treatments. The opinions expressed are the writers' own.
***
Mad in America has made some changes to the commenting process. You no longer need to login or create an account on our site to comment. The only information needed is your name, email and comment text. Comments made with an account prior to this change will remain visible on the site.