EDITOR'S CORNER
Far too often in the prevailing culture, our mental and emotional states are framed in binary terms. We're either sane or insane. Normal or abnormal. Functional or dysfunctional. Lacking, most of the time, is any sense of continuum—any recognition that someone can suffer while still functioning, even bringing joy and love to others. 
The same is true for families. In the usual mindset, families fall into one of two categories: Happy and peppy over in this corner, disordered and dysfunctional in the other. This family is whole and loving, and roundly admired; that family is broken and sick, and judged.
This is certainly the standard portrayal in Hollywood, where slashers and zombies are often to blame. And it's certainly true in a system of real-world horrors that routinely separates children from parents in distress—as described in a recent BBC story on mothers who've endured forced separation from their kids. "I knew I was a good mother and I didn't deserve this. . . . I could have brought my daughter up with the right support. I did everything in my power to keep her," said one mom, whose mental health and other struggles led to the loss of her child and prompted the crushing, years-long ache of separation.
The truth is, a person or a family can be two things simultaneously: loving and in pain, supportive and distressed. Certainly, some fall closer to one end of the spectrum than the other, and I don't mean to downplay the experiences of those in extreme anguish. But for most people, most of the time, one-thing-or-the-other is not how life works. Not how parents, kids, families work. As so many members of this community know well, even families saddled with severe mental and emotional burdens can find some light that offsets the darkness, some yang to offset the yin. The standard psychiatric model neglects the former and fixates on the latter, trying to drug it out of existence, but here's a fact: homo sapiens is complicated.
Long before I knew anything about Buddhism, I saw the dark-light coexistence in my childhood home, which burst with music and love and laughter alongside intense sadness and close shaves with death. I was 11 when my mother nearly died of heart and kidney failure—and only a few months later, my father attempted suicide, pitching him into a nine-day coma that damaged his cognition forever after.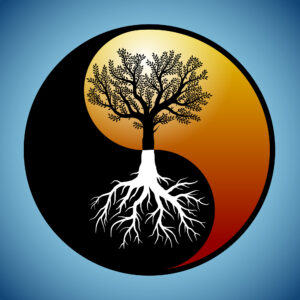 But even then—in our own wounded, wacky way—we kept loving and functioning as a family. Some of my strangest but happiest memories from that time are the weekend day trips we took to visit my father during his six-month stay at the Institute of Living in Hartford, CT, where he (amazingly, in retrospect) never went on drugs. Daddy was still Daddy. We were still us. I remember hugging and laughing with him. I remember going out to dinner in a funky restaurant at an old bank. I remember heading to the movies, all of us, to see "Murder on the Orient Express." I also remember the family therapy session where I told my parents I wanted permission to ride my bike on the road—a freeing and formative turn in my life. 
This is not to say that everything was easy, or that the darkness ever fully abated in the years that followed. The yin was always there: my father's dementia; my mother's constant health battles and many dodged bullets; my sister's own, ultimately fatal descent into suicidality and psychiatry; my sense of impending grief over losing them all; my actual grief when, during a two-year span in the early 1990s, I did. All of those emotions resurfaced when I lost my husband to suicide in 2011, plunging me and my three kids into a difficult, altered reality.
Even then, it had its yang. There was still love, still laughter, to offset the tears and carry us through the yin. The experience was never binary, and I know it never will be. Families aren't. 
In my two months so far as family editor, I've interacted with parents whose devotion to their children is profound. They're finding ways to be present for them, finding ways to support them and help them heal, and finding ways to heal themselves. This constant reaching for hope is the nature of parenthood, and it is expressed no more deeply than in the stories of those who push up against the hardest challenges and still find a way to be family. 
Because family is never just one thing, in the same way an individual is never just one thing. Families can be broken in some ways and whole in others, finding peace and connection wherever they find it—in attitudes and actions large and small. They love how they love, within the confines and carrying the weight of what's been handed to them. And they adapt. 
That doesn't make them abnormal. It only makes them human. 
Amy Biancolli, Family Editor
***
More from Mad in the Family. 
More Editor's Corners
***
Mad in America hosts blogs by a diverse group of writers. These posts are designed to serve as a public forum for a discussion—broadly speaking—of psychiatry and its treatments. The opinions expressed are the writers' own.
***
Mad in America has made some changes to the commenting process. You no longer need to login or create an account on our site to comment. The only information needed is your name, email and comment text. Comments made with an account prior to this change will remain visible on the site.