A Review of Your Consent Is Not Required: The Rise in Psychiatric Detentions, Forced Treatment, and Abusive Guardianships by Rob Wipond, 300 pages (Dallas TX: BenBella Books, 2023)
Iwas in the field of social work for long enough to get a glimpse into the abyss that is the nonprofit industrial complex. This is a juggernaut that depends on and thus creates poverty, homelessness, and invasive mental health treatment even as it claims to advocate an end to those societal ills. As a case manager at a crisis center, I regularly attended trainings on verbal de-escalation and interview techniques, both of which felt more like learning how to gaslight clients and veil the reality of their situations. I also was called to testify in involuntary treatment court, where my supervisors made it clear that I was to advocate for the temporary suspension of clients' rights as they were placed on psychiatric holds and forcibly drugged until they "felt better."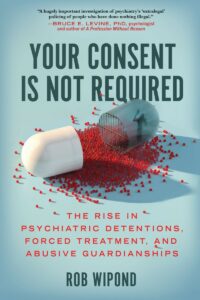 I have written about my experience in the public mental health system previously on sites like Mad in America, and that's how Rob Wipond, author of the penetrating new exposé Your Consent Is Not Required: The Rise in Psychiatric Detentions, Forced Treatment, and Abusive Guardianships, found me to interview me for this work. (Full disclosure, I make a brief appearance in chapter 10.) But I didn't know the half of it: reading Wipond's meticulously researched book made me realize that things are so much worse than I thought (I already thought they were bad, which is why I left the field of social work), and not just for those unfortunate enough to get labeled with a dangerous mental health diagnosis. The psychiatric industry is cannibalizing so much of modern life so fast that fairly soon, we are all going to be at risk of its false imprisonment, forced drugging with toxic chemicals that are akin to chemical lobotomies, and constant surveillance "for our own good" in the event that we may "need" treatment but "lack insight" (which refusing drugs will be used to "prove") enough to recognize it.
Your Consent Is Not Required details the vast net the psychiatric industry has cast over society. From the school systems to social media to guardianships, the experience of being human is ever more medicalized and pathologized in the name of new markets for toxic and ineffective medications under the guise of "trying to help." But Wipond's work reveals that, more than trying to help, this psychiatric apparatus being woven into our everyday experiences seems to be bent more on the desire to control. As Wipond argues, social control is the function of civil government and of mental health prejudice—what's changed over the eras is how much government claims to be doing "for the people's own good." State "hygiene" laws always reflect the prejudice of the current culture and psychiatry has consistently been used throughout history to justify discrimination, sterilization and the practice of eugenics along racial and disability lines. That practice continues to this day, but now, it's all "for your own good."
In this work, Wipond doesn't directly consider what factors have led to the virtual takeover of society by psychiatry even as he details all the ways it has done so. So it is worth noting that the psychiatric industry has only been able to reach the totalitarian levels of control it has, even as it shows no signs of being satisfied, because society has bought into this idea that it's better (let alone possible) for an external authority to be in charge of individual well-being. Were the general public an empowered one with a strong sense of individual agency and a desire to be responsible for productive and meaningful lives for itself, it would have been practically immune to the bait of "safety" and "wellness" that psychiatry claims its services are vital in creating. Mental health services are becoming just as patronizing, conformity-pushing and totalizing as the socialist and communist regimes of the past—who also claimed that their brutal efforts to concentrate and centralize power were "for the good of the people." What they failed to mention, and what the advocates of forced treatments, the chemical lobotomies called "psychiatric medications" and the endless gaslighting of people labeled with mental health disorders fail to mention, is that "the people" means "those who agree with and affirm the preferred narrative."
To be fair, Wipond touches the surface of this idea with his observation that suicidal thoughts are more often provoked by oppression and challenging life circumstances than by "mental illness." It is not that brains spontaneously "break" one day and require medication the way diabetics require insulin (that idea actually leads to an increase in stigmatization despite what pop-culture mental health advocates assert). It is that human health reflects human environments; suboptimal environments are going to manifest in behavior, thought patterns and ability (or lack thereof) to engage in life. Wipond doesn't state the connection directly, but it's important to note that the chemical imbalance theory is one of the main drivers of the myth that people with mental health disorders are violent, which serves to advocate for a nanny state and a disarmed—and thus even more disempowered—public. This myth begins makings its rounds even before mass shootings are over these days, but there is no evidence that people with mental health disorders are more likely to be perpetrators of violence. There is evidence that they are more likely to be victims of violence.
Wipond takes on these myths of the ironclad connection between mental illness and violence and the "chemical imbalance" theory in his work. Wipond points out that the chemical imbalance theory is a myth with little scientific evidence, yet so many mental health professionals believe people need to be forcibly drugged that people are dying or failing to recover from other medical conditions because they are being forcibly drugged with psychotropic meds—and anyone who advocates they not be put on these meds are seen as "mentally unfit" as well. Wipond addresses other commonly believed myths about mental health. He astutely observes that continuing to push the violence/mental health connection could also lead to us as a society "treating anxious children, depressed workers and psychopathic murderers the same." Is that what we want? People with mental health disorders aren't violent; violent people are increasingly getting labeled with mental health conditions.
Another example of a mental health myth that Wipond takes on is the story about "deinstitutionalization" in which state hospitals were all but shut down leaving "mentally ill" people nowhere to go. This never actually happened and did not lead to the massive homelessness crisis. People diagnosed as "mentally ill" may not be in hospitals as much as in the past, but they are locked up in smaller, long-term facilities that are not any better than the asylums of old. To paraphrase Wipond, many people that are homeless are so because they're fleeing psychiatric treatment, not because they couldn't get it. As someone who has worked in crisis stabilization—that is, nearly all of our clients were experiencing homelessness—I was not once told this. I was told that addiction often follows rather than causes homelessness, but the myth that deinstitutionalization was largely responsible for the massive numbers of mentally ill people living on the streets was repeated at nearly every training I attended. It seemed it was intended as a rallying cry, but, now that I look back on it, I can't tell what exactly we were supposed to be rallying for? More mental health services? Less mentally ill homeless people? If anything, the call to action should have been to end forced treatment, but we were never taught that this was a possible cause of the problems many of us were in good faith trying to solve.
Why the secrecy? The American Psychiatric Nurse's Association did not respond to Wipond's repeated requests for interviews, and few psychologists agreed to an interview. Indeed, Wipond didn't get many professionals, providers, or industry spokespeople to consent to interviews, but people who have experienced the standard of care in psychiatry were happy to speak with him. This in itself speaks volumes about the mental health industry. With his research, Wipond weaves the interviews he conducted with people who have had personal experience of simply going through a difficult time and getting sucked into the system, where they are forcibly drugged into a stupor and held for the maximum time insurance will reimburse no matter their behavior. There is little research on patient safety in psychiatric hospitals and "oceans of patient safety data" are hidden from the public, even after reaching out to relevant sources as well as generating multiple FOIA requests as Wipond did in his research for this book.
Another mental health myth that Wipond challenges is that the mental health industry is underfunded, resulting in a lack of services. But this contradicts the amount of power and professionalism most mental health professionals demand to be viewed with.
Most people in the medical profession want to portray themselves as competent and capable. So why does the mental health sector cultivate this idea that they are fragmented, underfunded and weak, especially when their budget of $215 billion is nearly 60% of the education sector's budget and more than the entire justice system's budget (which included police, public and private prisons, the parole system, etc.)? The psychiatric detention and civil commitment of law-abiding American citizens is at least a $19-billion annual industry. (To compare, the private prison industry is $3.9 billion a year). Especially when most of this money is spent on "services" people don't even want, we must ask: is claiming "lack of funding" an excuse for its ineffectiveness?
Nonprofit advocacy groups aren't "clean" solutions: the National Alliance for Mental Illness (NAMI) gets 75% of its millions in annual funding from pharmaceutical companies.
Another stubborn mental health myth is that things will improve if we replace police officers with social workers. Some 650,000 social workers patrol America's streets on "mobile crisis teams," but they're not replacing police; they're referring people to the police or hospitals just the same. Social workers think they're working for social change, but they, too, are agents of social control. I can personally attest to this; I pursued social work because it promised to challenge the power structures that held mental and emotional suffering in place as well as those in the mental health "treatment" arena itself. It in fact is doing no such thing.
What's more, social workers get little training on involuntary commitment, which I can personally attest to as well (I received no formal training, only basic coaching that "involuntary commitment is 'usually' the best thing to advocate for" before making my first appearance in mental health court where another human being's freedom and access to their rights were on the line) and get summoned by members of the public for behavior that people find merely disruptive but isn't dangerous or indicative of a mental health problem. "But there is constant pressure to label people because insurance generally requires a mental health diagnosis for an interaction to be reimbursable," Wipond says.
These diagnoses are part of permanent records. Social workers base decisions to involuntarily commit a client on their own feelings. "Clark," one of Wipond's interviewees, said it's risky to display anger, fear, or resistance when a social worker is evaluating you. "If you're too vocal, if you're not vocal enough, if you cry, if you don't cry, if you say you're getting lawyers, if you ask to read the paperwork too much—any of it confirms your mental health diagnosis. You're crazy, you're wrong, you're misinterpreting, you're overreacting. There's a lot of room for things to be recontextualized as symptoms of mental disorders." When I had to make the choice between advocating for involuntary commitment or discharge, I didn't have much training to rely on—I only had my feelings, which were often pity: it was either commit someone or discharge them to the streets as they had nowhere else to go. If someone is in imminent danger, the cops are usually called anyway; wraparound services that social workers purvey are even more invasive than interactions with the police. Unsurprisingly, none of the major social work orgs responded to Wipond for comment.
The poor and homeless are not the only targets of the mental health industry. The elderly are increasingly common targets for abusive and difficult-to-escape-from guardianships and conservatorships that take advantage of even those who have caring and involved families because of the ease and power of getting someone labeled as legally incompetent. The mental health industry recruits family members to surveil the psychiatrically labeled members of their families. It thrives off family conflict and often returns hospitalized children in worse condition (and more dangerous) than they were before. Divorcing couples are able to weaponize wellness checks and psych evals against each other in custody battles because of the illusion that such measures have been properly validated; in reality, many of the standardized tools that therapists, social workers, psychologists, etc. are trained to use (e.g. the PHQs and the GAD) were created/influenced by Pfizer.
Such weaponization of psychiatric measures is more and more common in the workplace. Wipond interviewed physicians who were labeled with mental health diagnoses, bullied into fraudulent psych evaluations that are intimidating and expensive, and lost everything trying to preserve their careers. Psychiatry has also gotten its tentacles into the US military: Wipond writes, "it was once difficult to serve in the US military while taking drugs for a mental disorder. By 2013, though, a Military Times investigation found one in six active duty service members were taking psychotropics." Even if someone comes to a clinic complaining about ankle pain, they are required to complete mental health questionnaires. Scoring anything higher than a 7 is an automatic behavioral health referral and declining treatment gets your file flagged and escalated.
Political uses of psychiatry include detaining whistleblowers, activists and even taxpayers. Pregnant women are increasingly subject to mental health screenings and the laws are such that the eggs and fetuses have more rights than the mother in terms of mental health treatment. Hotlines are required to report any caller considering an abortion as "dangerous." Yet every Suicide Awareness Month (September), social media is full of posts featuring the National Suicide Hotline number, encouraging people who are "struggling" to "reach out." Suicide hotline calls are not anonymous and have led to humiliating and violent "welfare" checks on people who were simply feeling really down or lonely. Cell phones can even be tracked when they're off and callers will likely not be informed if the police are called on them because a suicide hotline volunteer triggered a welfare check.
The implication, which Wipond doesn't directly address, is that the popular meme "it's okay not to be okay" is not true if you want to preserve your freedom and keep yourself free of toxic "treatments" and a permanent "mental health" record. These feel-good statements and posts encouraging people to "reach out" are empty calories that make those that use them feel good without having to take real action. The delusion that professionals are better than friends is isolating and problematic enough. It has since morphed into the belief that trying to help someone experiencing mental and emotional distress is "dangerous" for "mere" friends to even attempt, thus creating even more of a vacuum, which psychiatric services are more than happy to fill.
As if undisclosed surveillance and the ability for "help" lines to track even anonymous callers wasn't creepy enough, digital psychological surveillance is rapidly on the way. The FDA has approved the first digital pill that sends information (like whether you've taken your meds today) to cloud-based servers confirming you're "treatment compliant." Wipond doesn't say this, but this development will make it impossible to fake consumption of pills as many do to avoid the punishment of "treatment" and keep the invasion of the mental health industry at bay.
Your Consent Is Not Required has a few shortcomings. First is the reference to "climate change" as if the mainstream narrative is correct and unchallengeable without any citations, which is ironic since the mainstream climate change narrative with its hand-wringing about imminent doom seems to be one of the major contributors to increased mental health issues. Second, the overly political commentary about how the conservatives are calling liberals crazy in mainstream media is a bit one-sided. It's actually ever more the opposite these days: those dissenting from the mainstream narratives and getting punished for it are not environmental activists (vis-à-vis the above comments about climate change) or even extreme liberals/leftists but rather people protesting government overreach and control by public health decree in the form of medical mandates, firings and massive social ostracization due to their desire not to have their employer or school play doctor.
Still, Your Consent Is Not Required is vital reading for everyone, whether you've yet been labeled with a mental health diagnosis or not. As Wipond writes,
…it's no longer clear where the mental health system ends and maternal centers, day cares, schools, social media, criminal justice systems, social services, workplaces, and nursing homes begin. Never in history have there been so many psychiatric inpatient beds, and never has such a large percentage of the North American population been psychiatrically labeled or had so many points of contact with mental health services and treatments. Our culture is more "psychiatrized" than ever. "If we combine the millions of people labeled with mental disorders who are getting civilly committed, put under a guardianship, incarcerated in the criminal-forensic psychiatric system for relatively trivial wrongdoing, chemically restrained in a nursing home, drugged as minors, or coerced in the community through court orders, housing policies, and social security financial levers, the number of Americans caught in this "psychiatric carceral system" dwarfs that of America's notoriously large prison system, which is itself a new prison system. The numbers in the US and Canada are astronomically higher than the total number of people incarcerated at the peak of the mass asylum days.
North America is rapidly becoming a "psychocracy," which Wipond defines as "a society managed and governed by psychological–psychiatric beliefs, values, and goals." Wipond's work was eye-opening even for me, and I thought I was relatively informed. Yet I finished reading hoping for more concrete solutions to this terrifying and rapidly growing problem. Without such suggestions, I fear Wipond's work won't make as much of an impact as it deserves to. In the meantime, it's up to us to take action to defeat psychiatric gigantism before it swallows us whole.
***
Mad in America hosts blogs by a diverse group of writers. These posts are designed to serve as a public forum for a discussion—broadly speaking—of psychiatry and its treatments. The opinions expressed are the writers' own.
***
Mad in America has made some changes to the commenting process. You no longer need to login or create an account on our site to comment. The only information needed is your name, email and comment text. Comments made with an account prior to this change will remain visible on the site.