Complex Post-Traumatic Stress Disorder (C-PTSD) has long been hailed as a beacon of hope in the maze of psychiatric diagnoses, even among those of us who have felt harmed by such labels. It offers a fresh perspective on the relentless, pervasive trauma that acts more as a sculptor than an event—a relentless chiseler that etches seemingly indelible patterns and erects defensive fortresses so deeply embedded in our being that they seem less like experiences we've weathered, and more like integral fragments of our identity.
When ICD-11, the diagnostic manual used by Europe and half the world, recently acknowledged C-PTSD, it was perceived as a potential breakthrough for those of us profoundly impacted by such trauma. Expectations were high for increased understanding, empathy, and support. However, the rapidly changing landscape suggests that the recognition of C-PTSD might be a double-edged sword, inadvertently further marginalizing the very individuals it aimed to assist—those diagnosed with Borderline Personality Disorder (BPD). Why?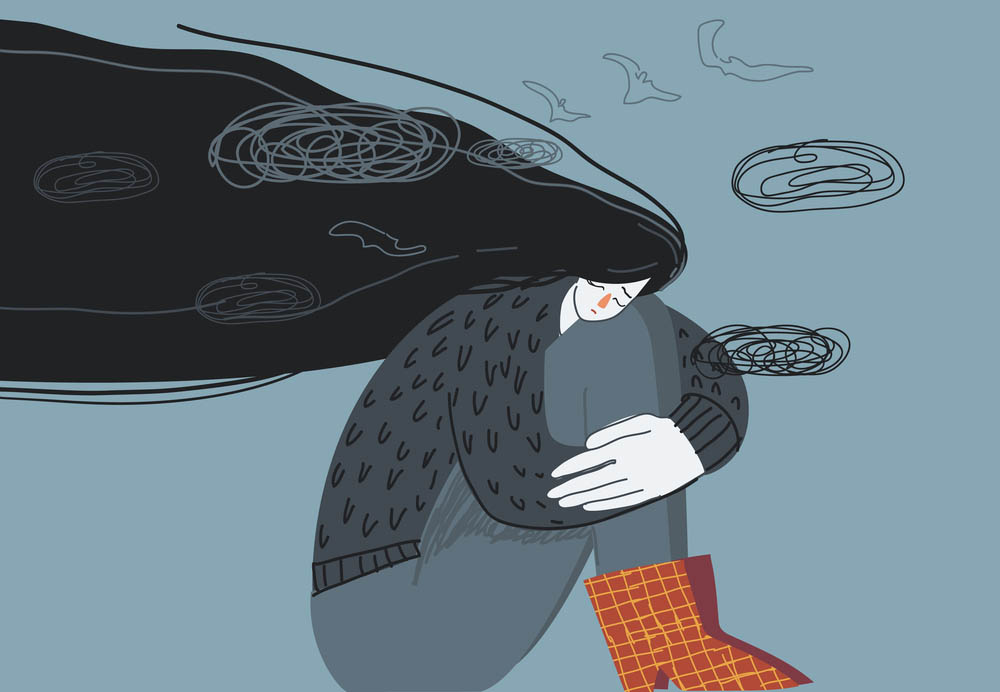 The Emergence of C-PTSD
Borderline Personality Disorder (BPD) is a diagnostic category characterized by fluctuations in mood, self-image, behavior, and relationships. People so labelled commonly experience intense emotional swings, impulsivity, unstable yet intense relationships, and a pervasive sense of overwhelming emptiness. Clinicians often diagnose BPD when encountering individuals, primarily women, who engage in self-harm, with females representing 70% of those diagnosed. This association with femininity does a disservice not only to women but also to men and non-binary folk in pain, as it perpetuates a misogynistic trope that dismisses patients as 'attention-seeking', 'manipulative', and 'playing the victim'.
Telling someone that their personality is disordered is a violent thing to do, implying that the problem is with who they are, rather than a syndrome they have, or an understandable response to horrific life events. Ascribing problems to personality suggest that patients were always defective or wrong and always will be, often perpetuating survivors' deepest fears about themselves. The label of BPD not only diminishes the testimonial credibility patients give to themselves but enables harmful reactions from healthcare professionals, family members, and society, hindering their access to necessary care. This re-traumatizes many survivors by reproducing the distance, contempt, abuse, and neglect that were often dominant in early life, increasing hopelessness and self-hatred. The majority of those diagnosed with BPD are trauma survivors, with approximately 70% scoring high on adverse childhood experience measures, being especially likely to have experienced emotional and sexual abuse.
Trauma therapist Judith Herman first suggested C-PTSD as an alternative diagnosis to the BPD label in 1992. Her reasoning was straightforward: she knew that the label was frequently perceived as stigmatizing and injurious by trauma survivors, often amounting to no more than a 'sophisticated insult.' Additionally, she argued that the existing trauma category of Post-Traumatic Stress Disorder (PTSD) only addressed reactions to isolated, one-off traumatic events, like flashbacks. C-PTSD was thus proposed as a diagnosis to encompass the unique symptomatology resulting from chronic, recurrent trauma experienced over an extended period, such as enduring child abuse, domestic violence, or imprisonment during wartime, rather than from a singular traumatic incident.
Herman defines C-PTSD with symptoms grouped into three main areas: 1) affective impulse regulation, covering emotional regulation issues, suicidal and self-destructive behaviors, and impulse control problems; 2) alterations in attention or consciousness, manifesting in dissociation episodes, flashbacks, and changes in self-perception like persistent guilt and estrangement; 3) changes in self-perception and relationships, marked by withdrawal, distrust, a rescuer-seeking behavior, distorted beliefs about the perpetrator, and loss of faith or hopelessness.
Herman's suggestion, which had been built not only off the work of her patients but the labour of survivor movements, was initially met with controversy. However, as the subsequent three decades unfolded, the idea of C-PTSD gained increasing acceptance. This progression happened in parallel with significant and ongoing shifts in societal recognition of trauma. What was once deemed uncommon began to be acknowledged as remarkably prevalent—with one in four of us having been abused.
Throughout this time, attitudes towards trauma underwent a remarkable metamorphosis, a shift partly propelled by the influential reach of self-help literature and the emergence of daytime television programs that dared to delve into mental health issues. Names like Oprah Winfrey, Jeremy Kyle, and Ricki Lake became synonymous with these candid on-screen discussions. Self-help books such as Pete Walker's Complex PTSD: From Surviving to Thriving and others began to fill shelves and later screens, providing resources for understanding and managing trauma.
The pathway towards including C-PTSD necessitated a convergence of societal change, psychological activism, and scholarship. However, as Judith Herman warns, the recognition of trauma is perpetually threatened by the risk of regression. This regressive pull is as prevalent in large organizations as it is within an individual's psyche, where the desire to suppress traumatic experiences can trigger a fierce backlash, manifesting in a maelstrom of distressing symptoms. C-PTSD appeared useful not least as a placeholder then.
Not everyone was in favour of the C-PTSD category, however. Some disagree with the term 'disorder' to describe the aftermath of trauma, viewing it as the medicalization of understandable trauma effects. Nevertheless, many saw in C-PTSD a potential diagnostic home. Thus, when C-PTSD was officially approved as a diagnosis by ICD-11 in 2019, to be introduced into clinical practice from Jan 2022, it was met with widespread relief and celebration. But was this relief premature?
'Doing' C-PTSD
Before we go on, a note. If we are to have a diagnostic system, I support the inclusion of C-PTSD. I eagerly welcome the increased training it will provide for clinicians, helping them to understand the profound impact of prolonged trauma on our minds, bodies, and souls. However, we face a significant challenge in our mental health thinking, including among those who are critical. We often overlook the interconnectedness of ideas and fail to anticipate how they might affect one another. Just like a single keystroke can reshape the meaning of a word, the addition of C-PTSD sends ripples throughout the diagnostic system, reshaping other constructs in its wake. These ripple effects can be perilous, potentially undermining the very positives that survivors and trauma therapists were striving for.
From this position, C-PTSD is much more problematic. While one might intuitively expect C-PTSD to provide a nosological refuge for those who've lived through protracted trauma such as enduring childhood sexual, emotional, or physical abuse, or neglect—as the label on the bottle suggests —the reality is far more complicated. The category's strict definition ironically creates an exclusionary boundary, leaving out as many individuals as it shelters.
What's even more concerning is the emergence of a growing industry of articles, YouTube videos, TikToks, and infographics that appear more focused on establishing a distinct position for C-PTSD within the diagnostic landscape by emphasizing what it is not, rather than providing a clinical picture of what it is. And what do they contrast it with? BPD, the closest phenomenological neighbour to C-PTSD. When a category is new, we tend to spend a lot of time trying to give it bones, hence the flurry of activity right now. We do this both by comparison with something very different and something very similar. If I am trying to define what a cookie is, for example, I might do it by contrasting it with a cake.
Comparing two pictures cements the seemingness of both categories just as were I to try to describe to you the differences between Santa Claus and Hanukah Harry both would become more vivid. This brings us to the first of our problems. In the process of so doing, C-PTSD unintentionally reinforces one of the most problematic diagnostic categories of our time, BPD. This comes at a moment when it seemed that progress was finally being made after forty years of dogged survivor activism, fueled by the often-invisible labour of many we have lost, and many who are still here.
Solidifying BPD
In the UK, there has been a growing sense of change in the air surrounding the diagnosis of BPD. Recent developments, including a national consensus paper endorsed by prominent organizations, have called for the abandonment of the BPD label. This is not only due to the exceptionally poor construct validity of BPD, which renders it a scientific embarrassment even to mainstream clinicians, but also because of the contempt it so often engenders within our care systems and the despair it causes many survivors. These developments, along with a series of recent scandals, has sparked active reevaluation of the diagnosis and language used by both the Royal College of Psychiatrists and NHS England. In line with the changing landscape, the influential NIHR-funded Mental Health PRU has taken a proactive step by adopting the term "complex emotional needs" as a working title, signifying a gear change, a move in the right direction, albeit one that fails to go nearly far enough.
And no wonder! Not only does BPD have exceptionally poor levels of reliability and validity, but it provokes high levels of discrimination and notoriously poor treatment not only in society but from healthcare providers. Though the intensity of distress experienced is undoubtable, the natural history of BPD suggests that it is reflective of emotional, and not personality, difficulties; recovery within a ten-year window being at 85%. Further, the BPD diagnosis has low functional utility, often blocking access to help, and can solidify patients' ideas that they are fundamentally flawed, i.e., that problems lie in who they are, not in a condition that they have.
These problems with BPD as a category, so severe it was to be removed from the latest iteration of the ICD until the very last moment, are entirely absent from C-PTSD vs BPD comparison-making. Instead, BPD's distinct essence, its BPD-ness, is at risk of being re-solidified just as we seemed to be on the verge of unravelling the infamous 'dustbin diagnosis' that leaves people discarded and overlooked including the many who are not, or not only, traumatized but #ActuallyAutistic.
Worse, the way the comparison is presented gives the impression that there are significant differences between the diagnoses that are not only useful and meaningful but agreed upon. When we explore the mooted differences though, this is not the case. So, let's park the construct problems with the BPD diagnosis for the moment to see what these apparent differences are. To do this, we need to see how C-PTSD is diagnosed.
Diagnosing C-PTSD
First, patients need to have experienced—you've guessed it—complex trauma. Now, there are important discussions to be had about the likelihood of this showing up in psychiatric assessments, but we'll leave that for another time.
Then, a patient needs to meet the criteria for a diagnosis of PTSD as traditionally defined, which is now referred to as type 1 trauma. This involves re-experiencing the trauma in the present, exhibiting avoidance behaviors, and experiencing a persistent sense of current threat such, as is always the case with psychiatric diagnosis, that it causes significant suffering and/or affects functioning. Despite the need to meet the criteria for PTSD type 1, patients with complex trauma are unlikely to have received such a diagnosis before the introduction of C-PTSD. The chronic and cumulative nature of their trauma creates a less clear distinction between a 'before and after' scenario, as the defensive structure built up to protect the psyche is often mistaken for personality rather than being attributable to discrete traumatic events that can be more easily identified.
Now, we get to the gritty bit. C-PTSD, or type 2 trauma, then requires three additional criteria of so-called 'Disturbances of Self-Organization' (DSO): these are problems with emotional regulation, disturbances of self, and interpersonal problems. The DSO are crucial to our argument, so let's expand on what psy-professionals generally mean by these terms, parking the problems with the hegemonic normativities that they are shaped from for the time being:
Problems in Emotional Regulation: This refers to difficulties managing emotional responses, which can often lead to a person experiencing emotions that are intense and fluctuating and struggling with self-destructive or risky behaviour. People with these problems might have trouble calming down once upset or may struggle to cope with supposedly negative emotions in healthy ways. It can also include periods of emotional numbness or disconnection.
Disturbances of Self-Concept: This is when a person has a negative and persistently unstable self-view. It means that the individual often feels worthless, defective, or as if they're fundamentally different from other people. They may struggle with chronic feelings of emptiness, shame, guilt, or of being a failure. This often results from the internalization of the negative messages received during the traumatic events.
Interpersonal Problems: This refers to difficulties in forming and maintaining relationships with others. These can be characterized by an avoidance of relationships due to mistrust, or a pattern of unhealthy or unstable relationships. The person might feel a persistent sense of disconnection or isolation from others, or they may struggle with boundaries, either being overly dependent or excessively self-reliant.
All of this bears an uncanny resemblance to how BPD is defined, doesn't it?? BPD, after all, is supposedly a pattern of instability in emotions, self-image, and relationships, quite literally the DSO criteria. Intense and unstable emotions, impulsive behaviors, self-destructiveness, chaotic relationships, recurring thoughts of self-harm—all things associated with BPD seem to fit like a glove.
It's no wonder then that most clinicians, professionals, and carers held the belief that individuals stamped with the BPD label who have experienced trauma would finally have a home in this new diagnostic label. But alas, that's not proved to be the case. ICD-11 and the beholden research community decided to throw a curveball by introducing specific criteria, not just to determine IF emotional regulation issues, disturbances of self-concept, and interpersonal problems are present, but to delve into HOW they manifest. This occurred alongside a last-minute U-turn, indicating that BPD, a diagnostic category that has been found scientifically problematic by each and every DSM and ICD taskforces since its inception, still persists as a 'trait qualifier' in the ICD. This descriptor code allows it to remain as usable, as character assassinating, and as potentially damaging as it has been in the past.
Do the differences in how problems in emotional regulation, self-concept and interpersonal problems, then, hold enough weight to warrant such a clear-cut distinction, even if we were to accept BPD as a valid and distinct category on its own? Or are we simply witnessing a situation similar to segregating cardigans on one floor of a department store and sweaters on another, prompting us to ponder the motives behind this division and whose interests it truly serves—the business or the customer?
The Narcissism of Minor Differences
What differences are used to separate the DSOs of C-PTSD and BPD, then, and what does, and doesn't that tell us?
Both diagnoses involve interpersonal problems, yet BPD is supposedly characterized by more unstable relationships involving idealization and denigration, while C-PTSD is associated with consistently negative relationships and a tendency to withdraw. Both emphasize issues related to self-concept, but the BPD construct is linked to rapid shifts in self-image, while C-PTSD is marked by a consistently negative self-view and struggles with worthlessness and guilt. Emotional dysregulation is present in the description of both supposed disorders, but BPD is more closely associated with self-harm and suicidal thoughts or actions, while C-PTSD is linked to reactive anger.
Upon scrutiny of the supposed differences, we uncover two underlying themes. Firstly, there's a slightly more changeable presentation in the BPD grouping compared to the C-PTSD one. This variation could unsettle professionals' self-image as adept caregivers. Recognizing the intersubjective nature of emotions—how our feelings resonate with those around us and their views of us—is vital. When a patient's attitude shifts between interest, indifference, and disappointment, it can bruise a professional's self-image. If inadequately trained, many resort to weaponizing the BPD label as a defensive reflex, thereby avoiding the sometimes-confronting reality of trauma responses as a necessity for survival, which, with the right understanding, deserve respect and admiration. Ascription to personality for one grouping, then, says far more about professionals' trainings and the systems they operate within than much else.
The second theme centres on minor deviations from traditional hegemonic norms of femininity, including stability, submission, and preservation of the physical self, especially the fetishized female body. It's disconcerting to see how our diagnostic systems mirror society's unease with those who step away from the norm and who unflinchingly show their trauma—through physical signs or attempts to spur recognition among professionals and significant others. The BPD label, in this context, can be seen as a punitive form of regulation, steering treatment towards behavioural management and compliance, therein reinforcing hegemonic norms while dodging the need to face the harsh realities of human cruelty and the deep pain it inflicts.
Yet here I am giving a far greater impression of the suggested difference between BPD and C-PTSD than there is, a common outcome of descriptive comparison! We are discussing minor differences in not the presence or absence of, but the way emotional dysregulation, self-concept and interpersonal problems manifest here. While there is considerable symptom overlap across various diagnostic categories, and individuals often receive multiple diagnoses, the overlap between BPD and C-PTSD is quite extraordinary. Even the proposed differences just discussed are hypotheses rather than established facts for even the most mainstream researchers. A clinician is more likely to encounter a patient exhibiting symptoms of both supposed conditions than not. Yet, the way Guideline Development Groups organize—in sub-chapters 6B for 'personality disorder' and 6D for stress disorders—creates an illusion of distinctness.
This perceived distinction also arises from the fact that not all individuals diagnosed with BPD have experienced complex trauma—about 30% have not. Such a statistic could offer a persuasive case for maintaining a distinction between BPD and C-PTSD, if two conditions were fulfilled: a) BPD showed solid reliability and validity as a diagnostic category, and b) there were specific treatments exclusively 'for' BPD, which would then deprive trauma survivors of these treatments if they were excluded from this category.
However, BPD's reliability and validity is so poor even the chair of the ICD taskforce called it an 'abrogation of diagnosis', and it was to be removed from ICD until a very last-minute U-turn, based predominantly on concerns about how health insurance claims would be coded. Treatments 'for' BPD, such as Dialectical Behaviour Therapy (DBT), Mentalization-Based Therapy (MBT), and Transference-Focused Therapy (TFT), address underlying common factors that are transdiagnostic, not exclusive to BPD, and are highly likely to be useful for many patients who will now get a label of C-PTSD. Furthermore, a recent meta-analysis has shown that trauma therapy is both safe and highly effective for trauma survivors diagnosed with BPD. Therefore, the division between BPD and C-PTSD is neither necessary, useful, scientific, or ethical. Treatment pathways should emphasise choice, a key predictor of good outcome.
Even if these minor differences were indeed supported by substantial evidence, there would be no inherent justification to shy away from labelling them as C-PTSD type 2.1 and 2.2, for survivors who favour diagnostic categories or need one to navigate statutory systems, such as access to welfare. I present this not as a genuine suggestion, but as a reflection of the absurdity of the filing system that assigns 'personality' to one group and 'complex trauma' to another when their family resemblance is so overwhelming.
Exclusion from C-PTSD
What is entirely missing, at least from professional discussions, is any real consideration of the impact of being excluded from the new category of C-PTSD, particularly for vulnerable patients. What does it mean for someone who has experienced complex trauma to have their patterns or behaviors placed in the 'personality' side of a Venn diagram presented as fact on Instagram, rather than being recognized as part of a trauma-centered label? To ask one's psychiatrist if one meets criteria for C-PTSD now it exists as a diagnosis only to be told, 'no, it's definitely a personality disorder'? To stand up to abusive partners, poisonous family members, unsympathetic healthcare professionals, and barristers vying for custody of our kids, only to be met with the contemptuous retort, 'If they genuinely believed you were traumatized, they would have diagnosed you with C-PTSD, wouldn't they?'
No-one seems to have thought to ask—but any survivor, I reckon, can tell you without a second's thought. Traumatized children and adults who are abused, groomed or gaslit are very often told that their trauma is not legitimate somehow; that the 'real' victims are over there and that we are too seductive, too difficult, too wily, too angry, too impulsive, too complicit somehow to be believable, let alone worthy of care and compassion Having trauma registered as such is thus incredibly important for us as survivors because we have nearly always been told otherwise in messages that can echo in the thoughts and voices that haunt us.
We are at a crucial turning point in the mental health system's understanding, or lack thereof, of trauma—a point that presents many possibilities and pitfall. We must ensure that C-PTSD does not become a silencing tool, muffling the voices it was specifically designed to amplify and empower. This requires challenging the diagnosis of BPD, instead of using it as a foundation for defining C-PTSD, thereby avoiding the bifurcation of 'deserving' and 'undeserving' victims which has been used to silence and smother trauma survivors' testimonies for centuries. Let's fulfil C-PTSD's promise and bin the diagnosis of BPD once and for all!
***
Mad in America hosts blogs by a diverse group of writers. These posts are designed to serve as a public forum for a discussion—broadly speaking—of psychiatry and its treatments. The opinions expressed are the writers' own.
***
Mad in America has made some changes to the commenting process. You no longer need to login or create an account on our site to comment. The only information needed is your name, email and comment text. Comments made with an account prior to this change will remain visible on the site.