Recently I asked myself: what is the most damaging thing about one's psychiatric diagnosis? I asked this question because I have dealt with psychiatry myself, and it isn't the diagnosis that causes me the most damage – it is the judgement of the society on anything that is labelled as 'mental illness'. It's stigma attached to something outside of the normality that causes distress to many, including myself. If you are different one way or another, you are then most probably a victim of stigma, where those who correspond to the slogan of 'normality' feel superior over those who are different. 'Bipolar' or suffering from 'schizophrenia', or 'Borderline personality disorder', if you have such a label, then you are stigmatized.
Just look around: it's everywhere, the scarlet letter in regards to what is considered as deviation of an individual from the norm. The normality is sold to us as the only way to survive in our society, where we are supposed to behave and think like everyone else. There isn't anything wrong with a life of conformity, but among the promotion on us of what is considered as normal, those few who struggle with their health, for one reason or another, deal with overpowering stigma, where the 'patient' has no other choice but to keep silent.
In the news we often hear that it's the 'mentally ill' who are the worst perpetrators of crimes (while in reality, statistically speaking, the 'mentally ill' are much more often are the victims of the crime). In the movies we see the monsters who are in 'psychosis' and online we are greeted with hate, for the most part.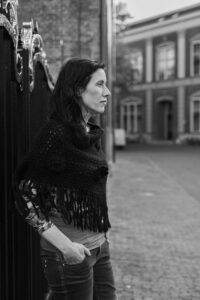 Stigma does bother me personally, because I feel like I need to prove my right to exist more than the rest of 'normal' population because of several 'psychoses' behind me. It is considered as severe 'mental illness' if you managed to get more than one 'psychosis'. It doesn't really matter if your 'psychoses' aren't what is presented to us – something shameful and feared – in my case I enjoyed most of my 'psychoses' because I regard them as deeply spiritual experiences that just showed me that there is more to this world than the objective reality is supposed to be rooted in. I reach for God, I feel loved by the universe, and I feel like I attain enlightenment when I am in that state. I don't really bother anyone with it, I am placid and kind.
But each time I re-emerge from my 'psychosis' it isn't the psychiatrists I blame for stigma but the judging public. 'Look at her! Ekaterina is again tweeting that she is Jesus (so what if I undergo a deeply profound religious experience?) 'Look at her! She is insane!', based on my Facebook status that I remember most of my past lives (so what if I am mistaken)? How come we can't tweet or put on Facebook something that challenges our society of reason? Yes, it's the judging public that looks down on you, because with a psychiatric diagnosis you aren't supposed to recover that quickly and carry on with your life.
I fight for the right to exist more than the average person. I work extra hard at my job, I do my best to be a good mother, I can manage most of the time without help from anyone else. I consider myself as a survivor. And yet, on a daily basis I can feel the gaze upon me: is she doing all right? Is her tweet a sign of a mental illness? I feel like I not only need to show that I conform, I need to out-perform!
Recently someone responded to my tweet about my psychiatric experience, saying that 'mental illness is the inability to cope with life'. It really upset me because I cope in life often better than the ones who have never dealt with a psychiatry or diagnoses. I lived in 4 countries, I have a PhD, I work, I raise a son. It takes an enormous effort on my part, but that isn't what matters: what matters is that yes, I cope, and I have to cope harder because with 'psychoses' behind me, I am doing more than fine. And this is what is the most disturbing: the general expectation of our society is to rejoice in the failure of another human being because he or she doesn't conform to the definition of what is regarded as 'normal'. This explains, in my view, the fact that the majority of people diagnosed with 'mental illness' don't talk about it at all. They keep it secret.
Some days ago I asked Philippa Perry, a renowned psychotherapist and author, the following question on Twitter: "How to deal with stigma around severe mental illness? Shut up about diagnosis and keep it quiet or speak up, because you can be an example to other people if you are doing well in life with several psychoses behind?''
I got the following reply: "There probably always be stigma unfortunately because humans feel like to imagine they are superior if they feel like they are better than someone else. And they'll pick on anyone.''
Stigma, according to famous sociologist Ervin Goffman, is the feeling of shame around something that is deviant from the rest of society. He argued that most people try to hide that they are different out of fear of being scorn by other 'normal' people. It's very few who admit having a psychiatric diagnosis because they don't want to be judged by others as some sort of failure in our society.
In my own psychiatric journey, it is the judgement of those who deem themselves as 'normal' that caused me most trouble. It isn't the psychiatrists (if I am honest, I met extremely nice psychiatrists who really helped me), it isn't the 'patients' who either disagree with you if you admit you take some medication and shame you for that fact, or disagree with you when you claim it isn't 'mental illness' but mental distress, trauma, anything but illness. No, it's those who stay out of the realm of psychiatric domain and shame you for being different that causes the most upset and stigma.
Do I suffer, as a result? Yes, I do, but I keep on going because I love to live. And while I criticized normality, it is in 'normality' that I rejoice when I am doing well. It is sharing a homemade meal with friends, having a job that I love, spending time with my son, cuddling my cat, cooking and enjoying a nice glass of wine. It is the simple pleasures in life that bring happiness.
And yet, in my 'normality' I also strive for something different. I moved 4 different countries, I tried different career paths, I learned several languages, I have been living an extraordinary life. I like the normality, but I also like the extraordinary, and it's the mind of people who are different that attracts me the most. I prefer friends who are unusual, because of being unusual myself.
Those who are different, such as me, suffer from the ideology of 'sanism' that is projected on us recently, since the proliferation of 'medical capitalism'. Take your pills and you will be all right! Sort yourself out and become like us!
But what if I don't want to be like everyone else?
What if I rejoice in my 'difference'? If I were to conform to the society's expectations of what is considered as 'normal', I would have probably never dared to take a plane at the age of 19 to do my bachelor studies in Brussels. I would have probably never learned Dutch, because I wouldn't have dared to move from Brussels to Amsterdam to do my master's degree. I would have probably never have so many unusual, interesting friends that I have in various countries. I would have never applied for a PhD bursary in England. There are lots of things, I believe, I did, thanks (and I say 'thanks') to my diagnosis (if you are curious, it is 'bipolar disorder').
But I am not supposed to rejoice in my unusual experience of having a 'bipolar disorder', I am expected to either suffer from it, or strive for the road to recovery. But a recovery from what? Total medicalization of our western society means that the main emphasis should be on taking the pills, and conform to the expectations of the doctors to have an 'insight' into one's illness. But what if it isn't an illness? What if, behind severe psychiatric diagnoses lies trauma, distress, cry for help, unhappiness, and sometimes overwhelming joy from life like I have? I have to admit that I DO take some medication, and it has been a nightmare for years to find anything that would suit me, but on the third generation of anti-psychotics, I am doing more than fine. I don't think that we shouldn't trust also the science. There are pills that work.
I also do have an amazing insight into my 'illness' because I catch it at the core, I stop the danger of a 'psychosis' the minute I feel it coming. And it isn't an 'illness'. I read everything possible about psychoses, I studied, I have a 'lived experience'. And I concluded that I am undergoing a profound shamanic experience, that simply has no place in the current western society. I have to adjust to the conditions of medical capitalism, and I have to adjust because I have a responsibility to raise my son. I have no other choice but to act 'normal'. Yes, I have an amazing insight into my 'illness'.
And so I go on and I continue sharing my story, because there should be some voices that are outside of the boring, toxic 'normality'. A normality I also enjoy, but only in the knowledge that I am different, and that I should also be able to belong and play a role in our society even if I deviate from the norm.
And so, I do have a question for you: should I keep silent and enjoy my 'normality' when I am well, or continue talking about it, knowing that someone will always say something unpleasant and that I will probably deal with stigma for the rest of my life?
What do you think?
***
Mad in America hosts blogs by a diverse group of writers. These posts are designed to serve as a public forum for a discussion—broadly speaking—of psychiatry and its treatments. The opinions expressed are the writers' own.
***
Mad in America has made some changes to the commenting process. You no longer need to login or create an account on our site to comment. The only information needed is your name, email and comment text. Comments made with an account prior to this change will remain visible on the site.