For years now the placebo effect in antidepressant research has been debated, with the recent story on 60 Minutes perhaps representing a high point for media coverage of psychiatry's evidence base- of course, occurring after most SSRIs have gone generic.
While we liked the show, we also think it's a shame that the media took so long to finally run a high-profile story on this issue.  And, we'd like to mention one interesting piece of evidence missed by the investigative team at 60 Minutes. At one point, Leslie Stahl mentioned that scientists at the drug companies say that antidepressants work. We're sure they do say that when asked by an investigative journalist. But, if one actually looks at the materials produced by drug companies, strangely, one finds that…they are in agreement with Irving Kirsch?
While digging through some old files (research for a paper we wrote on serotonin and depression), we uncovered a web page published at Wellbutrin.com in August of 2001. Wellbutrin SR was still on patent and GlaxoSmithKline (the maker of Wellbutrin) was already using a web presence as part of their marketing plan.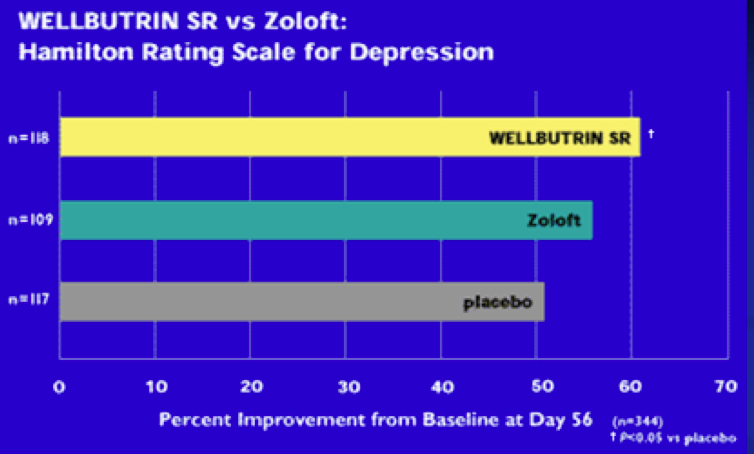 In our files we also found some webpages we had printed out from wellbutrin.com, which included an advertisement with the following table: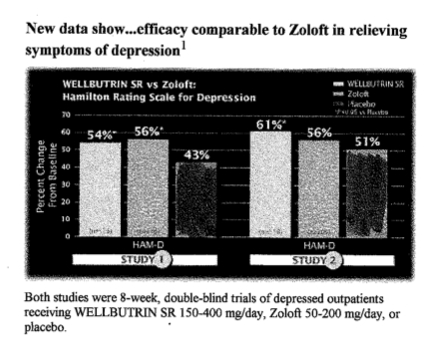 It's a little hard to make out in the scanned version, but the web page proclaimed:
Placebo: 51% improvement, Zoloft: 56% improvement, Wellbutrin: 61% improvement (% refers to % change from baseline, here).
These are the same sort of statistics that are seen as controversial when reported by Irving Kirsch- although here they are being pushed by a drug company as an advertisement for their product. So, at least one drug company was honestly reporting this information a decade ago.
The natural conclusion to reach after reading such data is that generalized helping and therapeutic relationship (as well as watchful waiting) would be the preferred approach to depression, since antidepressants have a risk of adverse effects but are only 10% more effective than placebo. Yet, this didn't happen in clinical practice- this advertisement ran during a decade of widespread (unrestrained?) prescribing of antidepressants….
The American Psychiatric Association has disagreed strongly with Irving Kirsch. Apparently they also disagree with at least one antidepressant manufacturer.
***
Mad in America hosts blogs by a diverse group of writers. These posts are designed to serve as a public forum for a discussion—broadly speaking—of psychiatry and its treatments. The opinions expressed are the writers' own.
***
Mad in America has made some changes to the commenting process. You no longer need to login or create an account on our site to comment. The only information needed is your name, email and comment text. Comments made with an account prior to this change will remain visible on the site.