Peer Power: Instant magic?
A few years ago, I participated in a workgroup wresting with scenarios focusing on shared decision making and resolving disagreements between psychiatrists and their patients. I'll never forget how our small group noted that the solution to each scenario's conflict was to "Bring in the peer!" as if the peer had some magical ability to resolve conflict by moving the patient to agreement. By day's end, we were sarcastically singing "Bring in the peer to save the day!", creating a new super hero theme song.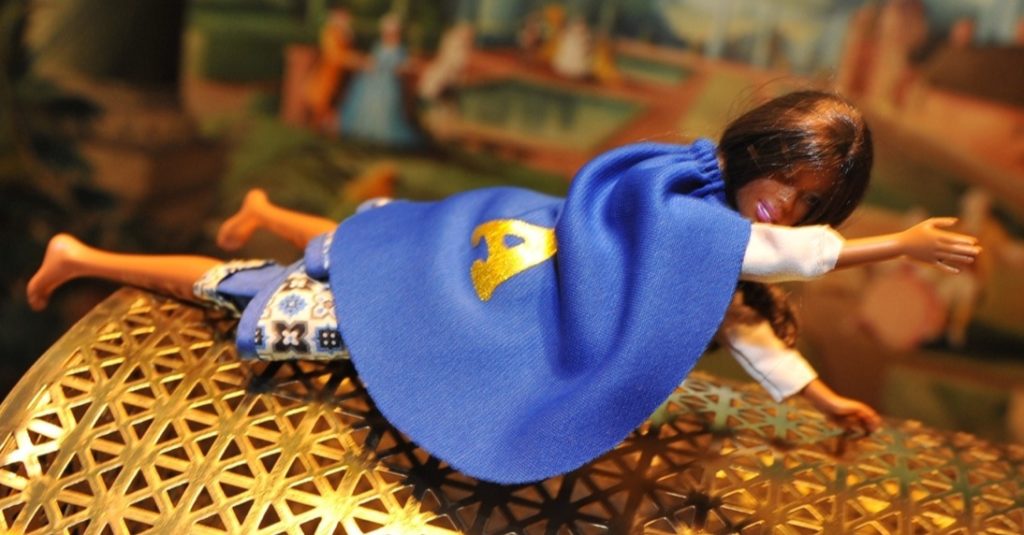 That memory reminds me to closely examine what we do as peer providers, administrators of peer run agencies, and trainers of peer specialists so that we do not veer from the core principles of self-help and our 'peer-ness' within this field of mental health.
Does 'membership' equal recovery?
Around the country, consumers of the public mental health system speak of 'empowerment', 'recovery' and 'independence' while being disempowered, and made reliant on a system that uses the word 'recovery' as only a buzzword. Mental health programs refer to the people they serve (clients) as 'members' – life long members in a club that given the choice, most would not choose to join. Yet our peers demand that their wellness, recovery and socialization groups stay in the mental health centers or drop-in (really drop-out) centers. Further, our peer-run organizations are primarily funded by local or state mental health departments and certified peer specialist are paid via billing their state Medicaid.
As a director of a peer run organization funded primarily by our county department of mental health, I have to wonder if we are walking our own talk or are just mirroring what we learned from being a part of the public mental health and SSI entitlement system in which many folks are/were literally system lifers.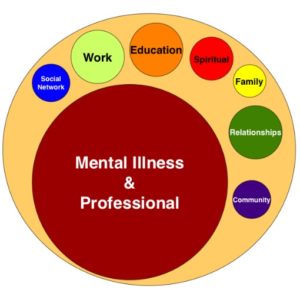 When our peer groups meet in the mental health centers, I contend the 'illness' becomes the center of our lives. We are missing the opportunity to lead full rich lives; explored and celebrated in places that thrive naturally within our community. Wellness Centers offering programs such as yoga and art are a step in the right direction, however, they are akin to 'drop-in' centers that drop people out of the same activities occurring in their neighborhood churches, community centers, and YMCAs. Once again, the 'illness' is the commonality bringing people together all day, every day for what appears to be forever.
Hanging onto the safety net
As we educate and support the people we serve about independence, self-reliance, interdependence and taking advantage of what's in our natural community, we meet a great deal of resistance. People receiving services in the public mental health system are justifiably fearful of leaving a world that has cared for them, kept them safe, and provided for their needs in the midst of a very fragmented health-care system. The system has 'welcomed' them as members when their natural community would not. This has created what we all so desperately want and need – a sense of belonging and community but also reliance and centered-ness in their lives. It is not easy to help people see that they have been duped. This is happening both nationally and internationally.
Moving toward independence
As peers and peer-run organizations, we look to the system for our very sustenance, proclaiming that this relationship and the receipt of funding legitimizes and professionalizes our work as peers. I advocate for our programs to move towards true self reliance, independence and empowerment. I'm not in agreement that all of our peer services should be reimbursed by state Medicaid. This would be a bastardization of the meaning of our work as peers. We must work together to determine which peer services fit with the requirements of Medicaid billing and work toward diversifying our funding to maintain our independence.
'Bring in the Peer' must be more to the mental health system than window-dressing that communicates "recovery spoken here" to its constituents and the community. 'Bring in the Peer' creates the opportunity to support people in moving through the system with the ultimate goal of leading independent, healthy lives. As we rethink psychiatry, 'Bring in the Peer' also means collaboration between peer leaders, providers, and mental health organizations to promulgate the practice of true recovery both inside and outside of our mental health systems.
Moving forward: Collaboration in Los Angeles County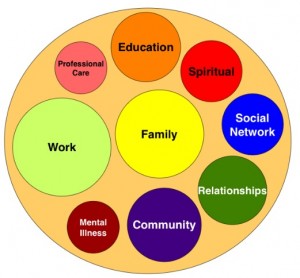 One good example of such collaboration is the ICSC pilot project sponsored by the California Institute of Mental Health (CiMH) in Los Angeles County. Using the Institute for Healthcare Improvement's Breakthrough Series, the collaborative brought together peer leaders, people currently receiving services, program directors, providers and peer advocates with the aim of assessing how our services keep people 'stuck' and improving services that increase 'client flow' through the system.  This ICSC project yielded improvements in our LA County provider organizations' capacity to serve new clients, by increasing the rate of flow to higher levels of recovery (lower levels of care), as well as transitions out of the mental health system into the community.
The true magic of peer support
The efficacy of peer support is well documented and peer programs such as Wellness Recovery Action Plan are considered evidence-based practices. Thus it is imperative that the use of peer provided services be included within our mental health system. This must be done in a way that does not restrict what we do as peers based on 'medical necessity'. To be truly effective, the focus must be on the person and not the diagnosis. While our professional colleagues are constrained by 'billing', as peers we need the freedom to provide support by doing with rather than doing for.
By 'Bringing in the Peer' together, we can help to bring out the whole person.
***
Mad in America hosts blogs by a diverse group of writers. These posts are designed to serve as a public forum for a discussion—broadly speaking—of psychiatry and its treatments. The opinions expressed are the writers' own.
***
Mad in America has made some changes to the commenting process. You no longer need to login or create an account on our site to comment. The only information needed is your name, email and comment text. Comments made with an account prior to this change will remain visible on the site.