Hope Heals.
This incredibly simple statement seems too good (or too naïve) to be true, particularly when talking to families and individuals who are experiencing deep emotional anguish.
When we are fighting desperately to hang on to life, "hope" may feel like too much to hope for.
And yet, the truth remains: hope heals.
It was true when Dr. Karl Menninger held doctors accountable for enhancing patients' hope in his 1959 address to the American Psychiatric Association.
It was true when Victor Frankl, Auschwitz survivor and one of psychotherapy's founding fathers, emphasized the link between (wo)man's "courage and hope" and "the state of immunity in his body."
Hope heals.
While the healing nature of hope has been the subject of philosophy and religion for thousands of years, hope has even made its way into the mainstream medical model. Over the past 40 years, there have been numerous attempts to quantify its healing impact through a variety of formal measurement scales from Gottschalk Hope Scale (GHS) to Erickson's Hope Scale (HS) to the Beck Hopelessness Scale to the Snyder Hope Scale (SHS) to the Hope Index to the Miller Hope Scale (just to name a few). It would seem that many social scientists are staking their claims on hope.
With all of this emphasis on the importance of hope, from early philosophers to present-day "hope researchers," why does hope seem so remote for families who are experiencing extreme emotional distress?
It is understandable why individuals and families feel hopeless when they are struggling alone.
But why do we continue to feel hopeless after we reach out for help?
It would seem that hope is one of the best-kept secrets in the mental health care system.
There is credible, longitudinal research by the World Health Organization and Courtenay Harding that demonstrate even the most "intractable" mental health challenges aren't so intractable. The majority of those diagnosed with schizophrenia do go on to experience recovery. Innovative early psychosis approaches like Open Dialogue in Finland continue to prove this to be true. There is reason to hope.
So what is going on here? Why do families keep reaching out to us in despair?
It is hard to remain hopeful when we reach out for help and our family members are instead given medical diagnoses and all that often comes with them—prognoses that often lead to lifelong illness, disability, stigma, social isolation and overreliance on medications that pose significant health risks and side effects.
The mental health statistics that accompany this approach are even more dismal. Exponential increases in disability rates, worsened overall health impacts, and alarming increases in the rates of diagnosis for our most vulnerable populations including children (especially those in foster care) and the elderly.
And yet, hope still heals.
All that hope research tells us so. More importantly, the experience of those who have recovered from psychiatric diagnoses tell us so.
Mary Ellen Copeland, PhD, has asked thousands of people who have recovered from mental health challenges, "What helped you get well and stay well?" and found that hope is central to recovery.
So, how can we get to hope from here?
How can we build a bridge from hope-stealing physical and emotional pain, hopeless diagnoses and prognoses, and hope-numbing side effects?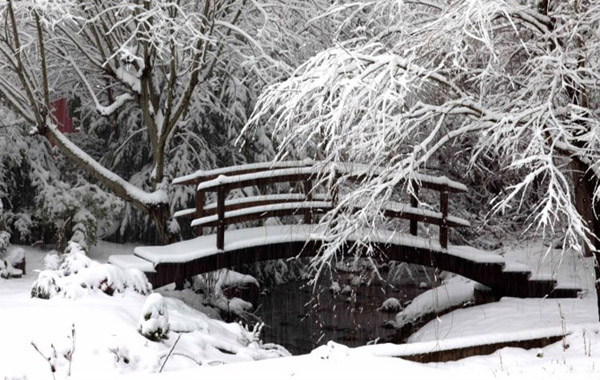 How can we look within own families and communities, acknowledging the full depth of suffering and confusion, including the losses of those most precious to us, and be able to say and believe, "hope heals"?
Perhaps we can't in the face of overwhelming evidence to the contrary. Perhaps we start by building and being bridges to hope.
We may need to make sure our own hoping self is alive and well so we can hold hope for others until they are ready and able to hold it for themselves.
But what if we, as family members and supporters, are feeling hopeless? Who can hold the hope for us? This is when the support of other families with lived experience is not only helpful, it is crucial.
We are discovering first-hand how hope can be nurtured even in the midst of crisis when families come together to learn and practice hope in a recovery-oriented community.
Mother Bear has recently launched an online family mental health recovery course in partnership with the Family Outreach and Response Program in Toronto. Thirty six of us are learning how to support our family members and ourselves using principles championed by the peer recovery movement—the importance of fostering hope, focusing on strengths, understanding mental health and distress on a continuum, and the healing power of community.
During our 8-week pilot program, we have all taken turns encouraging each other as we learn to practice new recovery attitudes and approaches. We recently completed several lessons on hope and worked with a concept called "reasonable hope" developed by Kaethe Weingarten, Ph.D.
Reasonable hope can help us build a bridge to creating more authentic hope in our lives even in the midst of challenging circumstances, uncertainty and even despair.
Weingarten identified five characteristics of reasonable hope, which we are understanding and interpreting in the following ways:
Relational. Hope happens between things and in relationships. It is held, shared, communicated, birthed. It shifts and moves, waxes and wanes, as we interact with ourselves, each other and our environment. It can be likened to the African concept of "Ubuntu," which Archbishop Desmond Tutu described as "being enveloped in the community of other human beings, in being caught up in the bundle of life." Hope is like this, caught up in bundles of shared experience.
Is something to be practiced. Hope is a verb more than a noun. Rather than an internal feeling we have or we don't, hope is a quality we can actively cultivate through the choices we make. Hope is an ongoing process, something we practice in the here and now—not something we passively wish for in the future—that makes us more "hope" prone.
Sees the future as open, uncertain, influenceable. An uncertain future creates space for change, growth and transformation. It opens the door to possibilities beyond our current expectations. Hope is a process where "the soul turns toward a light which it does not yet perceive, a light yet to be born," as is eloquently described by the French philosopher Gabriel Marcel.
Seeks goals and pathways. Reasonable hope is both practical and fluid. It looks for what goals can be accomplished now (and identifies ways to get there) and adjusts as new possibilities and pathways become available.
Accommodates doubt, contradictions and despair. When understood as a dynamic, moment-to-moment practice, hope can be messy and spacious. It can hold the whole of our lives with all of its losses, joys, setbacks and surprises. Instead of closing our eyes and making a wish, we can open our eyes wider and turn toward a light that may not yet be born.
Reasonable hope is only one of many ways we can bring hope into seemingly hopeless situations. A bridge from what is true now to a place where we can dream and hope again.
But maybe, in the end, any kind of hope will do. And someone to share it with.
Wishing you all hope and healing in this holiday season,
—From all of us at Mother Bear
For more information about our online Family Mental Health Education program, please contact Jennifer Maurer at [email protected]
References:
Copeland, M.E. Wellness Recovery Action Plan overview, books and resources, http://wrapandrecoverybooks.com.
Frankl, V.E. (1963). Man's search for meaning: An introduction to logotherapy. Oxford, UK: Washington Square Press.
Harding, C. (1987). The Vermont Longtitudinal Study of Persons with Severe Mental Illness, II. American Journal of Psychiatry, 144, 727-734.
Jablensky, A. (1992). Schizophrenia: Manifestations, Incidence and Course in Different Cultures. Psychological Medicine, supplement 20, 1-95.
Leff, J. (1992). The International Pilot Study of Schizophrenia. Psychological Medicine, 22, 131-145.
Marcel, G. (1951/1962). Homo viator: Introduction to a metaphysic of hope. New York: Harper Torchbooks.
Menninger, K. (1959). The academic lecture: Hope. American Journal of Psychiatry, 116, 481–491.
Parse, R. R. (1999). Hope: an international human-becoming perspective. Sudbury, MA: Jones and Bartlett Publishers.
Weingarten, K. (2010). Reasonable Hope: Construct, Clinical Applications, and Supports. Family Process, 49, 5–25.