MindFreedom believes in the dignity and VOICE of every human being, no matter how mentally or emotionally distressed. We — human beings — all have the right to CHOICE and true, informed consent in mental health care. Brutality in the name of forced psychiatric treatment "for our own good" is a horrific and deeply degrading practice that must end.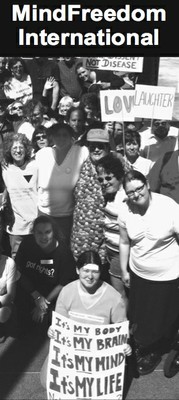 For years, the MindFreedom Shield Campaign has been using PEOPLE POWER to protect individuals from unwanted psychiatric interventions. Shield alerts have the potential to activate a network of thousands to raise a non-violent ruckus with the goal of stopping forced psychiatric interventions.
Look at Glen K. of New York, whose forced electroshock was stopped just 48 hours after his MindFreedom Shield was activated. Look at Elizabeth Ellis of Minnesota, who wrote at the completion of the MindFreedom Shield campaign to free her, "If it hadn't been for MindFreedom I would still be getting forced shock. I know the hospital recognized they had a power to reckon with in MindFreedom. Thank you, thank you, thank you so much for the support!"
There are two keys to a successful Shield Campaign — PEOPLE POWER and RIGHTEOUSNESS. One or two emails or calls won't make much of a difference to a mid-level mental health administrator or a staffer for a state legislator, but 500? 1000? And each writer and caller is passionately aware (often at the cost of difficult firsthand experiences) that forced psychiatric treatment is a human rights violation, that we ALL have a right to human dignity and bodily integrity.
MindFreedom is not alone in these beliefs; we stand in solidarity with the United Nations' Special Rapporteur on Torture and Other Cruel, Inhuman or Degrading Treatment or Punishment, who stated recently that "free and informed consent should be safeguarded on an equal basis for all individuals without any exception… provisions allowing confinement or compulsory treatment in mental health settings must be repealed."
Better still if they are never passed in the first place.
Texas HB 2212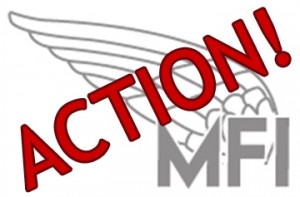 We alert the mental health activism community to proposed Texas House Bill 2212 (full text here), which will dramatically expand the population eligible for assisted outpatient commitment in this state. In a blatant assault on the right to bodily integrity, the bill would allow psychiatric interventions including what the state says is "clinically necessary medication" to be administered by force to law-abiding citizens living in the their own homes based on a few, elastic criteria.
We're calling on everyone – whether they live in the state of Texas or not – to alert Texas legislators and their staffers to the human rights violations this would entail. Write an email, place a phone call, send a letter… RAISE YOUR VOICE and tell them that forced outpatient commitment is:
–     a human rights violation (according to the U.N.)
–     ineffective at reducing hospital readmissions and improving clinical/social outcomes (according to the research of Oxford professor and former supporter of the intervention Tom Burns – he's now calling for a moratorium on the practice)
–     a traumatizing and dehumanizing ordeal, lasting months or years, and a profound deprivation of liberty for law-abiding citizens (according to this individual subjected to long term home-based forced psychiatric drugging and many other survivors)
Learn more about how you can get involved in this important effort HERE.
MindFreedom will be there to Shield its Texas members if this bill passes. But in the meantime you can make a difference in our campaign to shield every citizen in Texas from these invasive legal powers being added to forced psychiatry's arsenal by voicing YOUR opposition to Texas legislators and their staffers.
MindFreedom is dedicated to fighting for the right of all people globally to be free from unwanted psychiatric labeling, drugging, and dehumanization. Will you join us in this important struggle?
It takes just a few minutes of your time to add your voice to the chorus of hundreds of human rights advocates who have already inundated the Texas state house with correspondence. But those few minutes of your life would help SHIELD many Texan lives from the threat of psychiatric force.
***
Mad in America hosts blogs by a diverse group of writers. These posts are designed to serve as a public forum for a discussion—broadly speaking—of psychiatry and its treatments. The opinions expressed are the writers' own.
***
Mad in America has made some changes to the commenting process. You no longer need to login or create an account on our site to comment. The only information needed is your name, email and comment text. Comments made with an account prior to this change will remain visible on the site.