Thousands of books are published every year on parenting. Bookstore shelves buckle under the weight of books covering almost every situation imaginable – parenting disabled children, parenting children in gay families, parenting children according to gender, ethnicity, medical condition, personality, even parenting your child before birth.
There are no books on parenting dead children.
Ask any mother whose child is dead if she stopped loving them when they died. Ask her if she stopped being her child's mother. Ask her if finding ways to continue to parent her child after death is part of her reality but a part she generally can't talk about for fear of being judged or pathologised.
My only child is dead.  If I am not his mother, I am not a mother at all and that is not a position I will ever accept. My role as his mother is not something I am willing or able to let go of. If I had a dozen other children, I would still need to be his mother, I know I would.
There are events other than death that force us to find new ways of parenting our children. A child who relocates overseas, a child who marries, a child who goes to prison, these children cannot be parented the way a child living at home with you would be parented. Following any of these events  a parent is forced to learn to parent their child differently but most don't consider ending their role as active parents. Only death it seems is expected to make us relinquish our role as parent.
Toran is dead but he is still my son and I am still his mother. I still want the best for him. I want to support and care for him, to advocate for him and further his interests. It would take more than death for me to let go of being Toran's mother and of actively parenting him.
Before Toran died, I would have said that dead is dead. That dead people no longer exist except in the memories of those still living. I would have said that dead people are no longer people. But when he died, I found myself asking where all that energy, the laughter, the noise, the demands the love could have gone. And I began to question my beliefs and wonder if it is possible for consciousness to survive death. Five years and hundreds of books on quantum theory later, I am equivocal. I simply do not know whether Toran still exists but, just as if he was a missing child and I did not know whether he was alive or dead, I cannot give up hoping that he survived and continuing to work in his best interests. I am comforted that the brightest physicists in the world say we only understand around 3% of the physical universe and that we cannot rule out the possibility of life after death.
Being the parent of a dead child is hard. Being the parent of a child who died from suicide may be even harder. It seems so to me when I look at how google autocompletes for two searches – people who kill themselves and people who are murdered.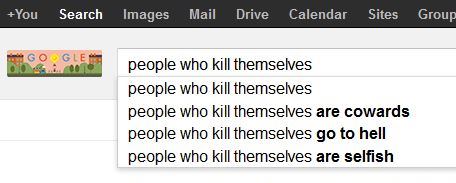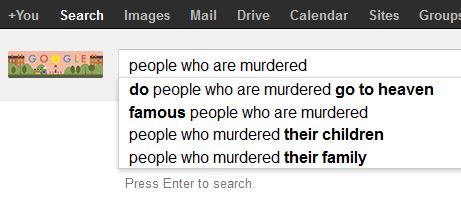 You will see that one is focused on information gathering while the other seems to believe that suicide victims being cowardly, selfish and hell-bound is fact.
The New Zealand guidelines on media reporting of suicide state that reporters should not "Just focus on the person's positive characteristics." It is hard to imagine guidelines that suggest reporters find negative things to say about those who die from any other method.
I know my son was not a coward, that his death was not selfish and that he is not being punished for ending his life. As his mother I cannot allow those attitudes to go unchallenged. I wouldn't if he was alive and I won't because he is dead. Protecting his reputation, defending him from defamation is one of the ways I parent him after his death.
I have found other ways. Toran was born on Mother's Day and on that day I make his birthday cake. Does he care? Does he even know I painstakingly mold fondant cats and stars, coke bottles and bowls of popcorn for him? I don't know. But mothers wrap Christmas presents for babies only weeks old even though they don't know or care, because it is a way of expressing love and experiencing motherhood. And maybe he does know and would know if I didn't do it. Maybe he experiences happiness and pride in his mother's love and commitment to him. Maybe. Maybe not. I don't know.
In my car, I have a laminated photo of him which, if placed correctly reflects his face in the windscreen. When I'm on my own in the car, I can look at him and talk to him and sing his favourite songs when they come on the radio.
Toran's song is the R Kelly song "I'm that Star Up in the Sky." At night, I find the brightest star and I talk to him. I tell him how scared and lonely and unsure I am, I tell him how much my soul longs for him. I thank him for helping me during the day. I ask him for signs that I'm doing what he wants me to do. I tell him how beautiful he is and how proud I am to be his mother. I do things in his name. I try to be kind because kindness mattered so much to him. (I don't try to be cool because even though that mattered a lot to him too, he was very clear that it was something I would never achieve and was clear I should not even try).
Mainly what I do is try to change the world in his name. I try to create a world in which he would have been able to live rather than die. To that end, I started a charity that supports families bereaved by suicide and challenges thinking in medical and policy circles on how we treat distressed people and prevent suicide.
I get to say his name every time I run a suicide prevention education session. I get to tell his story when I file submissions on government policy. When I am contacted by a parent who has lost a child to suicide I sit on his bed and tell him all about the family. I tell him "Toran, I found the mum, can you go and find the child and can we support this family together."
In my work, I try to help parents find something that they would like to achieve in their child's name. Often it is a change in legislation or policy which is meaningful because of the way their child died. Sometimes it is a project, an artwork, travel, establishment of a foundation. And sometimes the parent finds a way their child can work with them on the project like with me and Toran and CASPER, and that is magical.
I love my son and am proud of him and work to make sure that his having lived makes the world a better place. That is how I parent him. Being his mother is like breathing to me and is something I will be and do until I take my last breath. And maybe beyond. Who knows?
If you too are the mother of a dead child, particularly one who died from suicide, then before you accept people's assessment that you are 'in denial' or suffering 'prolonged grief disorder' know that there are other mothers out there for whom parenting their child after death is part of their new normal. Mothers who nurtured their children's bodies and continue to nurture their souls.