It's been a while since I posted here on Mad in America. I come by and read, but don't comment much anymore. For the past few months, I haven't much felt like talking with people.
That is about to change.
My last post here was made right after a community member who was a part of our local mutual aid group committed suicide. The rest of the summer was spent in a long haze of days cluttered with emails and restless children, a wilting garden and a slow edging back into myself.
I still kept up with local organizing and started to do some work as a support coordinator with The Icarus Project, to build stronger local group organizing networks and help out with some of their plans for organizational development and an expansion of the radical mental health vision to include more people of color, queer and gender non-conforming folks, and people who identify as poor and working-class, to work across lines of disability and culture.
I'd think to myself about how remarkable it is that, three years ago, I felt as if I were one of the most isolated and disconnected people in the world and my life was – objectively speaking – on the verge of a total and final collapse. Every day, as the summer wore on, I'd count up my blessings, in friends and opportunities, my family and all my possible futures, but I felt myself getting more and more quiet; becoming exhausted.
I posted my introduction to the Lived Experience Research Network with a ½-hearted statement about my graduate studies and a musing that maybe I ought to just pack it all up and move to the woods, write stories and work toward my goal of eventually being an elderly outsider artist.
I began to notice that every time I said anything, I'd feel insecure and anxious.
I stopped posting to Facebook.
"I don't even feel comfortable with people," I'd tell myself. "I'm a loner, not a community builder." However, when I read the visionary texts that I was assigned for my Transformative Social Change courses, my mind felt clear and what I have come to recognize as my heart's truth would swing into the feeling that tells me that something is vital. Almost as if on cue, the habitual doubt that I learned in my years of people not believing in me would pop its ugly head up, sneering, "Yeah, right, Faith. Like you could really do work like this. You'll mess it up. You shouldn't even try."
It shouldn't have surprised me that I should come upon such a time of uncertainty. I am, after all, rebuilding my life, and over the past couple of years – with the help of friends and supporters – I've cultivated a lot of options. Sometimes, it is hard to know what to do and I find myself constantly negotiating between what people want me to be and who I am. Recovering from self-doubt and learning to claim my own potential is a matter of making the daily choice between listening to the vestigial voices of people who – in their own failure – did not see me clearly or believe in me and choosing, instead, to take chances, to challenge myself to trust those who believe in me and value me, and – finally – to believe in myself and in the world, to not give up and drop out, but to keep going, to see what happens if I try.
The death of a mutual aid collective member had shaken me and discouraged me, caused me to doubt my ability to be an active and supportive community member.
I began to avoid people who wanted to talk about the suicide. I didn't want to talk about it. I wanted to do something about it.
Standing outside of a coffeeshop, a few collective members and I discussed what might have happened differently if our local mental health system had been more accessible and helpful to this person we knew, who had turned to those services for support; this person who – on the day before he died – plainly stated through frustrated tears that he felt "failed and betrayed" by the providers he had trusted to help him.
I understand that some people are staunchly opposed to public mental health services, and I certainly understand why. However, millions of people reach out to these organizations and agencies for assistance in getting through difficult times. It is common knowledge that the "help" they get is not always helpful, but I have definitely known a few people who found the support they were looking for in the public system and, let's face it, until there are widely available and accessible alternatives that people are able to turn to, many people who are struggling reach out to public and private providers for help.
Regardless of what I think or feel about it, the mental health system definitely exists and, as many people know, it can do a lot of harm to people – from negligent and abusive psychiatric drugging, to mis-conceptualizing human distress as a mysterious biochemical disorder while ignoring the role of trauma/stress in wreaking havoc on our neurochemical landscapes and the power of a broken heart to wound our minds, to re-traumatizing and exploiting people who have endured controlling and manipulating relationships within their lives.
Yet, I would be lying if I said that I thought no good could ever come of publicly funded supports for people in distress. It just depends on what sort of help is offered, and whether it is actually helpful.
In that conversation outside of a coffeeshop, fellow members of the Asheville Radical Mental Health Collective and I talked about what it might take to create a peer-run respite, to have accessible and trauma-informed safe spaces where people could go if they just needed someone to listen to them or to support them in the process of learning how to heal within their lives or to find connection with people that might make severely and persistently difficult lives less lonely.
"It'd be a lot of work." We looked around at one another.
I felt exhausted, but some small spark of inspiration was lit in my mind.
"What if we organized some talks with people in the community, gave them a chance to share their experiences and identify concerns. That might build a really strong base of advocacy."
We stood there, four of us, and we sighed.
"If there had been peer respite or a safe space for him to go, he'd still be alive."
I decided to hold onto that thought.
A couple of months after that conversation outside of the coffeeshop, I received an email inviting me to participate in the Peer Committee of our local Recovery-Oriented System of Care Taskforce – which is part of a coalition that developed out of a group which previously advocated primarily for quality and accessibility in substance abuse services.
Early one morning, I went to meet up with a local consultant who does peer trainings, the program director for a large private recovery community and a fellow survivor-friend, whom I met at a book-launch event and who currently heads up the local NAMI, in spite of the fact that she refrains from using the language of "mental illness."
"What am I doing?" I wondered, as I walked into the inhospitable building that houses both the local NAMI and the local MH/SA/DD funding management entity – all located right across the street from the hospital.
I thought about Ted Chabasinski and the bus ride to Philadelphia's Occupy APA event.
I considered all the criticism surrounding the word "recovery," the word "system," and the word "peer."
Did I really want to be involved in something called the Peer Committee of the Recovery-Oriented System of Care Taskforce? Would I still be a radical? Did I even care?
What would that mean?
As a person who is interested in the processes that support transformative social change, I believe that it is important to work creatively and dynamically for change. It makes sense to me to explore advocating within the system, for the purpose of encouraging transformation of that system.
It was decided at that meeting that we would begin to explore strategies for developing alternatives, and we determined that while we would far prefer to somehow magically create a network of empowering, accessible, holistic off-grid alternatives, that the possibility of working with the system to expand high-fidelity recovery-oriented services and develop crisis alternatives was not completely out of the question.
We used words like "partnership" and "collaboration."
Later, reading over the materials that SAMHSA has created on the process of implementing recovery-oriented systems of care, I shook my head.
It wasn't that I was disgusted, or offended.
It was because a lot of the goals sounded . . . well, okay, if not good.
At the next meeting, my friend said, "Hey, look at this…" and turned her computer screen to show me the Creating Community Solutions website, which is the initiative that was developed to support the National Dialogue on Mental Health. President Obama called for the National Dialogue as part of the response to the Sandy Hook shootings of last December. Featured on the mainpage of the www.creatingcommunitysolutions.org page was an article about the NPR Story Corps feature that included Liza Long – of "I Am Adam Lanza's Mother" fame – talking with her son about his "mental illness."
There was a map, with a bunch of little digital pins scattered across the states.
The National Dialogue on Mental Health is introduced with the following statement:
"The President's plan to protect our children and our communities by reducing gun violence directs the Departments of Health and Human Services (HHS) and Education to launch a National Dialogue on Mental Health with young people who have experienced mental health problems, members of the faith community, foundations, and school and business leaders."
Somehow, there was something in all of the decidedly grim context that, to me, shined a little.
"What might happen here if people talked about what is helpful and what isn't?"
A big part of my recovery from psychiatry has been regaining my sense of confidence and viability as a valued member of my community and as an activist. What would happen, I wondered, if  my survivor-friends and I, with other people from the local recovery community (which includes open paradigm radicals who question the implications of the word "recovery") supported the organizing of a Creating Community Solutions dialogue here?What if we helped to organize a whole series of them?
As someone who is well-versed in mutual aid, inquiry-based education, and working with young people who are identified as being "at-risk," it was powerful to think about people talking with one another and listening to each other, sharing ideas and hopes and fears for the purpose of potentially creating meaningful change and real supports for self-directed and strengths-based navigation of challenges with our human experience.
What if we talked about the difficult truths? For example, it seems that – for some – the circumstances of life, as set in place by economy, discrimination, and profound difficulty in their human experiences, make recovery less of an accessible option than for others.
How could we better honor those realities?
In the part of my mind that believes that something in the world is striving for good things to happen and for us to collectively find new ways of seeing one another and supporting one another in being fully human, I marvel at how convenient it was that a rag-tag group of survivors standing outside of a coffeeshop had plans that align so closely with the national initiative's goal of bringing together diverse stakeholders in dialogue about mental health, community-identified needs and realities, and ways to support healing . . . of individuals, families, communities, and systems.
Sitting in meetings at boardroom tables, I have occasionally found myself with tears in my eyes, because I have seen that the people who work within these systems – people that I used to just think of as blank-eyed "mental health system bureaucrats" – are, themselves, deeply human. They've surprised me and inspired me, in both their commitment to trying to do things differently and in their support and appreciation for survivors and community members being at the table.
Community Solutions WNC is holding its first public information and organizing event this week and peoples' interest in this initiative is encouraging. What is more encouraging, at least to me, is that I am integrally involved.
As a person who once assaulted her own mother in a teenager-on-Prozac rage and whose young potential was badly compromised by involvement in misguided treatment, it feels important to me that I be a part of this, that I support this happening in my community.
These dialogues that are being organized are interesting to me, full of both chicanery and possibility. I somewhat doubt that many of them will produce sustainable outcomes. Most of them are big, single-day events, organized by mayors and NAMI branches, schools and the United Way.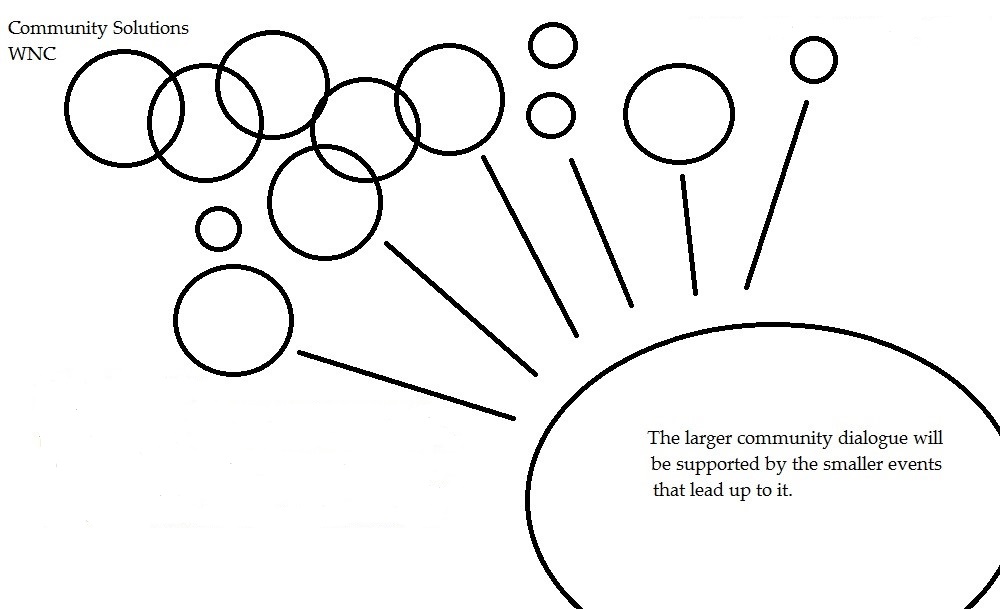 We're approaching things a little bit differently here, because we want to talk with as many people as we can and get people involved whose lives are most affected by the policies and procedures that define local systems. We want to center this initiative around people who might be most vulnerable to not having their needs met in ways that are helpful, accessible, and culturally-appropriate. More importantly, we want to build community and find commonality while intentionally making space for people of color, homeless folks, and the LGBT community to talk about how their self-identified mental health needs might differ from the mental health needs of middle-class, white, straight-people – who are, by and large, the people making the decisions about what gets funded and why.
We want to create opportunities for people to talk about their different ideas about what "mental health" even means and what they believe about "mental illness."
We have no interest in debating with people.
We want to talk with people.
We want to listen to them, and we want them to listen to us.
Some people call me naïve because I have an inordinate amount of faith in the innate human capacity to make good choices when given the opportunity and presented with ample evidence to support them making a decision that is informed, not only by data, but by recognition of their own individual best humanity and potential to be a force of healing and justice in the world.
I really do believe that things can be done differently, that we are not constrained by old models and that, in keeping with the workings of systems in nature, things inevitably change, especially if they don't work.
Our local dialogues will not be organized by the mayor, or by the mental health system.
They will be organized by consumers, and survivors, and ex-patients.
Hopefully, they will also be organized by kids . . . because many of them are also consumers, survivors, and ex-patients.
When I worked as a volunteer Guardian ad Litem for teenagers in state custody, I only worked with young people who were "placed" in Psychiatric Residential Treatment Facilities or group homes. The very first time I disclosed my own lived experience in a way that seemed to encourage someone else was in speaking with a young woman in a locked facility. We were sitting in the recreation room and it was the second time I had met her. We weren't sure what to talk about. I was a new GAL, a white woman with tattooed hands. She was a young black woman whose family was in shambles.
"You know," I told her, "I was in a place kind of like this when I was a teenager. My situation was a lot different, but the place I was in was a lot like this place."
She looked at me and smiled, asked a couple of questions and then she began to tell her own story.
Since then, she has graduated and is now taking classes at the local community college, which would be a great place to hold a large public forum on mental health in the Spring, following a series of smaller, community based dialogues.
I'll have to get in touch with her and see if she might want to help us to organize some young people.
To me, this is radical.
 ————————
Community Solutions WNC is currently building infrastructure and organizing strategies. We have a Facebook page and a website that we refer to as our "infoblog."
We are actively building relationships with community members and local organizations, including the Mountain Council Recovery Coalition, and plan on seeking endorsement from the City of Asheville.
We are grounded in the principles of participatory organizing, deliberative democracy and sustainable advocacy.
For more information, or if you know of anyone  – in North Carolina or elsewhere – who may be interested in supporting this initiative through consultancy, in-kind or service (e.g. simple website design) contributions, please let us know by emailing [email protected] or calling (828) 351 4113.
Of further interest:
Faith Rhyne at last year's Esalen conference on alternative perspectives on "psychosis."