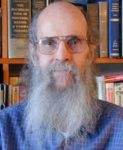 Renowned psychiatric survivor, noted author, and long-time civil rights activist Leonard Roy Frank has died. He was 82. The exact cause of death is not clear at this time but it followed a fall, according to an email notice from the executor of the will.
A biography on MindFreedom International's website describes Leonard Roy Frank as "a survivor of dozens of brutal forced electroshock and insulin coma. He went on to become one of the foremost activists for human rights of people harmed by electroshock… He has edited many books including: Frank Quotes (1970), The History of Shock Treatment (1978), Influencing Minds: A Reader in Quotations (1995), Random House Webster's Quotationary (1998), and Random House Webster's Wit & Humor Quotationary (2000)."
The complete text of the email notice from the executor of the will, Wade Hudson:
Dear Friends:

I am sad to report that Leonard Frank died suddenly some time late Wednesday night or early Thursday morning. Though he had suffered with a cold for a few days, otherwise he was healthy.

He had apparently fallen after having what the medical examiner said was probably an "event." The cause of death may not be declared for several weeks.

As executor for his will, I've been talking with his sister and her three children about plans for a memorial service, which is tentatively planned for Saturday, January 31, 10 am.

If you want to make a charitable donation, I suggest that you do so to Mind Freedom International, P.O. Box 11284, Eugene, OR 97440-3484 or online at http://www.mindfreedom.org/.

If you want to receive final information about the memorial service, please let me know.

Please share this information with people who loved and appreciated Leonard. He will be deeply missed.

With love,
Wade Hudson
Leonard Roy Frank was interviewed in 2013 for the Open Paradigm Project:
See also:
In Memoriam: Leonard Roy Frank (Mad In America, January 18, 2015)
The Journey of Transformation by Leonard Roy Frank (Mad In America, May 7, 2013)
From The Files of Leonard Roy Frank (Extensive list of articles by Leonard Roy Frank on Psychiatrized.org)
Video of Leonard Roy Frank at the Occupy the American Psychiatric Association protest in 2013.
Leonard Roy Frank on MindFreedom International website.
Leonard Roy Frank Wikipedia Entry
MIA Editors Note: We invite readers to offer their remembrances of Leonard Roy Frank in the comments below the special "Remembering Leonard Roy Frank" post.
* * * * *