From the International Mad Studies Journal: "The International Mad Studies Journal (IMSJ) is a majority peer-reviewed academic journal which contributes to discussions and debate regarding ideologies and practices within mental health. In addition to peer-reviewed articles, we seek out unique and unheard voices presented in creative platforms such as fictional writing, poetry, and other forms of artistry.
The Story Behind Us
IMSJ was founded by a psychiatric survivor in Narrm (Melbourne, Australia). This was in the context of working in academia and seeing the challenges of producing alternative knowledges and ideas in mental health. They gathered like-minded people together predominately from Australia but [also from] across the world. These were not just people who were consumers, survivors, or ex-patients of mental health services but from a variety of professions.
Together, we wanted to challenge the hegemony (dominance by one group over others) of traditional mental health discourse. We were tired of not seeing change. We wanted to actualize the visions that have been held by many in the past about capturing mad knowledge and different perspectives.
In 2020 we were lucky enough to receive a small grant to support our start-up costs from the Regina Brindle Foundation. We are very grateful for this support in helping this idea come alive."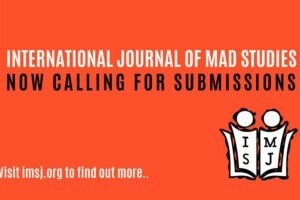 ***
Back to Around the Web