From The City: "Last month, Denise Williams, a 29-year-old Black mother of two, went to Queens Hospital Center seeking treatment for postpartum depression. Just 48 hours later, Williams' family learned she had died — but why still isn't clear.
Family, friends, and advocates demanded answers Tuesday from the city-run hospital, where more than a dozen people gathered to call attention to the case.
'We don't want condolences, we want answers,' said Charlene Magee, Williams' maternal aunt. 'It's been three weeks, and [my sister] has no idea what happened to her child.'
Two days after Williams checked into Queens Hospital, a hospital staffer called Williams' mother, Linda Magee, on Aug. 30 to say an autopsy was going to be performed on Williams, according to Charlene Magee.
That marked the first communication from the hospital indicating that Williams had died, her family said.
It took another half hour for another staff member to call Linda Magee to say that Williams was dead, said Charlene Magee. Nearly a month has passed, and the family says the hospital still hasn't provided an official cause of death.
Williams left behind two young daughters, an 8-week-old and a 3-year-old."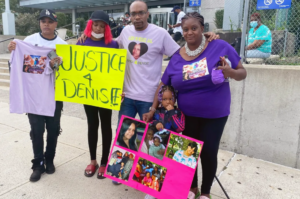 ***
Back to Around the Web