From The Detroit News: "Not to be a holiday buzzkill, but I find it disturbing the old Eloise hospital has been turned into a giant haunted house for Halloween.
I'm sure it's a magnificent attraction, and hear it is among the scariest house of 'haints' ever. It should draw visitors in from all over.
My issue is that real people lived genuine horror stories in the Wayne County facility, which served for decades as a repository for the hopelessly poor, mentally ill and destitute infirmed.
Real pain stalked its hallways. Real abuses were inflicted on the most vulnerable and forgotten members of society.
This is ground made hallow by the tremendous torment that was endured there. To have the suffering and misery mocked up for the amusement of Halloween thrill-seekers seems disrespectful."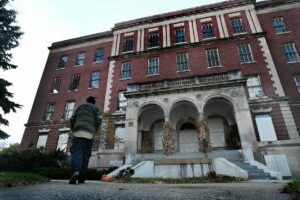 ***
Back to Around the Web