From WHYY News: "'When you see it for the first time, it stuns you, but that's the way these people were regarded,' [Dennis O'Connell, whose grandmother is buried there] told WHYY News. 'There's no names there. Just these little blocks with numbers.'
For [Faith Kuehn of the Delaware Department of Agricultrue], restoring dignity to these long-forgotten souls has been a passion for the last decade.
She first learned of it while creating a garden on the grounds of the [Delaware Psychiatric Center or 'Farnhurst,' once known as the Delaware State Hospital], which is also home to several offices of the State Department of Health and Social Services.
She couldn't see the nondescript graveyard at first, though. The field had overgrown and the cubes were not at all visible.
But she persuaded officials to create a memorial for the dead. That led to the creation of a monument for them in 2016 . . . 'This is an opportunity to provide a measure of respect and dignity for people who probably struggled with that during their life,' Kuehn told WHYY News."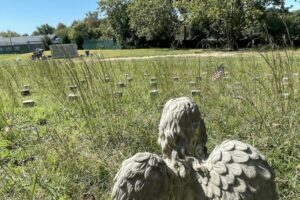 ***
Back to Around the Web