Tardive dyskinesia (TD) is a common adverse effect of antipsychotic drugs. People with TD have repetitive, involuntary movements, such as blinking, grimacing, and thrusting their tongues uncontrollably. Now, new research shows just how horrible this experience can be for patients.
The researchers, led by Mallory Farrar, used artificial intelligence (AI) to scan the internet for comments about TD and then sort those comments into themes and determine whether the comments were positive, neutral, or negative. The study was published in BMC Psychiatry.
The study was funded and carried out by Neurocrine Biosciences, a company that makes the drug Ingrezza (valbenazine) for treating TD. All of the authors were employees of Neurocrine, and a disclaimer on the paper states that "The study sponsor was involved in study design, as well as in the analysis and interpretation of data."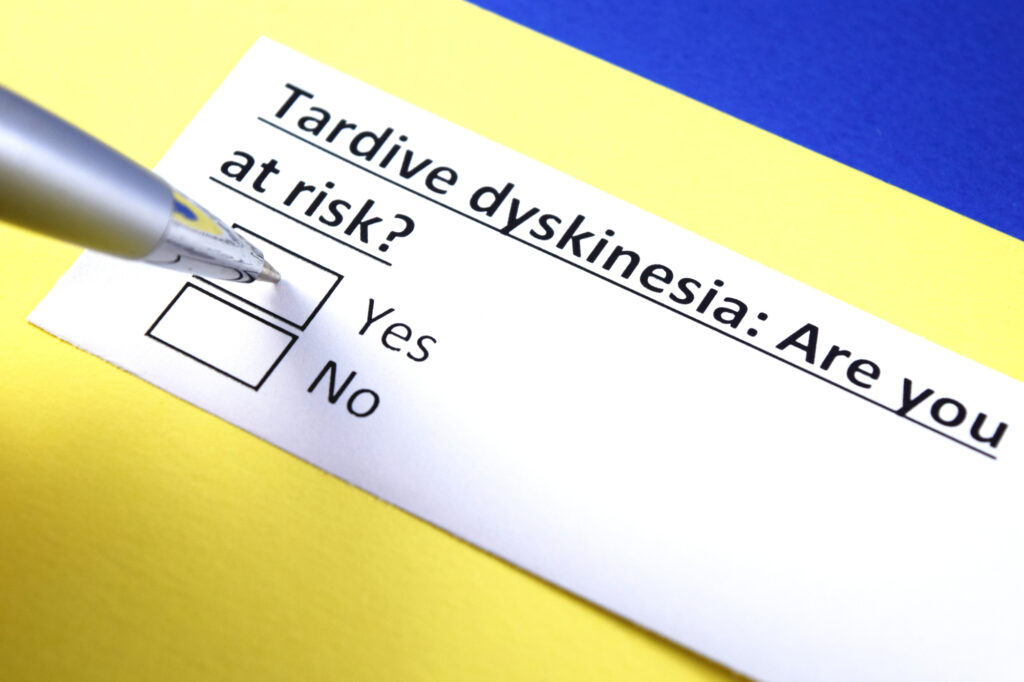 Farrar and the other researchers found that 64% of the comments were negative, 33% were neutral, and 3% were positive. (The paper does not include the actual text of the comments, and the way the AI made this distinction is unclear.)
The researchers found three main themes: anger, insecurity, and symptoms. The theme of anger was represented by the patients' frustration and rage at the negative impact of TD on their lives.
The theme of insecurity involved how TD made people feel "ugly, weird, or self-conscious":
"Patients expressed feeling unaccepted by society or uncomfortable in their own skin. Some feared being judged by others or being asked about their twitching. A few indicated that they would rather be dead than have TD."
Finally, the theme of "symptoms" was used for posts that discussed specific aspects of TD or encouraged others to discuss their symptoms.
There is also an implication for informed consent, as a related survey by Ipsos (for Neurocrine) found that most patients are not even told that TD is a common adverse effect of antipsychotics. The survey found that "58% of patients were not aware that antipsychotics can cause involuntary movements or TD."
Initially, "second-generation" antipsychotic drugs were marketed as being less likely to cause tardive dyskinesia. However, a recent study found that at least 20% of people on current antipsychotics still develop the disorder. Another study found that the rates of TD have remained unchanged since the 1980s, despite the increasing use of second-generation drugs.
Moreover, as MIA has reported, the market for antipsychotics continues to expand, especially to children and adolescents, which means that the prevalence of TD is only increasing as time goes on.
Worse, a study from 2014 demonstrated that most cases of TD are permanent, with only 1 in 8 returning to normal functioning after a diagnosis of TD.
The current study has several limitations. The researchers excluded Facebook posts and ended up with only 107 total comments about TD. It's unclear how they ended up with so few comments, given the hundreds of thousands of patients who experience TD. The article also does not include any of the actual text comments, so readers cannot judge for themselves how well their AI sorted the data.
Finally, it is important to keep in mind that Neurocrine funded the study and had control over the methods and data analysis. In fact, the end of the article explicitly directs the reader to tell patients about Neurocrine's website.
As MIA has reported, Neurocrine's drug Ingrezza did not demonstrate much of a clinically meaningful benefit. It is no better than the generic drug tetrabenazine, which has been on the market since 2008.
Nonetheless, that has not curbed sales of the drug as a treatment for antipsychotic-induced brain damage. Since 2017, Neurocrine has paid top psychiatry speakers more than $1 million to promote Ingrezza. The drug made Neurocrine more than $1 billion from Medicaid and Medicare alone in its first two years on the market.
And now, in this article, Neurocrine employees are informing the public of another element of the devastating effects of TD.
****
Farrar, M., Lundt, L., Franey, E., & Yonan, C. (2021). Patient perspective of tardive dyskinesia: Results from a social media listening study. BMC Psychiatry, 21(94). https://doi.org/10.1186/s12888-021-03074-9 (Link)