Opening Up: The Parenting Journey by Anne Peretz (Radius Book Group)
This is not a book about mental health disorders. It is not a book about classifying and medicalizing distress. It is not a book about doctors, or diagnosis, or treatment — not in any usual sense.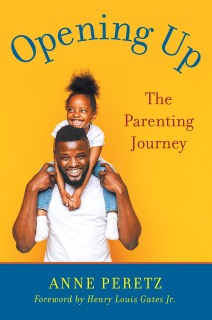 Instead, it's a book about families.
Anne Peretz's slim, resonant, plainspoken, and persuasive work is her first-person history of founding and shepherding Parenting Journey, a radically non-judgmental, evidence-based approach to helping families — low-income, urban, and marginalized communities of color most of all — as they strive to understand and respond to their own struggles, strengths, and journeys forward. It offers glimpses into the program's early case studies and success stories in the Boston area and accounts of its growth over the years into a sprawling international presence with more than 500 locations.
Beyond history, the book is also a credo, a call for social justice, and a testament to the power of listening to those in need — and an appeal to see them through a lens of learning and compassion, especially in the context of inequality, race, and systemic pain. As Peretz says at the top of her author's note: "This is a book about stories." At the same time, it's a book about storytelling itself, as families are urged to recognize their own strengths and create new narratives — more healing and empowered ones — on the path ahead.
Often, the families brought to life in Opening Up suffer under the weight of buried or unspoken trauma. In one of the book's first stories, a 13-year-old boy named Billy threatens to jump off a roof. In some other context, through some other lens, he might be shunted into the system, his family irreparably torn. In this one, facilitators engage family members in conversation, finally teasing out the truth: The boy's sister is being sexually abused by their mother's boyfriend. The mother, unaware of the abuse, is urged to contact social services herself to report her boyfriend, thus preventing the removal of her children and the breakup of the family. What's more, Billy reveals that a local gang had been pressing him to join. He didn't want to. He went up to the roof instead.
As Peretz writes: "Symptoms are signs of distress, and in this case, the startling, attention-getting symptom was Billy threatening to jump off the roof. But what was it a symptom of? A bipolar disorder? A signal to the world that his family was in trouble and needed help? A cry for help in a community where he was trapped between two bad choices? How we understand the meaning of the symptom will prescribe what line of intervention to take. And how we see the symptom will depend on where we choose to look."
In the pages that follow, Peretz tells more stories of "symptoms" pointing to layers upon layers of unearthed family anguish going back years, decades, generations. She tells of profound emotional revelations teased out in groups through humor and creativity, the truth emerging via sculpture, scribbled-out secrets, or community-staged soap operas.
She also lays out the philosophical and therapeutic underpinnings of the approach, citing David Kantor and Salvador Minuchin as influential trailblazers whose work exploring identity and family proved foundational. Specifics on Parenting Journey's structure and practices are outlined in a brass-tacks, informative appendix, which also tips readers to research showing the program works: In one randomized, controlled study, its participants showed statistically significant declines in stress.
But the heart of the book lies, again, in its stories — sagas of brokenness and resilience that resound with humanity. Peretz, an artist and family therapist with decades of experience, fills her small volume with many tales, simply told with little or no psychotherapeutic jargon and no agenda beyond an entreaty to question, and change, the existing approach. She criticizes the current model of social work, which too often fails to see the broader family picture — or even consider that there is a broader picture — and instead parcels out problems into discrete "silos," aiming to "fix" them in narrowly defined, inflexibly sanctioned ways. Addiction is one silo. Domestic violence another.
So a 12-year-old girl who bursts into rages at school? She winds up diagnosed with an anxiety disorder. Her name is Maria, and Peretz delves into the real complexity of her story: At home, she helps parent her two younger siblings. She's quiet. Docile. Helpful. Her overwhelmed mother, it turns out, endures her own torment both physical and emotional.
"Viewing Maria and her family through a systemic lens, a caregiver might want to rethink the original diagnosis and instead choose to see a contextually complex situation, rife with pain and bravery," Peretz writes. As with Billy, Maria's extreme behavior "was a rather ingenious way of calling attention to what actually needed attending to in her family."
Opening Up doesn't suggest all endings are tidy, or that every challenge can resolve with daisies and buttercups. But as Henry Louis Gates, Jr., says in his foreword, the book argues for "a fundamental shift in focus from traditional therapeutic modalities to open, respectful relationships" between those in need and those who help them. Therapists can learn from families; families can learn from themselves. The crux of it is a recognition that things can change — that trauma can be acknowledged, that dialogue can start, that people can heal when it does.
Peretz calls this "a belief in the possibility of a better life," a phrase she uses in a moving account of the program's affiliate in Burundi (named, not coincidentally, Opening Up). After years of genocide, poverty, hunger, and — as she learns — domestic abuse, the community opened itself to hope. And hope is the key.
"They believed something could be different," she says, "and were willing to give it a try."
***
Mad in America hosts blogs by a diverse group of writers. These posts are designed to serve as a public forum for a discussion—broadly speaking—of psychiatry and its treatments. The opinions expressed are the writers' own.
***
Mad in America has made some changes to the commenting process. You no longer need to login or create an account on our site to comment. The only information needed is your name, email and comment text. Comments made with an account prior to this change will remain visible on the site.