From Aeon: "In 1986, a McDonald's restaurant opened at the foot of the Spanish Steps, in the Piazza di Spagna, the most famous square in Rome. The invasion of cheap American fast food into the heart of Rome caused a sensation. One protester was Carlo Petrini, a Leftist Italian journalist, who initiated a movement called Slow Food. Petrini emphasised locally grown produce, biodiversity and, above all, the enjoyment of authentic Italian taste. In the late 1990s, the idea morphed into Cittaslow, or Slow Cities, part of a broader cultural meme called the Slow Movement. The Norwegian philosopher Guttorm Fløistad grasped the beat of the Slow Movement when he wrote:
The only thing for certain is that everything changes. The rate of change increases. If you want to hang on, you better speed up. That is the message of today. It could however be useful to remind everyone that our basic needs never change. The need to be seen and appreciated! It is the need to belong. The need for nearness and care, and for a little love! This is given only through slowness in human relations. In order to master changes, we have to recover slowness, reflection and togetherness. There we will find real renewal.
In championing 'slowness in human relations,' the Slow Movement appears conservative, while constructively calling for valuing local cultures, whether in food and agriculture, or in preserving slower, more biological rhythms against the ever-faster, digital and mechanically measured pace of the technocratic society that Neil Postman in 1992 called technopoly, where 'the rate of change increases' and technology reigns. Yet, it is preservative rather than conservative, acting as a foil against predatory multinationals in the food industry that undermine local artisans of culture, from agriculture to architecture. In its fidelity to our basic needs, above all 'the need to belong' locally, the Slow Movement founds a kind of contemporary commune in each locale – a convivium – responding to its time and place, while spreading organically as communities assert their particular needs for belonging and continuity against the onslaught of faceless government bureaucracy and multinational interests.
In the tradition of the Slow Movement, I hereby declare my manifesto for 'Slow Thought.'"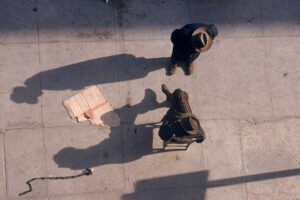 ***
Back to Around the Web