From ABC Action News: "A Florida family is wanting answers after they say a local hospital used the court system to hold their brother in the hospital against his will for a year, racking up $1.2 million in medical bills before he died with toxic levels of drugs in his system.
. . . His death certificate listed natural causes including sepsis, pneumonia and other health conditions.
But a toxicology report that was part of a private autopsy paid for by his family raised serious concerns about the level of drugs in his body at the time of his death.
'I couldn't believe the findings,' Roppo said.
'The Clozapine level was around 20 times higher than the upper limit of that usual blood level range for Clozapine. And the Haloperidol level was around 50 times higher,' Dr. Beach said. 'The levels were higher than some of those levels where fatalities have been reported.' . . .
$24,372.12 charge for medical records
The Johnstons say they haven't been able to tell how often Jimmy's blood levels were checked, since the hospital wants a fortune to access Jimmy's medical records.
'We've been fighting for the records. We can't even get Jimmy's medical records,' Kathleen said.
The third-party vendor that provides records for the hospital is charging $24,372.12 for all of Jimmy's medical records.
. . . 'If we don't get justice for Jimmy, your family's next,' Kathleen said. 'Someone should be held accountable, but will anybody? I don't know.'"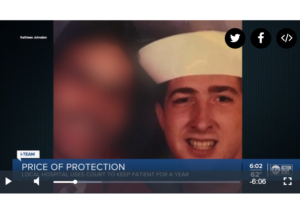 ***
Back to Around the Web