From PACEs Connection: "I recently listened to an interview featuring David Richo. He wrote a book several years ago, How to be An Adult in Relationships, in which he explained what he calls the Five A's that help relationships flourish. What he said made so much sense, and I saw applications beyond individual relationships. I believe we can use the Five A's to better understand relationships with others and ourselves and even apply it to other contexts.
He explained that the Five A's are what we need as infants when we enter the world and begin relationships with our caregivers. It begins with attention and then proceeds as each concept builds on the previous ones. If we progressively receive all Five A's, then we become securely attached. Yet, if we do not eventually receive all Five A's as developing children, we will continue to seek fulfillment as we grow older.
The Five A's are:
Attention: First, as an infant, we receive attention from others, and we learn to communicate through crying and cooing to ask for attention. As we grow, we are the focus of someone's loving attention, but also are aware of and share our attention with ourselves and others.
Acceptance: We are accepted for who we are; others do not try to change us significantly, and they embrace our individuality.
Appreciation: As children, we become part of the family group and give back to the group not only through work but by just being who we are. We feel appreciation for our contributions.
Affection: Children and adults need emotional, spiritual and physical affection. When we give affection, it is the act of showing others that we care about them. Affection is listed fourth because it grows out of the previous three. Without the previous three, affection may not feel safe.
Allowing: As children, we are allowed to move and begin to make choices on our own. It is letting others be who they are. We don't try to change personality traits or beliefs, or blame or judge for mistakes or differences. Allowing is the essence of unconditional love."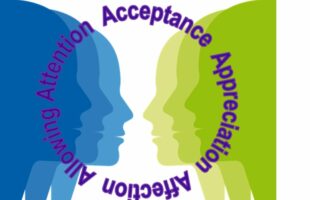 ***
Back to Around the Web