From The New York Times: "A few months ago I started noticing that I couldn't open Instagram or TikTok without getting an ad for ketamine. I previously knew ketamine only as an illegal drug that could cause dissociation, taken by acquaintances in the dank basements of my misspent youth, or as the sedative given to my older daughter when her broken arm needed to be reset in the hospital.
These ads promised incredible, groundbreaking mental health outcomes through ketamine tablets offered via telemedicine, with the vast majority of patients purportedly finding relief from their depression and anxiety. Some experts have cautioned that ketamine, which is a Schedule III controlled substance, is not ready for general use, citing a 'lack of long-term data, potential for troubling side effects and possibility for abuse,' as one researcher noted.
I didn't hear about any of these concerns on TikTok. I heard only about the miraculous benefits of ketamine. Few of the social posts served to me disclosed the fact that promoting ketamine tablets in this way was an off-label use of the medication.
Ketamine wasn't the only mental health treatment I would be offered on social media. I was also frequently getting ads that tried to convince me that I had undiagnosed A.D.H.D., listing symptoms like 'fidgeting' (which I do constantly and always have) as a behavioral red flag. While fidgeting could be a symptom of A.D.H.D., it could also be a symptom of restless leg syndrome or a common response to stress, boredom and anxiety that doesn't require treatment. I'm certainly not equipped to tell after just seeing a few Instagram reels.
Other posts warned that 'overthinking' and 'overanalyzing' could be other signs of A.D.H.D. (Or they could just be signs of being an opinion journalist.)
The bombardment only got worse when I decided to take a brief quiz offered by one of the ketamine purveyors to see if I was an appropriate candidate for this treatment. I answered these questions honestly: I wasn't pregnant. I haven't ever been suicidal or diagnosed with a primary psychotic disorder. I do have a history of clinical depression and anxiety, though I haven't had a significant episode since 2012. These days I do feel depressed and anxious — probably as often as any sentient human in the 21st century.
In about five minutes I was told I was a fit for telehealth services, which could include a few consultations with a clinician and several ketamine tablets sent directly to my home, with Zoom guidance offered before and after ingesting the drug for the first few sessions.
When I didn't go through with buying the package, which would have set me back a few hundred dollars and wasn't likely to be covered by any insurance, the marketing became even more aggressive. I received follow-up emails and texts, with offers of $100 off my introductory program. In fact, just as I was writing this paragraph I got one, which touted the incredible, 'science-backed' benefits of ketamine but did not list a single risk of the drug. I had to click through the ad and then click about five more times on the website to find a list of the side effects, which include slurred speech, anxiety (which the drug claims to ameliorate) and, in rare cases and with heavy use, urinary incontinence.
Last week my Times colleague Chris Hamby published a big investigation into the telehealth providers connecting patients with ketamine. He explained that a pandemic-related loosening of telehealth laws in 2020 allowed for the prescribing of controlled substances remotely and this led to an increase in the availability of ketamine. 'The shift away from clinics has led many patients to take the drug more frequently and for longer periods of time — multiple times a week, even daily in some cases, and for months or years — despite scant research on safety,' Hamby wrote. Before the telehealth rules were relaxed, 'patients needed to first meet in person with a doctor and treatment was mostly limited to infusions in clinics,' he added."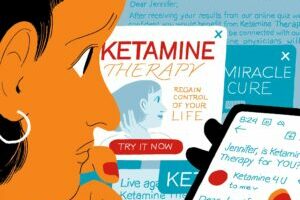 ***
Back to Around the Web