Last night at the Oscars, Peter Baynton and Charlie Macksey's short film The Boy, the Mole, the Fox and the Horse took the prize for best animated short.
The film is based on Mackesy's 2019 book, which has been heralded for its portrayal of wisdom, compassion, and self-love in its rendering of the different "parts" inside us. (Sounds a bit like Internal Family Systems, doesn't it?) 
At one point, the Mole says: "Being kind to yourself is one of the greatest kindnesses." 
Or, as the Horse tells the boy:  "You are loved, and you bring to this world things that no one else can."
"It's the touching tale of a curious boy and his journey with a cake-obsessed mole, a world-weary fox and a wise horse that is told through the conversations between these four unlikely companions, their adventures brought to life by the author's own exquisite illustrations," wrote Katy Birchall in a January 2021 Country Life interview with the author and illustrator. 
"Each turn of the page presents another scene framed by calligraphic messages of kindness, compassion and vulnerability; it's a book which can be read cover-to-cover, but seems even more so to work as a dip-in-dip-out pick me up. . . Charlie's art is pinned up in hospitals, schools and homes all over the world, his gentle words of profound wisdom providing reassurance and hope as life changed and we found ourselves grappling with the fear and anxiety of a pandemic."
In the interview, Mackesy spoke of the book's genesis and the response from readers: 
'It's a privilege that the book has helped others. I'm so pleased it speaks to people and gives courage,' Charlie admits. 'When I started these drawings, I was thinking a lot about what people really want in life; what we fear and why we fear it; what we hope for and what we dream of. Now and again, I would post a drawing on Instagram of a conversation surrounding all these things. The reaction was beyond anything I ever imagined.'"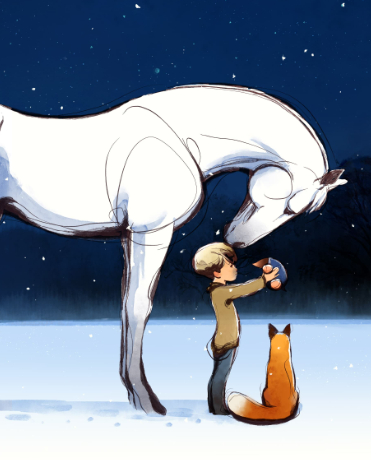 ***
More from Around the Web
More from Mad in the Family