"How could we find happiness when suffering is an escapable part of life?"
"What is the point of striving when all life ends in death?"
During current times of manifold crises, complex questions such as these are a common part of the human experience, and such existential dread and uncertainty are linked to increased mental distress. Existentialist positive psychology (EPP or PP2.0) offers a framework to grapple with these types of complicated yet common human questions.
The article, published by Canadian clinical psychologist and writer Paul T.P. Wong, along with psychotherapist Don Laird, introduces EPP as an alternative framework for conceptualizing psychological distress that runs counter to the dominant biomedical model.
Authors critique the medical model, particularly the Diagnostic and Statistical Manual of Mental Disorders (DSM), for its disease-oriented approach that inherently positions psychological suffering as an individual problem necessitating intervention at the individual level. Authors assert that this model inadvertently blames the individual, failing to recognize the relational and social aspects of their distress. Further, authors claim that the DSM may pathologize normal human responses to current life circumstances, such as existential anxiety and loneliness in response to the COVID-19 pandemic, and, in doing so, misguide the direction of treatment.
"Mental health is more than an individual issue. It is also interpersonal, societal, cultural, and transcendental. Furthermore, it is not helpful to pathologize normal human reactions to complex and difficult life situations. Therefore, a new narrative of mental illness is needed to reduce the stigma by recognizing that other factors, such as nature, society, and fate, are often beyond individual control and can negatively impact one's mental health," write the researchers, laying the groundwork and rationale for EPP.
In their article, Wong and Laird set out to define the core principles of EPP, present illustrative case examples to showcase the use of EPP in treatment via Integrative Meaning Therapy and present a new conceptual framework for studying "well-being" rooted in EPP tenants.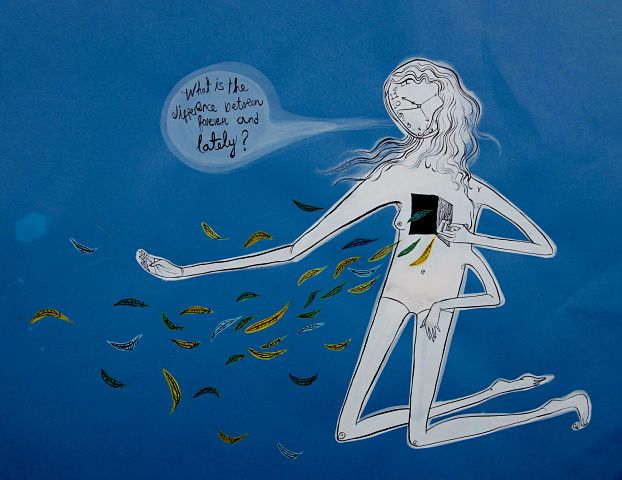 The EPP framework draws upon Dr. Wong's decades of research on suffering, clinical work as a psychotherapist, and the integration of Western and ancient Chinese cultural values. At its core, EPP emphasizes the universality of suffering and the importance of enduring hardship as a component of well-being and happiness. The authors critique predominant Western worldviews that encourage individuals to focus solely on the positives and ignore the negatives to "enjoy life" and achieve happiness.
Authors assert that suffering, pain, and existential concerns (particularly those related to loneliness and mortality) should be honored as inevitable, core parts of the human experience rather than ignored or repressed, as is commonly encouraged by the pervasive culture of toxic positivity.
The authors advocate for future research on well-being to study the inter-dependency of happiness and suffering. Through this framework, well-being should be understood as a process rather than an outcome:
"[Well-being is] the process of navigating the dialectical interactions between Yin-Yang to discover the adaptive balance of the middle way between positives and negatives."
Authors write that this viewpoint, deeply rooted in Buddhist tradition, is not new but rather an extension of generations of writing and practice:
"The need to embrace suffering and transform it into something meaningful is a recurrent theme in philosophy, literature, and religion. EPP simply extends existential psychology into a new science of suffering by developing a comprehensive account of the effects of suffering and its complex interactions with well-being."
The authors present two clinical case examples to demonstrate how mental distress can be conceptualized as a normal human response to one or a combination of the four kinds of suffering: physical suffering, psychological suffering, social and interpersonal suffering, and existential suffering. They propose that psychological disorders can be understood as difficulties in coping with and enduring these various forms of suffering. Reasons for these difficulties may include the inability of one to meet their basic needs or personal deficiencies in finding meaning in life, regulating emotions, or building relationships.
Integrative Meaning Therapy (IMT) is an approach to treating psychological distress through an EPP framework. In IMT, the psychotherapist supports their client in cultivating a "meaning-mindset" (e.g., finding meaning in everyday life activities) and practicing meaning-centered coping (e.g., finding lessons in suffering, learning acceptance, praying).
Overall, the goal of IMT is to support an individual in achieving well-being through learning to manage three core components of the human experience: (1) how to live a fulfilling life, (2) how to transform suffering into something meaningful, and (3) how to relate and connect with other people in a multicultural society. While Wong and Laird recommend IMT specifically, they highlight how meaning-making is a common factor across many different types of therapies. As a practical guide, they offer ten characteristics of a meaning-centered psychotherapist:
Holds a hopeful view of every client and treats them with respect and dignity.
Makes effective use of the self—the therapist is the therapy.
Help clients move toward both healing and well-being simultaneously.
Sees both the big picture and situational problems.
Integrates different modalities around the central construct of meaning.
Integrates the art and science of meaningful living.
Considers meaning as both personally and socially constructed.
Empower clients to take personal responsibility to develop their potentials.
Equips clients with skills in making the right decision and effective coping.
Takes a holistic view of well-being, including spiritual well-being.
To conclude their article, Wong and Laird present a new model of total mental health that integrates the importance of suffering and meaning. The model is illustrated as two intersecting arrows representing continuums of being: one from low to high meaning and the second from low to high suffering.
The four quadrants created by the intersecting lines represent four states of being, with "sustainable flourishing" (high meaning and high suffering) defined as the best possible life resulting from one being able to find meaning amidst their pain.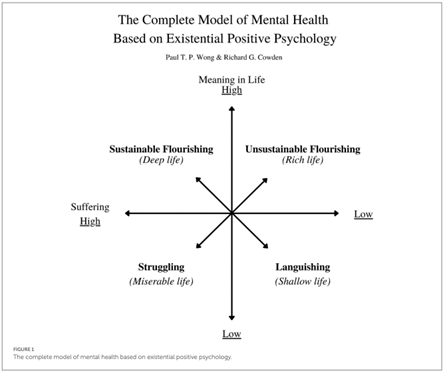 This viewpoint article adds to a growing body of work by researchers and advocates calling upon Western psychiatry to abandon the biomedical model of mental health. Existentialism and existential positive psychology offer a much-needed paradigm shift that can help people understand their suffering as more than just a symptom of psychopathology.
The authors close with a message of hope to the reader:
"We have made the case that suffering is necessary for sustainable well-being and flourishing. If we focus only on the negative events in our lives, we will be swallowed up by the black hole of depression and anger. However, if we focus on the meaning of suffering and learn to see light or be the light in the darkest hours through practicing hope, love, and faith, we will be strengthened and blessed."
****
Wong, P. T., & Laird, D. (2023). Varieties of suffering in the clinical setting: re-envisioning mental health beyond the medical model. Frontiers in Psychology, 14, 1155845. (Link)