From The Atlantic: "You have to admit, it seemed like a great way to help anxious and depressed teens.
Researchers in Australia assigned more than 1,000 young teenagers to one of two classes: either a typical middle-school health class or one that taught a version of a mental-health treatment called dialectical behavior therapy, or DBT. After eight weeks, the researchers planned to measure whether the DBT teens' mental health had improved.
The therapy was based on strong science: DBT incorporates some classic techniques from therapy, such as cognitive reappraisal, or reframing negative events in a more positive way, and it also includes more avant-garde techniques such as mindfulness, the practice of being in the present moment. Both techniques have been proven to alleviate psychological struggles.
This special DBT-for-teens program also covered a range of both mental-health coping strategies and life skills—which are, again, correlated with health and happiness. One week, students were instructed to pay attention to things they wouldn't typically notice, such as a sunset. Another, they were told to sleep more, eat right, and exercise. They were taught to accept unpleasant things they couldn't change, and also how to distract themselves from negative emotions and ask for things they need . . .
But what happened was not what Harvey and her co-authors predicted. The therapy seemed to make the kids worse. Immediately after the intervention, the therapy group had worse relationships with their parents and increases in depression and anxiety. They were also less emotionally regulated and had less awareness of their emotions, and they reported a lower quality of life, compared with the control group.
Most of these negative effects dissipated after a few months, but six months later, the therapy group was still reporting poorer relationships with their parents.
These results are, well, depressing. Therapy is supposed to relieve depression, not exacerbate it . . .
But for people who study teen-mental-health treatments, these findings are part of a familiar pattern. All sorts of so-called universal interventions, in which a big group of teens are subjected to 'healthy' messaging from adults, have failed. Last year, a study of thousands of British kids who were put through a mindfulness program found that, in the end, they had the same depression and well-being outcomes as the control group. A cognitive-behavioral-therapy program for teens had similarly disappointing results—it proved no better than regular classwork.
D.A.R.E., which from the '90s to early 2000s taught legions of elementary-school students 10 different street names for heroin, similarly had little to show for its efforts. (The curriculum has since been revamped.) The self-esteem-boosting craze of the '80s also didn't amount to much—and later research questioned whether having high self-esteem is even beneficial. Anti-bullying programs for high schoolers seem to increase bullying.
Reading these findings, haters of high-school assemblies might tingle with schadenfreude. But the consistent failure of these kinds of programs is troubling, because teen mental health is now considered a crisis—one that has so far resisted even well-considered solutions. From 2007 to 2016, pediatric emergency-room visits for mental-health disorders rose 60 percent. Most teen girls—57 percent—felt 'persistently sad or hopeless' in 2021, up from 36 percent in 2011. That figure is a still-not-great 29 percent among teen boys. Nearly a third of teen girls have considered suicide, according to the CDC . . . The kids are not all right, and frustratingly, we don't really know how to help them. It feels like we should be able to just sit the teens down and tell them how to be happier. But that doesn't seem to work, and sometimes it even backfires."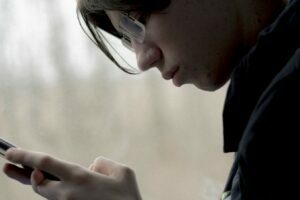 ***
Back to Around the Web