In recent years, teaching kids "emotion regulation" has become an increasingly large part of teachers' responsibilities. Universal social and emotional learning programs (SEL) have become commonplace. However, a new study based on dialectical behavior therapy (DBT) finds that the intervention can actually make kids' mental health worse. Kids became more anxious and depressed after receiving it and had more conflict with their parents.
The researchers write, "These findings raise discussion as to the potential for iatrogenic harm from universal interventions."
There is evidence that existing SEL programs lead to slightly better outcomes, including both academically and in terms of mental health. However, publication bias, low-quality studies, the fact that each intervention for SEL is quite different from the others, and the small size of the effect makes the results of these studies difficult to interpret.
Other studies have found that universal mindfulness training in schools resulted in worse mental health outcomes.
That's why it's essential to test specific types of SEL interventions rigorously. In a new study in Behaviour Research and Therapy, researchers Lauren J. Harvey, Fiona A. White, Caroline Hunt, and Maree Abbott at the University of Sydney, Australia, did just that. Their intervention, called WISE Teens, was based on DBT, a psychotherapy that focuses explicitly on emotion regulation, skills for distress management, and interpersonal skills.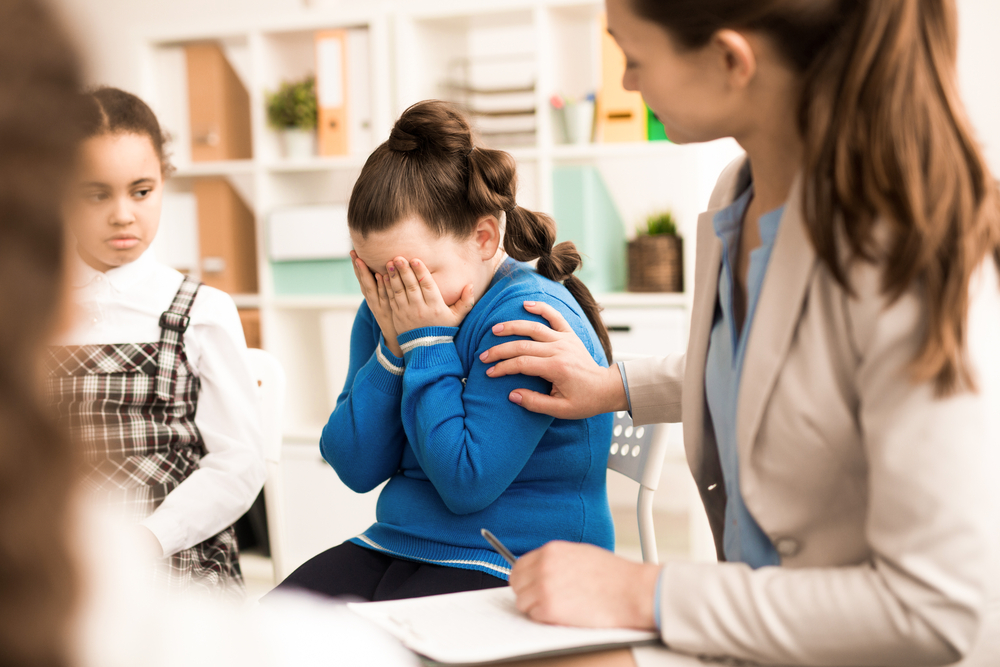 The researchers write that there is plenty of evidence that DBT can be effective for adults with severe emotional dysregulation (including suicidal ideation and self-harm). Thus, they write, there is great interest in using it as a universal way to teach kids emotion regulation skills.
The study included four high schools in Sydney, Australia. Five hundred sixty-three kids were in the WISE Teens group, while 508 were in the control group. On average, the kids were about 13 years old (Years 8 and 9 in the Australian school system).
The WISE Teens group received eight weekly hour-long group-based sessions of a DBT curriculum, adapted in collaboration with a senior DBT-specialized psychologist to be more relevant to adolescents. The sessions were delivered by clinical psychologists with DBT training and at least a year's experience doing DBT in their practice. Those in the control group attended normal health and physical education classes instead.
On average, after the WISE Teens intervention, kids had worsening emotion dysregulation, lower emotional awareness, and lower quality of life. However, the outcomes that worsened the most over the intervention were depression and anxiety.
 Over time, many of the poor outcomes normalized, but the kids' relationships with both parents were worse, on average, even at the six-month follow-up.
The researchers write:
"Significantly poorer outcomes were observed immediately following participation in the 8-week DBT-based universal intervention ('WISE Teens') compared with curriculum-as-per-usual. Of concern, the current study is the first to show in the universal intervention literature that both in the immediate and short-term (6 months), such a program may foster significantly poorer quality parent-child relationships relative to curriculum-as-per-usual."
More than 10% of kids in the control group (who did not receive the DBT intervention) improved in emotion regulation. Compare that with just under 5% in the DBT group whose emotion regulation skills improved. This indicates that receiving the intervention, though designed to improve emotion regulation, actually interfered with kids' natural development of emotional regulation skills.
After six months, in the control group, 9.16% of the kids had a better relationship with their mothers, while only 2.55% of the kids who received DBT found that the relationship improved.
Outcomes after DBT were worse for boys, challenging the notion that boys (stereotypically less emotionally aware) need to receive therapy to become more emotionally skilled. Instead, after the intervention, boys had worse outcomes than girls in every measure except anxiety (which got worse for both boys and girls equally).
At the six-month follow-up, boys who received DBT still had worse emotional awareness than boys in the control group, indicating that the intervention impeded long-term natural emotional awareness growth for boys.
Thus, the researchers write, "Based on these findings, the DBT-based 'WISE Teens' intervention is not recommended in its current format for universal dissemination amongst early adolescents in schools."
Though their intervention made kids more depressed and anxious in the short term, and even after six months, had damaged their family relationships, the researchers write that more research needs to be conducted on how better to engage kids and families with the DBT program:
"Further research is needed to determine how to improve engagement and feasibility of delivery of DBT-based interventions universally in this context."
That's because most families didn't engage in the home practice part of the intervention. Those who did had better outcomes. However, it could be argued that those who engaged in home practice were a small, self-selected group who found the intervention helpful—in contrast to most families who found it harmful.
****
Harvey, L. J., White, F. A., Hunt, C., & Abbott, M. (2023). Investigating the efficacy of a dialectical behaviour therapy-based universal intervention on adolescent social and emotional well-being outcomes. Behaviour Research and Therapy, 169, 104408. https://doi.org/10.1016/j.brat.2023.104408 (Link)