Recently I posted about mental health social entrepreneurship, where we can use market based principles to solve our problems accessing effective care. Some people have told me on our market design survey that they have doubted whether we should charge people for mental health care.
Click here, we'd still love to hear what you think.
Doubts about mental health social entrepreneurship:
I think for the people who need it, paying for it may be a burden. The culture of how people with mental illness commit to paying for services would have to change
For the people who are homeless whom I work with, any fee other than nominal would be too much. They do not have money or just enough to buy a pack of cigarettes or some food to eat. But many would gladly offer their services to pay back; their skills are many and varied.
I do worry a bit that the concept of making peer support a "business" could make it seem cold and commercialistic (if it's marketed heavily enough to become a well-known service); that could be a turnoff to people used to seeing free peer support services at drop-in centers, who use other funding to pay their staff.
People with mental illness labels are often the most resistant to any sort of paradigm change, so it might really take some time for anyone able to pay to think this is a good concept; then, perhaps embrace it.
You have to be careful to make sure it was ethically run not to make a profit beyond what's needed to grow the business nationwide.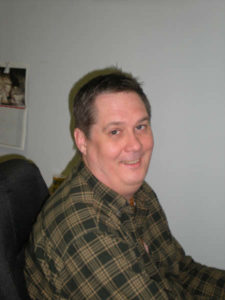 So, it's time to explain some of the advantages of social entrepreneurship, to start creating the cultural change people are requesting. One of the most influential books on social entrepreneurship is called, "The Fortune at the Base of the Pyramid," by C.K. Prahalad. This book explains how to market products to people who make less than $1 a day, who are the largest income group in the world, involving over 2 billion people. The rest of this post is summary of Chapter 1 of this book.
Making people customers creates dignity.
This is a way that globalization can be democratized so that benefits can go to all consumers and not just the 10% of the wealthiest people on the planet that 90% of products are designed for.
The customers get choices and attention from the private sector that were previously reserved for the wealthy. (I.e. more expensive health insurance plans involve more choice of doctors.)
Creating choice is where dignity starts because then we view low-income people as full participants in their local economy as producers and customers, not just charity cases. Deciding, "What is good for people" is against the very spirit of co-creation.
Organizing access to information gives people the chance to be entrepreneurs, and organizing access to credit and micro finance allows people to build equity and escape poverty.
It lets customers choose providers instead of our current social service model where providers only choose customers closest to a desired profile.(For instance, homeless shelters only letting people in who come by a 4:00 curfew.)
Firms must continuously innovate and upgrade their products to keep customers interested in their brands. (What if we had three respite care programs to compete with each other in a market – how fast would that growth be…)
Competitive firms are more likely to create transparent transactions that respect the rights of individuals
Focus on ecologically sustainable solutions
Scalability of solutions
This last point is the most important. Right now, we know that peer support is the most effective mental health intervention according to the 2002 report on recovery from the National Association of State Mental Health Program Directors. Yet we are having trouble getting our peer support programs funded or expanded. Lets stop relying on the government which takes 50% of our incomes and spends it in ways suggested by expensive corporate lobbyists that we can't drown out. Or the 3% of our income that goes to private charity. Instead, lets look at the 47% of our income that we can control.
SAMHSA recently awarded the Brass Tacs grants designed to scale up peer programs. There were only six $25,000 grants awarded for probably 50 applicants. Yet how much did SAMHSA spend on the Teen Screen program to help get high school kids started on antidepressants? If we wait for them to rescue us, we may be waiting a long time.
How to challenge our assumptions about buying and selling to people at the base of the pyramid:
There is much dominant thinking about what poor people want or need or can or do afford. People with disabilities are the poorest of all minority groups in the United States, and people with psychiatric disabilities are the lowest of all those. Many people talk about how dirt poor we are, but when we look at our group as a total market force, we are powerful. Just by our large numbers, our latent purchasing power is huge. Paul Polak did a 1992 study on the purchasing power of diagnosed people in a community mental health center. His chart shows just how much money is spent ineffectively to "Help" us. Keep in mind that these costs were even before expensive branded psychiatric medications became the primary treatment method. Advocates in Kansas recently testified that over 80% of the cost of mental illness is lost productivity, so this chart is only the tip of the iceberg.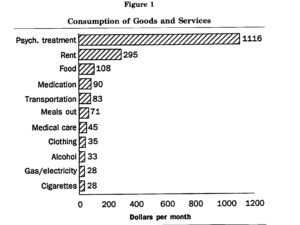 Our history of corporate domination has given us good reason to mistrust capitalistic or private sector approaches to problem solving. We may instead have more confidence in governments to do what is right, despite the public sector's record on increasing disability in our communities. The dominant logic is hard to give up, which is one of the reasons people often appear to vacillate in their beliefs. People know where we have to go, but letting go of their beleifs and abandoning their "zones of comfort," is extremely scary. It's also extremely hard to get off disability once someone has that committed income. It's easier to keep a bird in hand, no matter how inadequate, than take a chance on the three birds in the bush.
How mental health social entrepreneurship can create new treatment models:
There is great hope ahead with trying new approaches, and I'll let more voices from our customers surveys speak on this: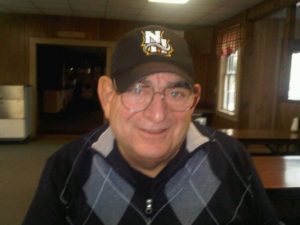 I haven't had much time to think this out. Except I know I feel better paying for something of value. Talking can keep emotions from escalating to the point where there has to be police intervention. THAT is worth a lot of money!
I think people need to pay something although initially it may be difficult, until they feel more in charge of their lives. It is one way to really value giving service if one volunteers. Since volunteering is work, one is utilizing skills and can feel good about further developing such skills and paying in this way.
Great idea. What it is worth is immeasurable. What folks can afford to pay varies greatly according to specific circumstances and moments in time. There needs to be supplemental donations from businesses, donors, or those recipients who can afford it so that no one is turned away if at all possible.
For consumers able to pay, this could give a sense of dignity/self-sufficiency instead of the patronized feeling that could come from being a charity recipient. People with self-respect and a work ethic don't want to be charity recipients and might be depressed about having to be.
If you could generate enough revenue you would indeed remain free to say/do what you wanted to.
People like me, who have overall been disillusioned and/or mistreated by the "medical model" system could really respect and gravitate to your philosophies and services, seeing it as a potential source of hope and healing that might not exist elsewhere.
Volunteering to your cause (especially as peer specialists) could help mobilize consumers who aren't doing much.  This also could send the message to society that people can and do recover from mental illness; said message increases societal understanding and decreases stigma.
Interesting. I like the "sweat equity" approach, especially if people move into the supporting role through it, creating relationships of mutuality. Consider, also, barter in the form of products, art, etc. that people receiving support can offer. I can think of times in my life when I could only offer poems, but they were darn good poems.
Great idea, especially to help people understand their worth, get them used to being around others in a work setting, and getting them out of the house (something I struggle with still!)
Thanks so much to all who helped with our survey.