This morning Kayla Harrison won the first ever Olympic gold medal in the history of USA Judo. Kayla has overcome many, many obstacles on her route to a medal, including sexual abuse by a previous coach. Kayla testified against that coach, put him in prison for 10 years, and used the anger as fuel for her training.  Sex offender "treatment" in many states come out of the same budget as mental health, yet is one of the untalked about topics in both sports and mental health.
Her is one of the news articles that lead up to Kayla's journey to the Olympics, where she tells her recovery story:
Kayla was the defending world champion and came into the Olympics seeded #4. This determines who she fought the first few matches. Her fans said, "You should have been seeeded #2." She won all of her matches with big scores, an armlock in her first match, and a great victory against the Hungarian player in the third round where she had to come from behind after getting thrown. The playback will be posted on NBCOlympics.com so you can see her in action. The video below are some highlights from her matches in the 2011 World Championships after winning the 2010 World Championships in Judo (She's only the fourth American Judo player to ever do this.)
Sex Offenders Take up Half of All Public Mental Health Funding
Now what does this have to do with mental health? It turns out that in both Kansas and Missouri and probably many other states half of the entire mental health budget is spent on sex offenders. This means that the 300 or so convicted sex offenders in the state of Kansas take more funding than the 30,000 or so people with so called "serious mental illness." This means that all the advocacy that people do to ask for more peer programs or stop budget cuts – we are only looking and talking about half the budget. The other half goes into a black hole that no one talks about.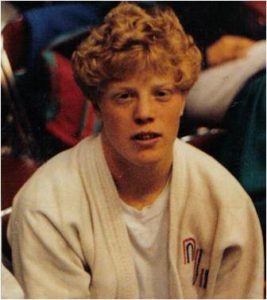 The way it works is that when people are convicted of a sex offense, they serve their criminal sentence then get a "civil committment." This is a transfer to a "treatment facility." However, whether treatment is ever successful or not is a very controversial topic in the sex offender research. The Kansas program has admitted to not ever once releasing a person in their history. It's very politically tough for anyone administrators to ever want to take that risk.
Some of the main background research in the sexual offender field says it's not about sex, it's about power. It may be a sexual preference that is immutable. However, pedophilia is not at all linked to homosexuality, despite years of people trying to make that link. Also sometimes people get wrongly convicted of sex offenses, and again there is no way out. I heard a peer specialist tell me once, "I'm working with this guy and the way he was raised, everyone was doing everyone. He just didn't know what he was doing was wrong. Now he knows but he still can't get out." This is somewhat plausible to me since I've heard that many people who grow up in physically abusive environments have no idea that not all families are that way.
In practice, very few people ever get out of sex offender "treatment" programs, but the programs cost about $100,000 per year. Some options are to send these people back to prison where it only costs $16,000 a year to keep them, to set them free with a GPS on their ankle and track their movements very closely, or use forced medication to reduce sexuality (definitely not my choice of options).
How our society could save tons of kids and tons of money by simply talking about sex offendors
The best option to handle sexual offenders that I heard came from Darkness to Light. I met their director at the Foundation for Excellence in Mental Health Care conference in North Carolina. She said what they do is have people get out, have them monitored very closely but also have them do prevention to teach society their methods so people like that can be avoided. It's kind of like former computer hackers who used to break into "secure" computers but who now teach people how to do computer security. She said, "We only catch about 1% of these offendors. The ones in prison are just the very tip of the iceberg. Nothing we do to those 1% who are caught will solve the problem of the 99% that are still out there victimizing kids. So we have to work on prevention."
Prevention is things like telling kids, "Never be in a closed room alone with an adult." or "If an adult buys you a lot of gifts, watch out for them." Or of course the saying, "You can't touch me there."
Now, I was beneficiary of this kind of education. When I was 15 I fought in the adult National Judo Championships and got fifth. In my first round I fought a person training at a national judo program and her coach was impressed by my spirit even though she beat me. He offered me a scholarship to pay housing and living expenses to move halfway across the country to train at this national program. I'd go from two nights of Judo a week to five nights of Judo a week, and the club had vans that went to all the big tournaments. I needed to go to someplace like that to keep working on my Olympic Judo Dream. (Here is my Olympic story if you missed my last post.)
My coach at the time negotiated a higher scholarship level, then started with the prevention education. He said, "Now this coach that you are moving to has a reputation of being interested in girls, but no one has ever proven anything on him. You have to stay away from him. Never ever spend time by yourself with him." My coach at the time had to be honest about everything that was occuring, and honest about the fact that I only had three options for national programs at that time. Now there are more like 6 national training options for USA Judo. But my mom, and my coach and I all had to make a decision to take that risk knowing that I would be able to protect myself.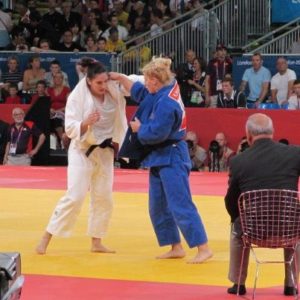 Then later on I was flying home from a Judo tournament and one of the USA Judo referees was traveling with the team. He starting giving me gifts and telling me how much I'd like visiting his state to train. When I came back home I showed a friend one of the gifts and he said, "Oh, he's grooming you. But he's one of them. Stay away from that guy." No one ever messed with me during my training.
In fact, once the team captain of my national training program got the idea that my guy roommate was messing with me, and he came over to the house and thoroughly questioned that roommate and offered multiple time to kick his ass if anything ever happened. And nothing did, not to me, but it does to many other athletes. USA Judo has done a lot in the years to clean things up, including requiring background checks, putting lifetime coaching bans in place, and putting athletes in charge of the organization instead of politicians. I'm sure this problem is not unique to Judo as well, I'm sure all sports have some level of this kind of problem.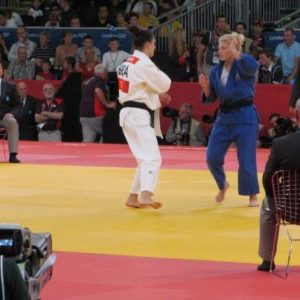 A survey was once done on Olympic athletes that said, "If you could take a pill to guarantee you would get a gold medal, but it also guaranteed that you would die a year later, would you do it?"
80% of them said yes. I said no when someone asked me the question. She said, "Well, you don't want it bad enough then. You won't win a gold medal." Maybe she was right.
When you have athletes willing to do anything it takes to win, then coaches have to be completely moral, honest, ethical people. So what do we do with the dishonest ones? Or the people in any position in society that violate the trust of vulnerable young people?
Kudos to Kayla Harrison, USA's first ever Olympic gold medalist in Judo
I say we need to work more on prevention and not waste funding on "treatment" programs that don't ever release people. Now we can also sic Kayla Harrison on them. She is incredibly tough. She trounced all her competition today, played smart, kept her game face, kept strong, and never stopped believing. She fought well both standing and on the mat, and had good solid technique in all parts of her game. She was in excellent shape. She deserved the Olympic Gold Medal today, the first ever for USA Judo since the sports' inclusion in the Olympics in 1964.
Judo is one of the most popular sports in the world judging by the number of athletes from different countries in the Olympics and the number of people who do Judo around the world. (Not so many in the US, though.)  Judo had more flagbearers than any other sport during the 2012 opening ceremonies relative to size of sports. Flagbearers are picked by a vote of athletes about which person from their country most represents the Olympic ideals of perseverence, sacrifice, respect, fair play, and sportsmanship. Since Judo is not a media friendly sport, we hardly ever get sponsorships or endorsements or news articles. We sacrifice, we work hard, and other athletes know that. But Kayla Harrison made it pay off on the biggest stage of all today. She is a true champion, and her story of using sports to overcome sexual abuse and all kinds of other adversity can inspire us all.