As I write this, my daughter is 18 months old.  She operates 24-hours-per-day, 7-days-a

-week under a baby's natural assumption that she is loved and accepted exactly for her.  She throws her whole self at you with complete faith that you'll not only want to catch her, but be delighted to do so.  She flashes her round belly, expecting those around her will fight for the privilege to kiss or blow on or tickle it.  Any sign that you are questioning her wants and needs leads to shock expressed with wild abandon and never self-recrimination.

Where does that sense of self get lost?  When does it happen?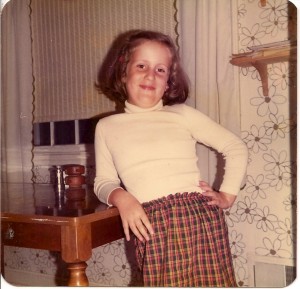 When I was about 5, I started to turn to food.  I remember standing at a window in my childhood home, hand pressed against the cold glass pane, peering out at the driveway and watching my mother drive away and leave me alone.  The world felt like a pretty unsafe place.  I was not safe.  I needed to take care of myself.  And so I made myself some chocolate milk.  I felt a little better.  I thought I'd get in trouble if my mother knew, so I cleaned up any sign of my little indulgence before she returned.  No one was the wiser.
But all was not well.  The cycle repeated, and at the same time my sense of being wrong in the world grew.  I felt ugly, too big.  I took up too much space.  Why had my father left me and moved out?  Why didn't I connect and make friends with the same ease that others did?  Why did I seem to think about everything so much more deeply than other kids my age?  Why did I so often feel like I was travelling around in a little bubble that kept me separate from and sometimes floating above the rest of the world?  When I was about 8 or 9, I remember playing at a neighbor's house on his swing set and having the swing break under me.  I fell  on the ground and felt humiliated.  I took it as proof that I was too big; too much.  I mumbled some excuse and ran home before he could tell me that he now understood that I was disgusting.
When I was in Junior High I started starving myself.  School lunch was torture.  Monday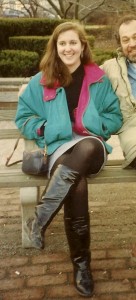 through Friday, I made a charade of pretending to make important phone calls on the payphone in the hall, filling in the gaps by hiding in a bathroom stall.  I did it to stay away from the kids and the food.  The idea of having to ask for permission to take up space at some cafeteria table while displaying the food I was daring to take in was overwhelming.
And when starving would get to be too much, I would return to bingeing at home and hide the material remnants of my secrets in drawers around my room.  When I was a Freshman in high school, I remember coming home from the mall with a friend one day and rushing toward the stairs that led to my room only to have my friend and I greeted by a mountain of those remnants at the top of the stairs.  I was frozen.  My mother had been in my room; searched through my drawers.  She'd created a museum of shame for my friend to see to 'teach me a lesson' about my bad behavior.  I don't even remember what I said or how I made it through that level of humiliation.  It's a blank.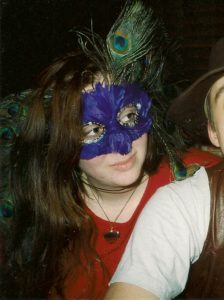 By the time I got to college, I was pretty confident in my sense that I should be apologizing to people for having to look at me.  I spent a lot of time putting on make-up every day largely because I could ease a bit of that pain in the illusion that there was something of a mask between me and the world.  At some point, I became so convinced that everyone was talking about me and saying how disgusting I was that I stopped going to classes or leaving my apartment and eventually got kicked out of school.
I could tell many parts of my story, including how I made it beyond that point to where I am today, but I won't.  Not for now.  I'm telling this part at the moment for a reason.  This self-loathing for my own body – my most intimate 'home' –  that I so insistently projected onto others is not something I've ever completely overcome.  There are many ways in which it was seeded within me, and many experiences that helped its hold on me grow.  But I'm not so special.  My experience in this realm may have been bigger than some, but it's not that different from many.
Our culture teaches us to hate ourselves; Women, in particular.  Should it be such a surprise that so many of us cave under its pressures in ways that leave us teetering on the brink of diagnosis or falling over the edge into its abyss?  What happened to me that led me to want so desperately not to be connected to my corporeal being is very personal and involves much more than I am sharing here.  However, had I not been directly and indirectly cheered on in my own self-hatred by television and movies and magazines and all the women in my life talking incessantly about how much they also hate themselves, I wonder if the outcome might not have been at least a little bit different.
By the time I was 5, I had also seen plenty of weight loss commercials on television advertising women in bikinis running on the beach.  (I still thought they were too fat.  Their flesh jiggled when they ran.  I didn't want my flesh to jiggle.)  By the time I was 8, I had already heard friends and family and friends' families complaining about their 'too big' stomachs or butts or arms and what they were eating to be 'good' or 'bad.'  By the time I was in Junior High I was reading articles every week about how to 'lose that ugly fat.'  By the time I was in college, I felt like I couldn't even be near strangers without overhearing their own words of self-deprecation every day I entered the world.  And if they were saying that about themselves so freely in public, what on earth were they thinking and saying about me?
I want to plug my daughter's ears up with cotton and cover her eyes.  I don't want to have to bear witness to her loss of that care free sense of belonging in this world; of taking up just the right amount of space.  I don't want to watch her begin to question if she really deserves to be loved.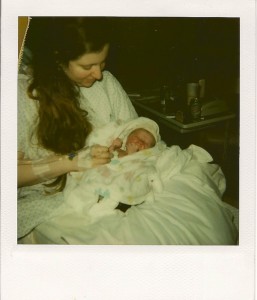 We as human beings – and especially those of us who are female – need to take this up as a political issue.  We need to understand that when we disparage our own bodies we are disparaging the bodies of those around us and re-enforcing the idea that they should do the same.   We need to know that trite sentiments like, "It's what's inside that counts," (no matter how earnestly stated) aren't enough because what they're tacitly communicating is, "You're right that what's on your outside is something we're doing you the favor of looking past."   We need to realize that when we loudly exclaim how happy we are that we lost x number of pounds after a week-long bout with the flu, that we're essentially broadcasting the message, 'skinny at all costs, including your health!'  In my mid-20's, I went through a volunteer training at AIDS Care in Northampton, Massachusetts and at some point I felt safe enough with the group to share that some dark part of my mind was actually jealous.  I was jealous of people who had contracted the Human Immunodeficiency Virus because they often got to experience wasting – a no-effort, super express pass to skinny.  Holy crap.  What was wrong with me?  What is wrong with all of us?
I refuse to talk about my current-day inner dialogue about my body with anyone.  'They' say that men think about sex every 7 seconds, and I'm probably still competitive with that figure when it comes to disparaging thoughts about my body.  But I won't speak them out loud.  I will not be a part of passing along that particular societal ill.  And I will not comment on other people's bodies, even in supposedly positive ways.  And when someone 'compliments' me by saying they think I look like I've lost weight, I will not respond or – even better – state clearly that I don't keep track of that sort of thing or that it really doesn't matter to me (even if not mattering is a wish more than a truth at this point).  And if I'm really feeling saucy, I might try out one of my favorite but mostly unused responses:
"Yes, tomorrow I'll be cutting off my left leg to drop some more.  Quickest 30 pound loss EV-er!"
Or
"Yes, I'm afraid the cancer has really set in now.  They say I probably only have six months left, but I'll surely drop at least another 10 before I go."
That'd stop them in their tracks.
No, I'm not suggesting that weight cannot or should not ever be an issue.  Surely, pharmaceuticals pour on the pounds for people in ways that absolutely do matter.  And, 'too much' weight (whatever that actually means for a given person) can bring on a variety of physical issues.  But I am suggesting that teaching body hatred has the ability to make us sick, and that it does the exact opposite of creating space for us to eat and move in ways that actually feel good and support us to be healthy and to look like and be ourselves.
I realize this is a bit of a deviation from the various diatribes about language, psychiatric oppression and misguided diagnosis.  But in the end, it is all related.  It is related because anything that fosters a sense of alienation for us from ourselves and each other also fosters the same kind of pain that so often ends up becoming labeled as 'symptom' somewhere down the road.  It is related because the same kind of cultural force used to define what makes our bodies 'acceptable' comes from a very similar place as the cultural force that also judges and evaluates our behavior and minds.  And let's be honest.  Body hatred breaks down our most basic resiliency and leaves us all the more vulnerable and susceptible to all the other pervasive negative messages – including pathologization and diagnosis and the belief that we need to be treated for how we are 'wrong' on the inside because of how we are impacted by all the awful things happening on the outside around us.
I hope that those of you reading this will consider how you think inwardly about yourself, but even more importantly, how you talk outwardly about yourself and others.  I urge you to give up the conversations about your latest diet or weight loss (especially in front of children!), to stop making public remarks about your own body hatred, and to stop commenting (particularly unsolicited) on other people's bodies even when you think you're saying something positive.
It may not change everything for you or for me, but perhaps it can be some part of cultural change on a broader scale; of teaching each other by example how to be more connected and loving to ourselves and each other.  Perhaps it can play some small role in supporting children from our next generations to avoid the paths that self-loathing can lead us down.  Perhaps teaching a little self-acceptance now can help avoid at least a few Prozac prescriptions later.
Our words really do have power.  How we talk about ourselves and each other means something.
I don't want my daughter to experience this kind of pain.
For me, it still hurts.
***
Mad in America hosts blogs by a diverse group of writers. These posts are designed to serve as a public forum for a discussion—broadly speaking—of psychiatry and its treatments. The opinions expressed are the writers' own.
***
Mad in America has made some changes to the commenting process. You no longer need to login or create an account on our site to comment. The only information needed is your name, email and comment text. Comments made with an account prior to this change will remain visible on the site.