The FIAT (Financial Incentives for Adherence Trial) study, published last year, highlights the paradoxical nature of our current attitude to the use mind-altering drugs. In this randomised controlled trial people with 'psychotic disorders' were paid £15 a time to take an injection of an 'antipsychotic' drug(1). The payment increased rates of compliance only marginally, and had no effect on clinical outcomes, so the accompanying editorial suggested we need to pay people more(2).
We are now paying people to take drugs they don't like and don't want, while we continue to invest vast sums of public money in efforts to curb the use of drugs that people do like and do want. Prescription drugs like antidepressants, antipsychotics and so-called 'mood stabilisers' are widely promoted as good for your health. But the history of prescription and recreational drug use is more intimately intertwined than most people recognise. Attempts to disentangle the two have created a false dichotomy – with prescription drugs, at least some of them, set up as the 'angels' that can do no wrong, and recreational drugs cast as the 'demons'(3).
Distinguishing drugs in this way makes no sense pharmacologically, and does not help us to understand what effects they actually have. The regulation of drugs is driven by political imperatives to produce a population that remains productive, diverted and obedient. The masses must have their opium, but must not be allowed to be so free with their drug use that they infringe public order or undermine the efficient operation of the economy.
Psychoactive Drugs
As I have pointed out elsewhere, drugs prescribed for mental health problems are, without exception, psychoactive substances. In other words, they are drugs that alter the way people think, feel and act in various ways, depending on the chemical nature of the particular drug. The difference between drugs prescribed to people with mental health problems and recreational drugs is that the latter, by definition, make many people feel good, whereas most psychiatric drugs are disliked by the majority of people who take them, initially at least.
There is some overlap, of course, with prescribed drugs like benzodiazepines (and formerly barbiturates) being popular with some illicit drug users, and amphetamines, now predominantly associated with recreational use, retaining a niche in the treatment of ADHD (attention deficit hyperactivity disorder).
Psychoactive drugs have been a part of life in most societies and communities throughout history. They have been used for pleasure, to dull physical and emotional pain, to increase concentration and endurance and to induce states of religious ecstasy. Crucially for the current story, the recreational and medicinal use of such substances is often blurred. The intoxication produced by alcohol, for example, was much used for medicinal purposes before other drugs became available. Opiates (opium, morphine and heroin) effectively numb and neutralise both physical pain and emotional anguish. Benzodiazepines like Valium and Librium reduce anxiety by producing a pleasant state of relaxation, but where anxiety reduction stops and euphoria begins is difficult to pinpoint.
The Problematisation of Drug Use 
In medieval and Tudor England, heavy drinking was an accepted part of rural life. Weak beer was consumed instead of water by all the family on a daily basis, but festivals and holidays, of which there were many, were occasions for drinking to inebriation. Drunkenness was not regarded as problematic in pre-industrial society, and the country people were left to enjoy their intoxicating habits.
It was only in the 18th century, when the increasing urban population took to drinking gin in large quantities, that concern about alcohol use emerged. Hogarth's famous engraving, Gin Lane, indicates the moral outrage that had started to form around the drinking habits of the poor. Freed from the customs and obligations of rural life and displaced into the exploitative environment of early capitalist cities, the nascent working class turned to the instant oblivion provided by the newly imported, super-strength liquor. Gin was blamed for rocketing rates of crime, prostitution and debt, and the upper classes lived in fear of a breakdown of law and order, as well as bemoaning the decline in the nation's productivity. The Gin Acts of the 18th century were the first legislative attempts to control the people's use of mind-altering chemicals(4).
A similar same story played out with opium, which was widely used by all classes during the 19th century. The medicinal and recreational qualities of opiate drugs are particularly difficult to disentangle, and addiction to opium was likely common among working people who used it either to alleviate the pain of physical ailments, to relieve emotional strain or for enjoyment. Although the construction of the 'opium problem' had many drivers, including the professional aspirations of pharmacists and doctors, and pressure from the United States over the opium trade with China, concerns about non medicinal use leading to the dissipation of the working class fuelled public health campaigns against opium use and led to the beginnings of the legal regulation of its availability in the 1868 Pharmacy Act(5).
Similarly cocaine, initially promoted and widely marketed by companies like Coca-Cola as a performance enhancer for workers, was demonised when it became associated with use by black people in the US and ordinary British soldiers during the first world war(5,6).
The trend for regulating people's use of mind-altering substances culminated in national Prohibition of the liquor trade in the United States, which came into effect in 1920 and lasted 13 years. Prohibition is widely acknowledged as a piece of class legislation. It was the result of a concerted campaign by the Anti-Saloon League and its aims were never to abolish the consumption of alcohol entirely, but to shut down the saloon, where working people went to drink. Possession and consumption of alcohol were not prohibited, only its commercial trade, and those with the foresight and the resources were free to drink alcohol they had stored before prohibition came into force. When the Great Depression hit, and the masses needed pacifying, prohibition was finally repealed(7).
The Modern 'Drug Problem'
The modern recreational drug scene that started in the 1960s was preceded by an epidemic of prescription drug use involving barbiturates, amphetamines and later the benzodiazepines. The emergent and increasingly successful pharmaceutical industry played an important role in establishing the widespread use of these synthetic 'psychopharmaceuticals.'
Barbiturate drugs first became available in 1903, and although they revolutionised anaesthesia and the treatment of epilepsy, they were most widely prescribed for anxiety and insomnia. Amphetamines, available as tablets from 1937, were prescribed for the treatment of mild depression or 'neurosis'. They were issued to pilots during world war II, and soon started to be used as diet pills(8).
In the mid 20th century use of prescription uppers (amphetamines) and downers (barbiturates and later benzodiazepines) was rife, and far more common than the use of any illicit substance. In 1955, the quantity of barbiturates being used in the USA was sufficient for the treatment of 10 million people on a continuous basis for a whole year, representing 6% of the population of the time, or 8.6% of the adult population(9).
In the UK, a survey conducted in 1960 found that the quantities of amphetamine being prescribed were enough to supply 1% of the population with twice daily doses on a long-term basis. Eighty five per cent of prescriptions were issued to women, mostly those between the ages of 36 and 45. A third were issued for weight loss, a third for depression or anxiety and a third for a medley of vague complaints including tiredness, pain and psychosomatic complaints(10). By 1971, 5% of the US population were being prescribed amphetamines(11).
Many of these pills were sold on for profit and the majority of illicitly consumed substances during the 1960s and 1970s were of pharmaceutical origin. In the early 1970s, 80-90% of the stimulants sold on the street in the US were products of pharmaceutical firms (12).
The massive advertising campaigns that promoted these drugs played on the psychological insecurities of the age, and were mostly targeted at women. Advertisements for amphetamine paraded images of the competent and stylish state that women should aspire to, and others persuaded doctors that unmarried women, or men dominated by women, were good candidates for Valium.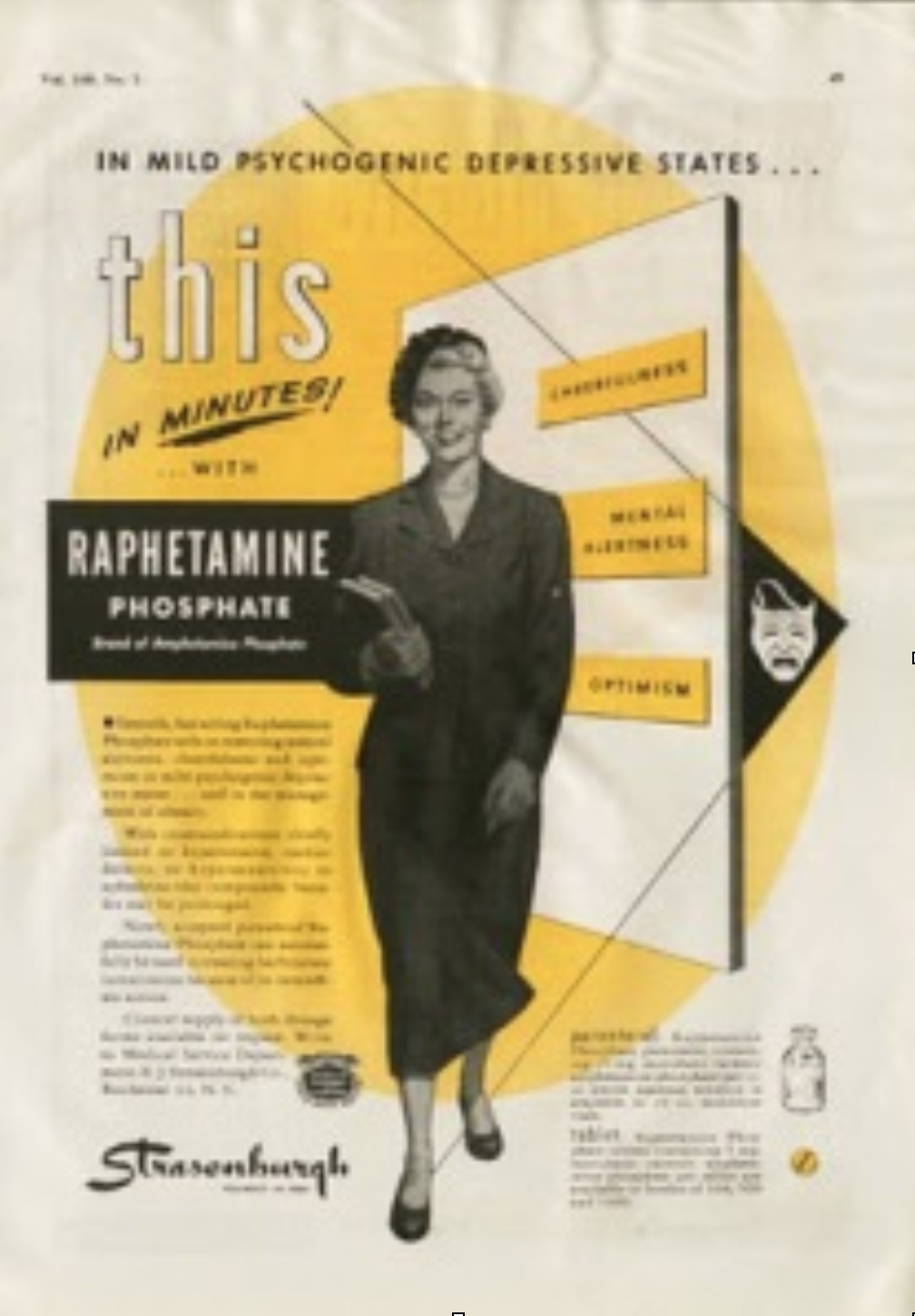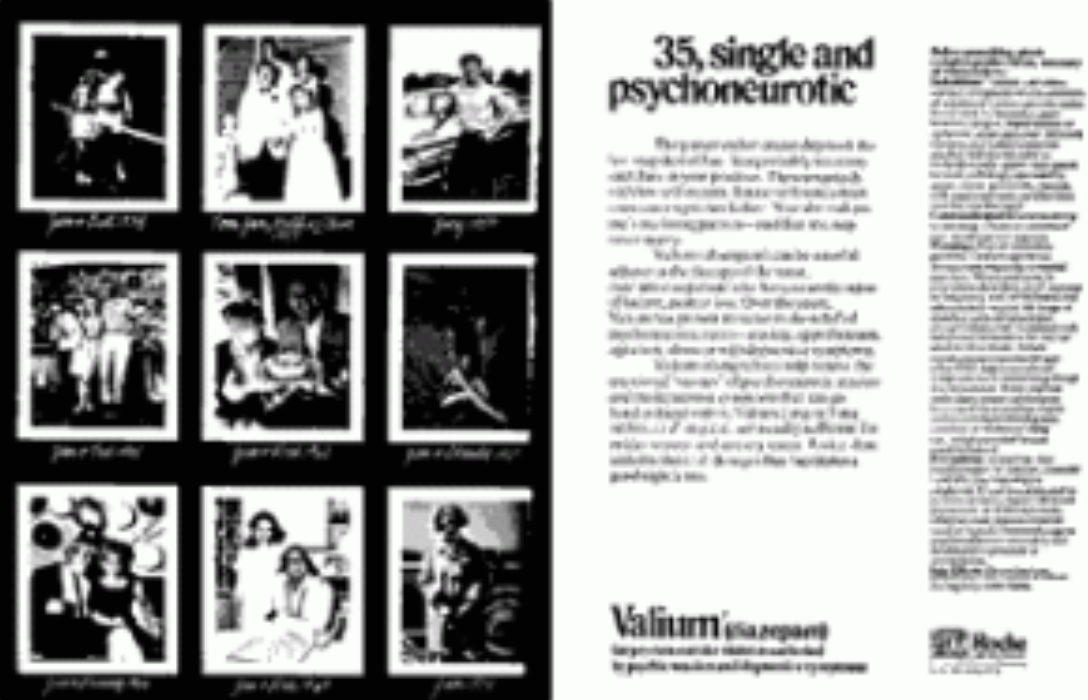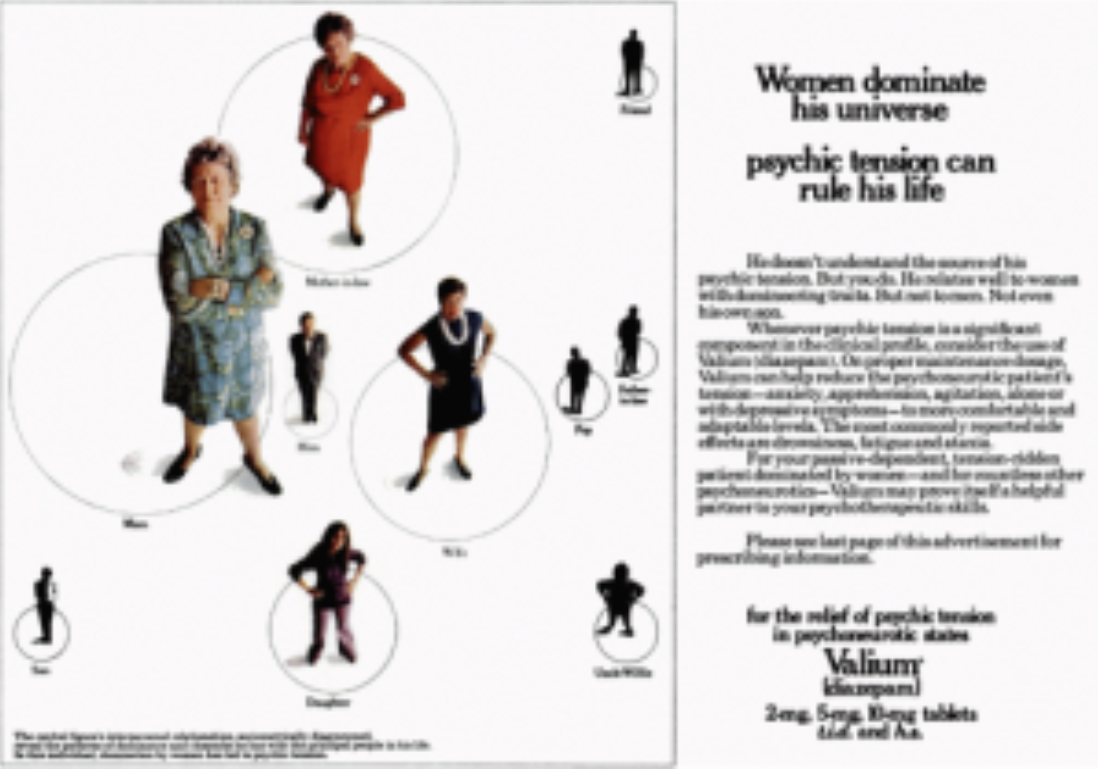 In 1970, US senator Thomas Dodd complained that it was the pharmaceutical industry's 'multihundred million dollar advertising budgets, frequently the most costly ingredient in the price of a pill, have pill by pill, led, coaxed and seduced post world war 2 generations into the "freaked out" drug culture plaguing the nation'(12).
The Political Reaction
As drug use became increasingly associated with pleasure and expanding consciousness, rather than relieving distress, it became a symbol of rebellion. By the late 1960s, illicit drug use was strongly associated with the counter-culture — the hippy movement, the anti-Vietnam war protests, the 1968 student uprisings, etc. Drug use was part of the revolution against conservative mores and culture and against the regimented system of capitalist production and its associated war machine. In reaction, the degrading effects of drug use became a focus for social concern, whipped up by the media, which conveniently diverted attention from the political and economic problems of the 1970s.
In the early 1970s legislation was passed in the US and UK that attempted to put the genie back in the bottle. Amphetamines, along with other drugs like LSD and cannabis, became prohibited substances. Legitimate medical uses of amphetamines were restricted to narcolepsy and ADHD, and production quotas were applied. Prescription and diversion plummeted, but people turned to illicitly manufactured substances or imported drugs like heroin and cocaine(11). Meanwhile prescriptions for benzodiazepines continued to rise(13).
The Professional Reaction 
The emerging drug scene presented a challenge to psychiatrists, whose drugs consisted entirely of psychoactive substances. To preserve the specialist aura of prescribing, and to avoid being seen as drug peddlers, the profession needed to present its practice as commensurate with the increasingly sophisticated use of drugs in other parts of medicine. It is no co-incidence that the 'disease-centred' model of drug action in psychiatry emerged alongside the illicit drug scene. By presenting psychiatric drugs as targeting underlying abnormalities, the disease-centred model helped to repackage the use of psychoactive substances as a bona fide medical treatment quite distinct from the use of drugs in other contexts.
It was particularly important to distinguish newly introduced psychiatric drugs from amphetamines, since the ubiquitous use of the latter was causing increasing concern. Some of the first drugs proposed to be 'antidepressants' in the late 1950s were in fact stimulant-type drugs (used in the treatment of tuberculosis) but their stimulant effects were downplayed(14). Discussants at a conference held in 1962 were keen to stress how the new 'antidepressants' were 'much more specific' than stimulants(15). The concept of an 'antidepressant' helped the process by defining the new drugs by their proposed effects on the presumed biological mechanism of depression, rather than their pharmacological properties (even though there was no evidence that they had such specific effects)
The disease-centred model was undermined, however, by the continued prolific use of benzodiazepines. By the 1980s it was clear that however much they might be trumpeted as a specific treatment for anxiety, they were being used for their tranquilising properties, prescribed to many people, especially women, in order to numb the difficulties of daily life. The scandal over dependence and over-prescribing that erupted in the late 1980s forced the pharmaceutical industry to commit itself wholeheartedly to the disease-centred model for marketing its new drugs. The 1990s blockbuster 'antidepressants' such as Prozac and Paxil were advertised not for their tranquilising qualities (which in any case they do not possess), but for their ability to reverse an underlying chemical imbalance. In this situation it became as important to market the disease as the drug and companies funded campaigns to encourage people to think of themselves as 'depressed'(16). Bipolar disorder has been promoted more recently using the same language and techniques(17).
Angels, Fallen Angels and Demons
So today we have the bizarre situation in which use of mind-altering substances is simultaneously prohibited and promoted. Taking heroin to numb the pain of life is demonised, but taking an 'antidepressant' or 'mood stabiliser' to combat your depressive tendencies or manage your mood swings is encouraged, and not just by the pharmaceutical industry, but by professional and governmental anti-stigma campaigns (18).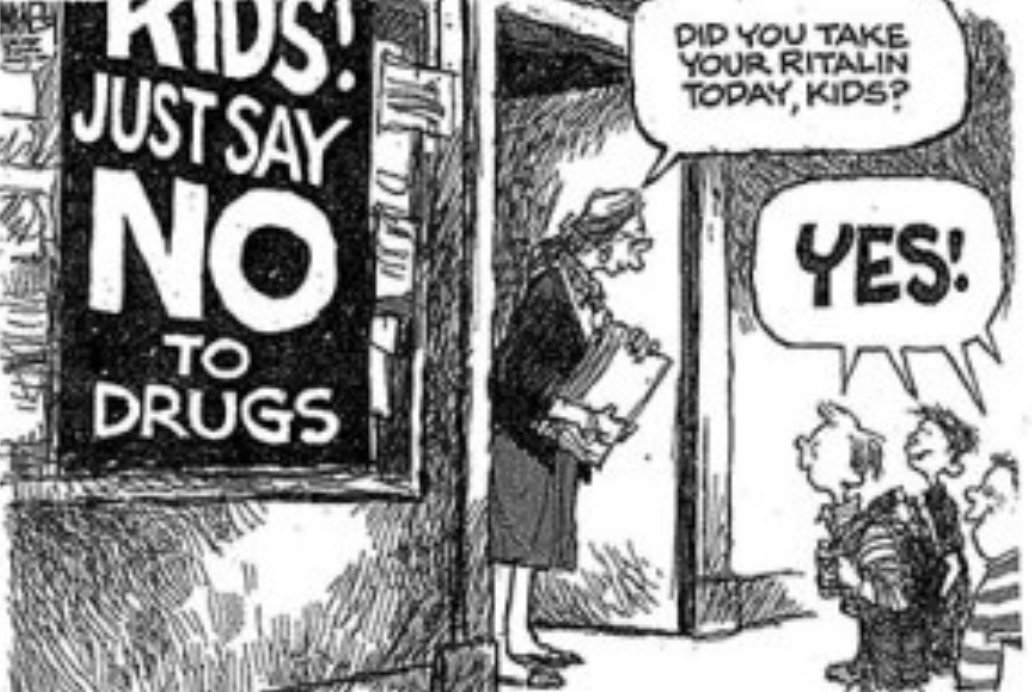 To take drugs for your own purposes, on your own initiative, is condemned, but taking them for a 'medical' reason, under medical supervision, is applauded. The pharmaceutical industry knows that what constitutes a medical indication for psychoactive drug use, however, is infinitely malleable, and that this malleability can be used to capitalise on the ancient human desire to alter one's mental state. Large swathes of the population can be persuaded to view themselves as needing drug treatment for anxiety, depression, bipolar or whatever is the flavour of the decade. Just as governments of the mid 20th century tolerated the widespread use of barbiturates and amphetamines, governments of the 21st century have shown no concern about the rapidly rising use of antidepressants, antipsychotics and medically prescribed stimulants.
Benzodiazepines, by contrast, have fallen from grace because their euphoric effects make recreational and medicinal use hard to distinguish. General Practitioners in the United Kingdom are now penalised for prescribing these drugs on a long-term basis, while the absence of any disincentives for antipsychotic prescribing means that people may end up being prescribed much more toxic sedatives to achieve the same ends.
We need to be more honest and open about the nature of prescription drugs, in order to develop more rational policies towards drug use in general. At present we are stoking the desire for mind-altering effects with medically authorised substances, some of which may be just as harmful or worse than their illicit counterparts. We may also be missing opportunities to explore the therapeutic effects of some illicit substances, like the potential of opiates to suppress psychosis as noted anecdotally by people in the field of addictions.
The regulation of psychoactive substance use is not necessarily wrong in itself, and every society will wish to preserve order and prevent the ravages that excessive drug or alcohol use can entail. We should remember that among those at the forefront of the campaign for Prohibition were women, sick and tired of the abuse they suffered at the hands of drunken husbands(4). The irrationality of current drug policy, however, acts as an impediment to the development of informed and responsible attitudes towards the benefits and dangers of psychoactive substances.
* * * * *
References
(1) Priebe S, Yeeles K, Bremner S, Lauber C, Eldridge S, Ashby D, et al. Effectiveness of financial incentives to improve adherence to maintenance treatment with antipsychotics: cluster randomised controlled trial. BMJ 2013;347:f5847.
(2) Kendall T. Paying patients with psychosis to improve adherence. BMJ 2013;347:f5782.
(3) DeGrandpre R. The Cult of Pharmcology. How America became the world's most troubled drug culture. Durham, NC: Duke University Press; 2006.
(4) Gately I. Drink: a cultural history of alcohol. New York: Gotham Books; 2008.
(5) Berridge V. Opium and the historical perspective. Lancet 1977 Jul 9;2(8028):78-80.
(6) Cockburn A, St Claire J. Whiteout: The CIA, drugs and the press. New York: Verso; 1998.
(7) Burnham JC. New perspectives on the Prohibition "experiment" of the 1920's. Journal of Social History 1968;2:51-68.
(8) Rasmussen N. Making the first amtidepressant; Amphetamine in American medicine 1929-1950. Journal of the History of Medicine and Allied Sciences 2006;61(3):288-323.
(9) Glatt M. The abuse of barbiturates in the United Kingdomk. Bulletin of the United Nations Office on Drus and Crime 1962. https://www.unodc.org/unodc/en/data-and-analysis/bulletin/bulletin_1962-01-01_2_page004.html
(10) Kiloh LG, Brandon S. Habituation and addiction to amphetamines. Br Med J 1962 Jul 7;2(5296):40-3.
(11) Rasmussen N. America's first amphetamine epidemic 1929-1971: a quantitative and qualitative retrospective with implications for the present. Am J Public Health 2008 Jun;98(6):974-85.
(12) Graham JM. Amphetamine politics on Capitol Hill. Society 1972;9:14-22.
(13) Lader M. The history of benzodiazepine dependence. Journal of Substance Abuse Treatment 1991;8:53-9.
(14) Moncrieff J. The creation of the concept of the antidepressant: an historical analysis. Social Science and Medicine 2008;66:2346-55.
(15) Goldman D. Critical contrasts in psychopharmacology. In: Rinkel M, editor. Biological Treatment of Mental Illness.New York: L.C.Page & Co; 1966. p. 524-33.
(16) E.g. the Defeat Depression Campaign in the UK
(17) Healy D. The latest mania: selling bipolar disorder. PLoS Med 2006 Apr;3(4):e185.
(18) E.g. the Defeat Depression Campaign in the UK and Beyond Blue in Australia