An individual having unusual difficulties in coping with his environment struggles and kicks up the dust, as it were. I have used the figure of a fish caught on a hook: his gyrations must look peculiar to other fish that don't understand the circumstances; but his splashes are not his affliction, they are his effort to get rid of his affliction and as every fisherman knows these efforts may succeed.

 — Karl Menninger
What would happen if a team of highly qualified psychologists joined up with a team of people who knew psychosis from the inside, from their own journey into madness and then recovery – and if they collaborated in writing a guide to understanding the difficult states that get names like "psychosis" and schizophrenia"?
Well, you don't have to wonder anymore, because the result was published a couple of days ago in the form of a report that is free to download at Understanding Psychosis and Schizophrenia
A fundamental point made by the report is that "'psychotic' experiences are understandable in the same ways as 'normal' experiences, and can be approached in the same way."
I believe this report will be useful to a great many people, because of the way it combines a thorough knowledge of the science with common sense and perspectives drawn from actually listening to people who have had these experiences and then have made sense of them for themselves.  The knowledge in this report will likely both change the perspective of many professionals, as well as be of assistance to many individuals and families who want a deep understanding of the subject that is also  very accessible and easy to read.
It includes  a list of resources at the end which many people may also find helpful.
Jacqui Dillon, Chair of the UK Hearing Voices Network, was quoted as saying:
This report is an example of the amazing things that are possible when professionals and people with personal experience work together. Both the report's content and the collaborative process by which it has been written are wonderful examples of the importance and power of moving beyond 'them and us' thinking in mental health.
I fully agree.
* * * * *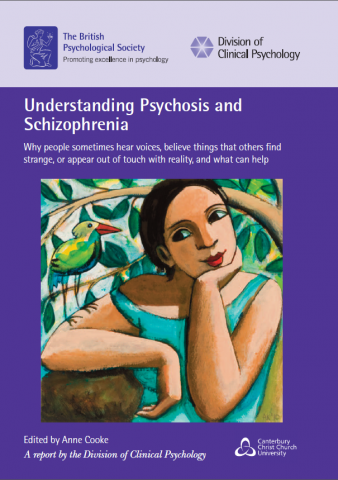 Contributors:
Thurstine Basset
Professor Richard Bentall
Professor Mary Boyle
Anne Cooke (co-ordinating editor)
Caroline Cupitt
Jacqui Dillon
Professor Daniel Freeman
Professor Philippa Garety
Dr David Harper
Dr Lucy Johnstone
Professor Peter Kinderman
Professor Elizabeth Kuipers
Professor Tony Lavender
Laura Lea
Dr Eleanor Longden
Dr Rufus May
Professor Tony Morrison
Dr Sara Meddings
Professor Steve Onyett
Dr Emmanuelle Peters
Professor David Pilgrim
Professor John Read
Professor Mike Slade
Yan Weaver
Professor Til Wykes
***
Mad in America hosts blogs by a diverse group of writers. These posts are designed to serve as a public forum for a discussion—broadly speaking—of psychiatry and its treatments. The opinions expressed are the writers' own.
***
Mad in America has made some changes to the commenting process. You no longer need to login or create an account on our site to comment. The only information needed is your name, email and comment text. Comments made with an account prior to this change will remain visible on the site.