In February, Congressman Tim Murphy (R-PA) was a keynote speaker at a public event about "Fixing America's Mental Health Care System" that was sponsored by the pharmaceutical companies Lundbeck and Takeda. Now, data on OpenSecrets.org show that pharmaceutical companies and psychiatric hospitals are in fact among the main funders of Murphy, who for several years has been strongly promoting his bill the Helping Families in Mental Health Crisis Act. And it appears that those same pharmaceutical companies and psychiatric hospitals are likely to substantially benefit financially if Murphy's bill becomes law, according to an analysis of the bill.
A 2013 analysis of the bill by the National Coalition for Mental Health Recovery, the Bazelon Center and other groups stated that Murphy's Helping Families in Mental Health Crisis Act would "heavily encourage the use of force and coercion" — typically involving treating people with pharmaceutical drugs — while undermining rights and legal supports for people seeking non-drug options or wishing to make their own decisions. The bill, they stated, would also cut funding to community-based services that "have a proven track record in helping people stay out of the hospital," and would instead lead to many more people being more frequently placed in psychiatric hospitals for long periods. "(T)his bill would cost more money for worse outcomes," their analysis concluded.
Who supports expansions to involuntary treatment with pharmaceutical drugs and more and longer hospital stays? According to data publicly available on the Center for Responsive Politics' OpenSecrets.org website, in the 2014 election cycle, Murphy's top funders included "pharmaceuticals/health products" corporations, "health professionals," and "hospitals/nursing homes" — all of which stand to gain financially if his bill is implemented. MapLight similarly shows that supporters of Murphy and his bill specifically have included Eli Lilly, Johnson & Johnson, Bayer, Astrazeneca, Pfizer, Novartis, Lundbeck, Merck and many other pharmaceutical companies, along with the National Association of Psychiatric Health Systems, a trade group representing the nation's private psychiatric hospitals and residential treatment centers.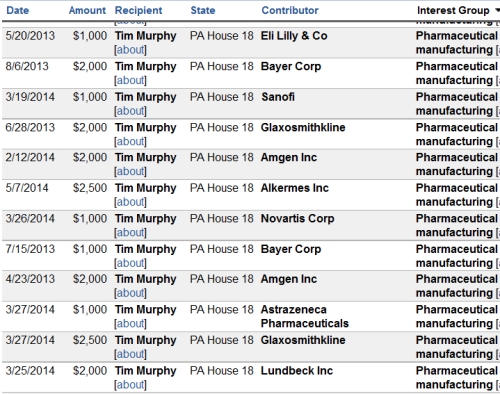 Top Contributors to Tim Murphy's Campaign 2014 (OpenSecrets.org)
Monetary and non-monetary contributions to candidate campaign committees of legislators serving in the 109th, 110th, 111th, 112th and 113th Congresses, Contributions to Tim Murphy (Maplight)
National Association of Psychiatric Health Systems Contributions (OpenSecrets.org)
Mental Health Advocates Blast Rep. Tim Murphy's Bill as a Costly Step Backward, to the Days When a Mental Illness Diagnosis Was a Life Sentence (Bazelon Center, December 12, 2013)
Fixing America's Mental Health Care System event ad (The Hill, February 26, 2015)