I learned of the Hiawatha Asylum for Insane Indians in 2001 through the paper, "Wild Indians," by psychiatric survivor and activist Pemina Yellow Bird (Mandan, Hidatsa, and Akira Nation). Pemina movingly described the notorious history of this federal facility which operated from 1899 to 1933 alongside efforts to honor the 131 graves situated in the middle of a 'no play zone' of the Hiawatha Golf Course in Canton, South Dakota – literally, the Asylum's last remains.
At the time I was reading it, I'd been thoroughly rejected for my views by fellow 'providers' at the Yakama Indian Health Service (IHS) Clinic's 'Mental Health Department' (there was a large red sign no one would sit below). I had no prior experience with such rancor and often sat isolated between meeting with clients and families in a dimly-lit exam room converted to an office on the 'Indian side.'
There are fictional correlates to my struggles with IHS at that time, in the character of curmudgeon psychologist Dr. Ret Barlow (seen in Tessa's Dance and Signal Peak). Like Ret, I'd been socially-segregated away from the more appealing, windowed spaces of my colleagues down the hall.  I was fine with my locale, but I needed friends.
When I finished reading, I searched up Pemina's email address, and we began a series of lengthy virtual exchanges that helped galvanize my spirit through the many emerging battles with IHS's psychiatric labeling and medicating approach to treating Yakama reactions to oppression, and the related psychosocial stress.
In short, I began to fight back, and I am grateful to Pemina Yellow Bird for helping me to stay true to my beliefs in those days. Washi Taherere.
But I took my lumps. Retreating to Yakamart after one of several Friday late-day performance appraisals by the IHS medical director (designed to ruin my weekend), I finally struck up a friendship with a local Blackfoot elder named Long Standing Bear Chief (English name, Harold Gray).
He was a radical Indian, an AIM sympathizer, an author, publisher, cultural authority, and graduate educator, the first director of Indian Studies at the University of Montana. I feel very fortunate to have known him. Whenever I had questions, I 'brought tobacco' for my elder's pipe and we began our consultations or entered the sweatlodge to consider. We laughed a lot too. He had a lengthy history of advocacy for Indian people, and right up to his passing in 2010, he encouraged me to do all I could to expose the intergenerational effects of the mental health movement's oppression of American Indians and Alaska Natives.
Unavoidable circumstances forced my departure from the area in 2006, and while I continued to consult with Yakama Nation, I became an associate professor at a (now-defunct) doctoral program in Seattle. Before Washington School of Professional Psychology got bought out by an unscrupulous for-profit college and gradually ruined, there happened to be a little yearly stipend for 'faculty development.'
I decided to use my stipend to do some research on the Indian Asylum
Beyond Pemina's paper and an apologist-toned history dissertation on the subject, there wasn't much out there. There was even a belief that actual clinical records for Asylum inmates had not survived its closure. But I ran across good evidence that this might not be altogether true, and at least some of the files might still be divvied up between various locations of the National Archives Records Administration (NARA).
I decided to use my stipend to travel to the National Archives at Fort Worth, Texas.
I flew down by myself and brought along my old scanner because NARA doesn't allow you to make photocopies. I eventually found the place and drove a rental car along an entrance road past hundreds of unused, polluted FEMA modulars once intended for Katrina survivors, and past many, many lettered buildings to the one I was seeking.
There, I met a dowdy but friendly elderly woman quite pleased to actually have a visitor. She was, however, insistent on adherence to protocol and directed me first to apply for a National Archives research card, which she thereby approved and fashioned. She passed it over to me for inspection, and I then passed the card back to her by way of asking to see materials.
A lot of time passed before she finally labored through the door with a cart holding several beat up ancient boxes. As I looked what was inside over, I began scanning in a crazed frenzy, uncertain whether I'd have enough time in the remaining single day I had in Fort Worth.
A few minutes later, she came up to my side to watch what I was doing. It was quite all right with her; she just didn't have much else to do.
"Would you like to see the archived court materials on Indian Lunacy determinations?" she asked me lazily.
Three large boxes followed. I continued to scan, beginning to break a sweat.
I still have all of this material – but I know there's more to be acquired at other locations, squirreled away, misfiled or mislabeled, purposely misplaced?  It's out there.
In trying to understand what these ancestors would tell us, we have to dig. And why wouldn't the federal government want to make it easier?
Let's leave aside for a moment the significant number of American Indian WWI veterans I mentioned in my last blog post, surging the population at the Indian Asylum after they returned – many of them preselected for exposure to front-line combat by the Alpha-Beta tests of early psychologists.
Let's refrain from looking closer at the graves on the golf course, and the filthy coal-fired furnaces that coated the floors with soot that caused chronic respiratory diseases and the deaths of so many resistors forcibly committed to the Asylum for refusing to surrender their children to boarding schools, give up their land to informed speculators, or otherwise accept the domination exerted by federal or church authorities.
We'll turn back from the children born and buried there and avoid touching upon the scandalous discovery by white investigators in 1933 of so many 'sane' Indian people shackled to beds and pipes, keys to their locks lost, and in chains so tight as to make them difficult to saw off. We'll close our ears to the death songs echoing in those hallways.
And instead, let's focus on the embarrassing psychiatric diagnosis Alvin Abner Big Man with Horse Stealing Mania.
It's not in our current DSM-5 because it's evidently become more rare since then.
The statute of limitations for discussing archival medical record is 75 years, so I'm legally allowed to share with you his case, although his name's a pseudonym because I have concerns about troubling his descendants.
Alvin Abner Big Man was Lakota, and a 'reservation policeman' from Rosebud Reservation. He was first diagnosed with Horse-Stealing Mania by the reservation agent, Charles Davis, after he refused to plead guilty to stealing horses. Mr. Davis suggested that Alvin's "erratic behavior" in jail made him better suited for an institution for the insane. In 1913, Alvin was forcibly committed to St. Elizabeth's Hospital in Washington, DC. He's described in St. Elizabeth's records as "uniformly good and free from any gross disorder."
However, the doctors at St. Elizabeth's Hospital were not entirely confident in the Horse Stealing Mania diagnosis, and so they agreed to continue housing Alvin only temporarily. They couldn't think of a better diagnosis and decided to write to the Indian Commissioners that: "in view of our inability to definitely come to a conclusion about this man, on account of the conflicting stories in the case, we would suggest that he be transferred to an institution near his home." Such was the conscientiousness back then that the St. Elizabeth's psychiatrists wanted Alvin off their caseload.
So in 1916, Alvin was transferred to the Hiawatha Asylum for Insane Indians. He was examined by its superintendent, Dr. Harry Hummer, with Constitutional Inferiority. This label may sound obscure but Alvin was seen as apparently having a penchant for communicating amorously toward women at the Asylum, and he was violating eugenics-based rules forbidding fraternization between the sexes: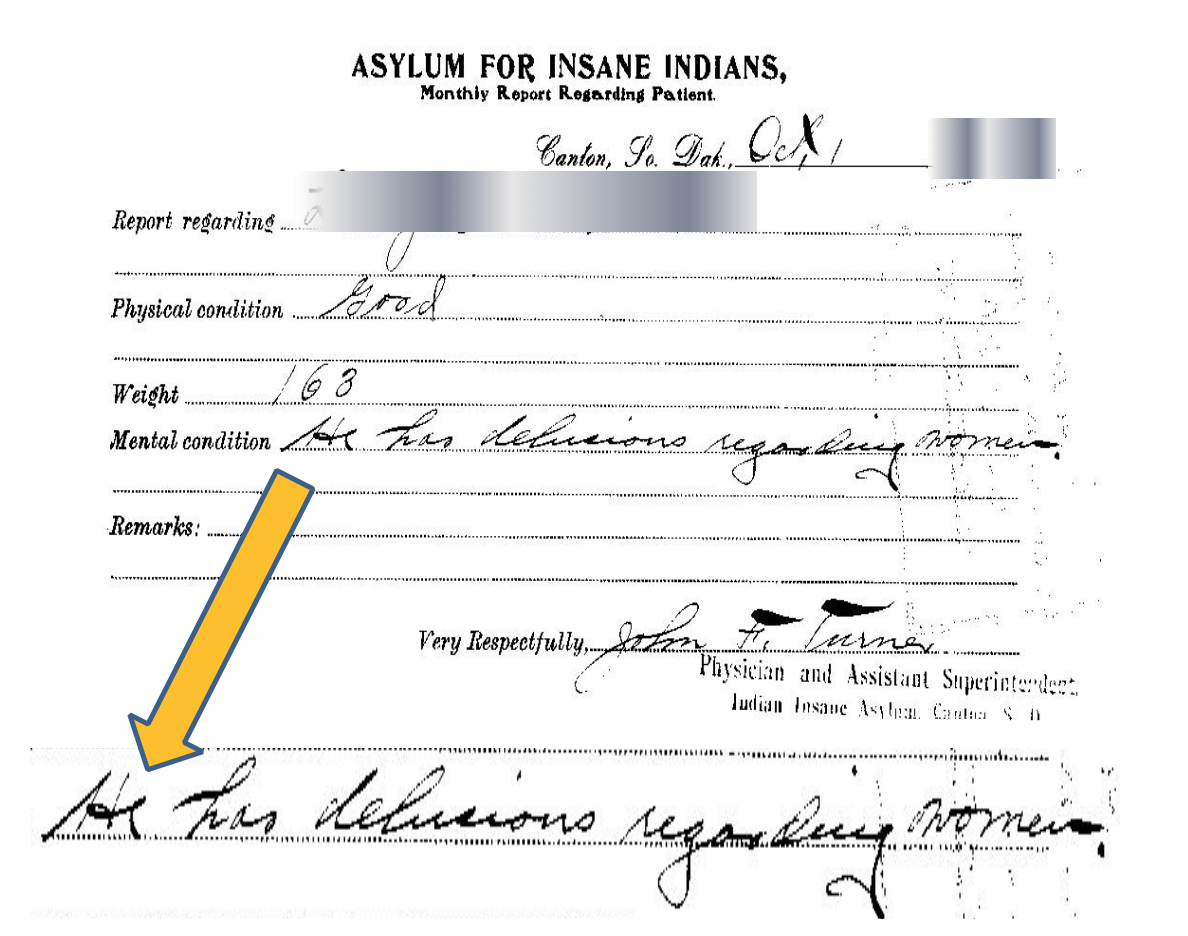 Otherwise, Alvin was reported to spend much of his time beading and helping others.
Further evaluation was undertaken using a mental status examination format not so different from the current one stipulated in the contemporary Patient Assessment section of the Behavioral Health Manual of the Indian Health Service. Check it out: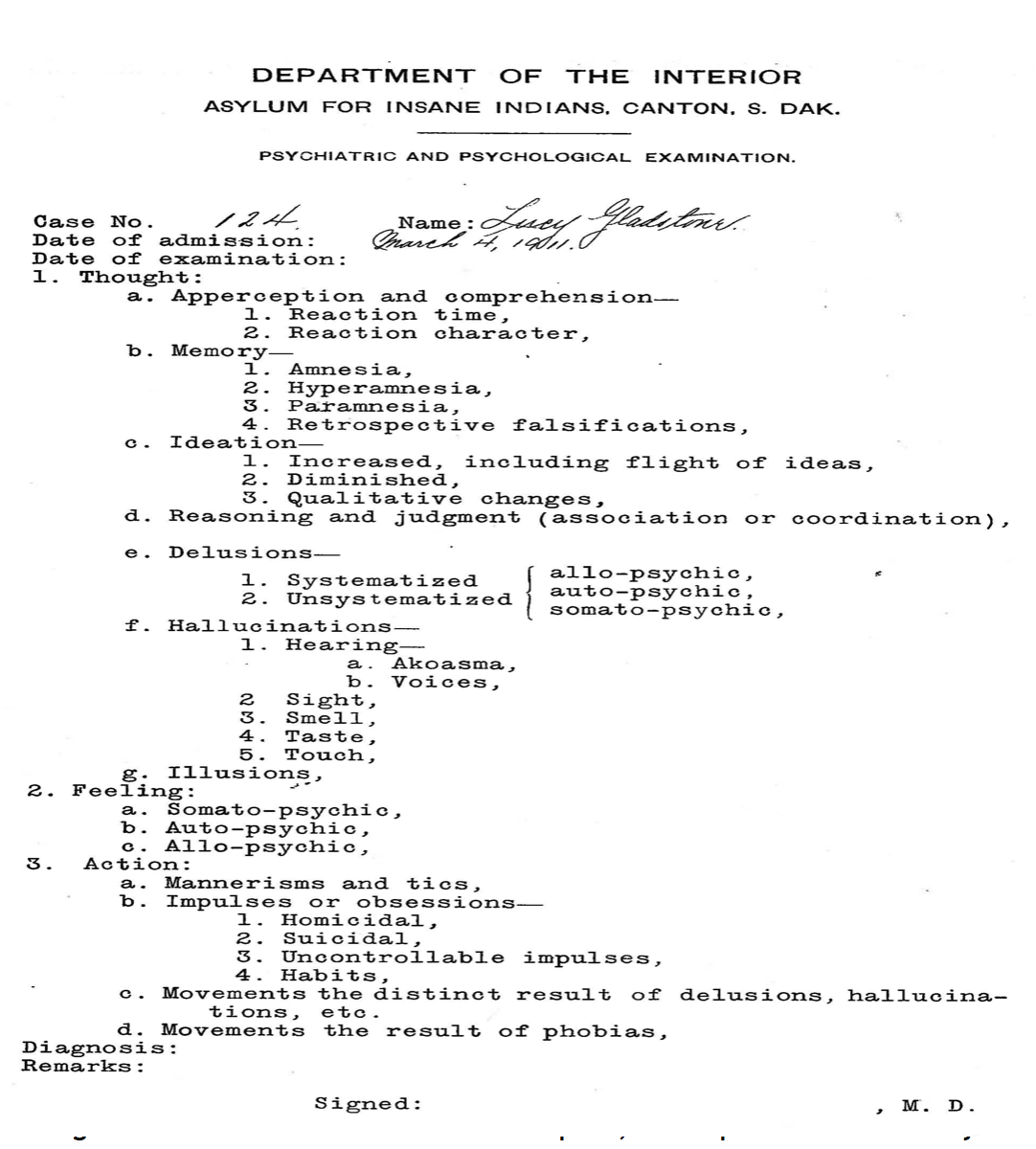 After being transferred from St. Elizabeth's Hospital, Alvin spent the next two years in the Hiawatha Asylum for Insane Indians, pleading through his attorney and via other means to somehow be released. His federally-funded 'treatment' for Horse Stealing Mania took place over a period of nearly five years of incarceration.
Fortunately for us, Alvin turned into an in-house activist, fighting against the lead psychiatrist, Dr. Hummer about the treatment of his fellow inmates. I'd say he became rather a thorn in the Doctor's side. He even attempted to smuggle a note out of the building to the Indian Commissioners to let them know what he was observing: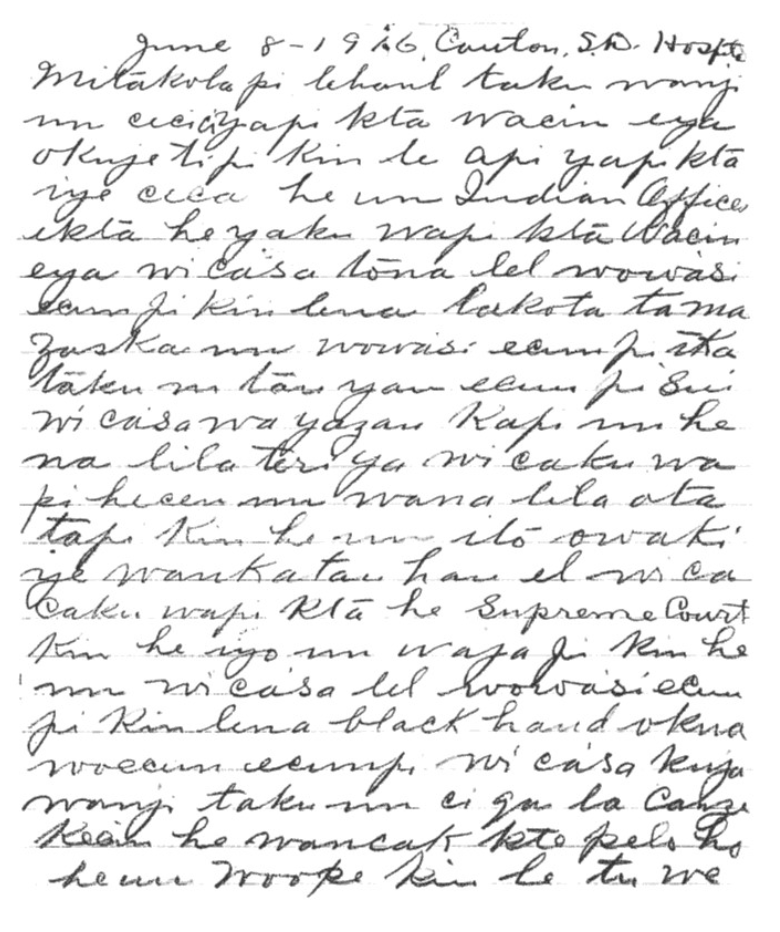 It was clever of him to write this in phonetic Lakota. However, Dr. Hummer was one step ahead. He intercepted the note and had it translated:
"fix no building, employers paid but don't do right, make sick people work, many of them die, wants take employers to Supreme Court, Entitled to use Supreme Court, employers using 'Black Hand,' sick persons do anything, could get mad & kill them, Take these men before Grand Jury, find these white people guilty, that's why I told this, we are starving, have an inspector to come, want to talk to him, using us rough, wants them to copy this letter in English, wants them to use Commissioner of Indian Affairs to help"
I found both Alvin's note and this translation in his medical file. I don't know if the note ever made it out of the building. As to 'Black Hand' to which Alvin makes reference, if you do a little research, you'll discover that this was a common term used by the news media of that time to describe an extortion technique in the early days of organized crime.
Shortly after this note was written, Alvin was released by Dr. Hummer. Apparently, treatment of his Horse Stealing Mania had been a complete success.
The Hiawatha Asylum for Insane Indians continued on for another 17 years, finally being closed in 1933 after the (not) surprising discovery that it housed many 'sane' native people like Alvin. These 'sane' Indians were released. However, those inmates deemed as still of significant concern were sent off to no other place than St. Elizabeth's Hospital in Washington, DC.
At the time of the transfer of the Indian Asylum inmates to St. Elizabeth's, Walter Freeman II, MD was director of services at its Blackburn Lab. He left for Georgetown University in 1935 and performed the first lobotomy in the United States in 1936, gradually perfecting his famous 'ice-pick' (trans-orbital lobotomy In 1943, Dr. Freeman recommended lobotomies as the 'treatment' of choice for veterans suffering from the after-effects of war exposure. He was selected by the Kennedy family to apply his techniques to JFK's sister, Rosemary.
I haven't yet been able to discern if Dr. Freeman had a chance to utilize any of his new techniques with the inmates transferred from the Hiawatha Asylum for Insane Indians after it was closed down.
I'm glad to report Alvin made it out long before all that. I was very grateful to have eventually found his note.
***
Mad in America hosts blogs by a diverse group of writers. These posts are designed to serve as a public forum for a discussion—broadly speaking—of psychiatry and its treatments. The opinions expressed are the writers' own.
***
Mad in America has made some changes to the commenting process. You no longer need to login or create an account on our site to comment. The only information needed is your name, email and comment text. Comments made with an account prior to this change will remain visible on the site.