About a year ago, my partner Ron Coleman said to me "let's have a recovery camp." I said "what's one of those?" and he said "I'm not sure, but let's invent it."
We talked for many hours, we looked at our recovery houses, and took aspects of our learning from these. It should be in a beautiful environment, the daytime should have a structure that allowed for time together as a big group, with smaller workshopping spaces. We wanted a relaxed but busy atmosphere, which built energy and sense of purpose. We wanted it to have the same feel as our past conferences – a safe place, cutting edge themes, a place where dialogue happens between workers, family members and people with lived experience, but without  the formality of a conference. We wanted it to have an international feel, a coming together of different perspectives and a place where people could be creative.
For the night-time we wanted to create fun, togetherness, dance, good music and the feel of a festival.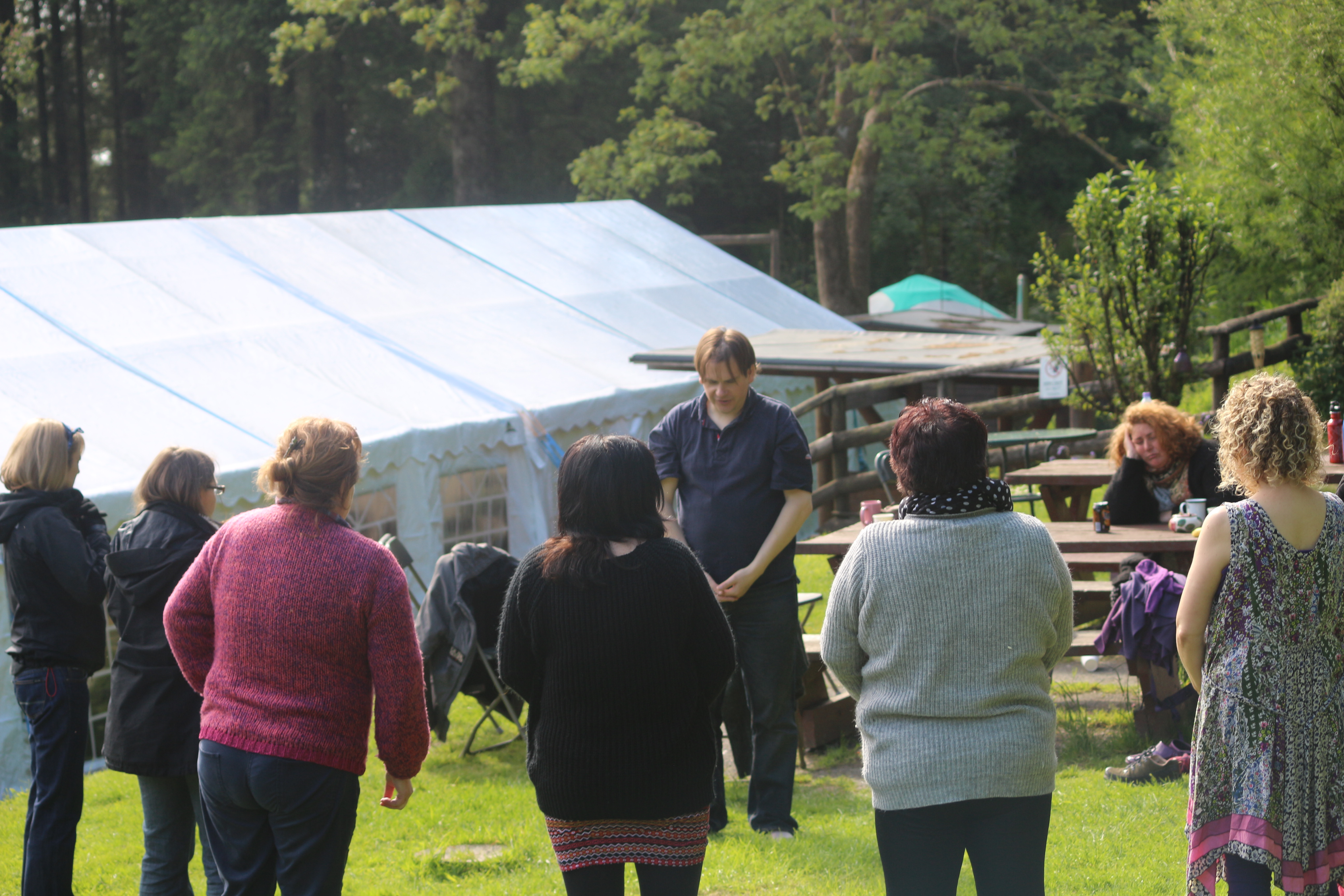 It had to be affordable, in a place that people could access reasonably easily and have facilities that suited different levels of need and comfort.
We started talking about our ideas at our trainings and with friends to see what people thought of the idea — and people loved it. In the autumn, thanks to our good friend Jim Campbell, we found the perfect venue; Mathrown of Mabie, a campsite in the forest 4 miles from Dumfries in Scotland. It had bunkhouses, a Tipi, a Yurt, a roundhouse, a sauna and hot tubs, with plenty of camping spaces, in a beautiful ancient forest..
It was booked up a year in advance but they had a cancellation for June 7th to 12th 2015. We booked the whole site, paid the deposit, and started to plan further.
We enrolled Jim and his partner Laura to help co-ordinate. They knew the site and helped form the skeleton of our ideas. Next my middle son's father Chris, a musician and sound technician, and his lovely wife Helen (also a close friend of Ron's) became our artist-in-residence. She was so excited to be back doing what she loves best; creative projects for each day — mask making, painted stones, banners and many other artistic ventures.
Next we decided on some of the people we wanted to be speakers and elders during the week. Lewis Mehl Medrona, an American Native Indian Psychiatrist & Healer, and his wife Barbara, a creative therapist, were the first people we asked. They loved the idea and gave their time for free, as did all the elders. They became the leaders of our ceremonies, creating a spiritual and sacred space, offering stories of healing and ancient wisdom. Rufus May & his partner Elizabeth agreed to come for two days, offering workshops on sensitivity and dialoguing with voices. Berta Britz, a wonderful inspirational peer from Pennsylvania was also excited at the prospect of traveling to the UK and offering the wisdom of her own recovery. Marius Romme and Sandra Escher were to run a 4 day training on the Maastricht interview — unfortunately Sandra broke her leg 6 weeks before camp and they were unable to attend, but Matt Ball, a psychiatric nurse from Adelaide in Australia and a person who had also lived experience of psychosis, offered to tell his story and run a couple of workshops on his experience of using the Maastricht interview in his practice.
Barrie Wylie and his partner Rachel are ardent Facebook users who had created some well-used face book groups like Positive Mental Health Support were our first people to book places. They took up the mantle of social media experts and helped create excitement about the camp. I also asked Barrie to run a workshop on how social media had helped his own recovery journey,
We had been part of starting the Scottish recovery network many years before and asked Simon Bradstreet the director to come and open the camp. As people booked we asked them if they would like to run workshops and many people came forward. The programme developed. We were not going to have keynote speeches, but big tent discussions led each day by ourselves and the other Elders on different themes. The themes were developed around our ideas on the process of recovery: "COPS" – Choice, Ownership, People, and Self.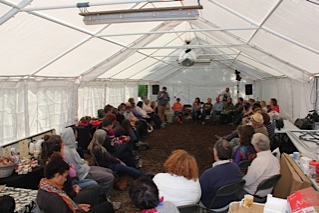 "Preparing for Recovery" was Ron & my personal theme. The importance of story, and telling your own truth, was Lewis & Barbara's.  "Creating Communities of Recovery with Dialogue and Trialogue" was shared by Rufus and Elizabeth. Matt, Berta & Graham Morgan gave personal stories and the power of peer support.
Participants volunteered to run workshops; poetry, yoga, Chi Gong, walking in the woods, WRAP, spirituality, peerzone, advocacy and self-directed payments were some of the themes.
We booked the evening bands. For Ron's birthday night; a blues band, whose set had everyone up dancing and rocking. My knees have not been the same since!
Sophie Bancroft's jazz band was a chilled-out evening. In the daytime Sophie and partner, double-bassist Tom, ran a jazz singing workshop. About 12 of us became a choir and sang during the evening, many performing for the first time. My daughter Lexx & myself also sang solos with the band.
Wednesday night was Mad Pride night. Ron set the scene with some stand-up comedy. Then Jim, a very competent magician did a wonderful set. This was followed by guitar solos; our 12 year old daughter Francesca telling a story in Gaelic; poetry; a beautiful young singer named Liv found confidence to perform again, and sang her own songs; and our 16-year-old son followed in his fathers footsteps and offered his first stand-up comedy performance.
For the last night a Celidh band, with many having the first taste of Scottish dancing.
The last morning began with a closing ceremony led by Lewis & Barbara, thanking the ancestors and spirits for their time. From the isle of Lewis, Jane & her partner came to offer readings and remember those that had not survived. The camp was adjourned — not closed — with many emotional goodbyes "until the next year." Already we have support for camps in Australia, NZ, America and the UK!  Let's hope we have started a movement for communities of recovery, a celebration of diversity, a place where people can come together to celebrate, protest, and plan a revolution of how emotional distress is dealt with in our world.
Most importantly we created a community of recovery for a week: next step is to create communities of recovery around the world — not just as temporary camps, but long-lasting oases within our communities
Here are a few of the comments people who attend have made on Facebook about their experience of staying at camp:
"Every night at the recovery camp we were royally entertained. Open mics, poetry, stand-up comedy, and exquisite music. Hot tubs and camp fires under night sky stars. Daytimes we had talks, sharing and workshops. Groups and one-to-one interactions. Art was made. Dreams were built. Tears shed. We laughed a lot. Much healing of mind body and spirit. We co-created a sanctuary in a very beautiful setting."
"Hiya, folks; hope and trust all are well. I just got home last night from recovery camp; may sound cliched or melodramatic, but it was totally inspiring, invigorating, transformative. If anyone gets the chance next year, go."
"What a great week we had, looking forward to next year already."
"It was great and amazing; bands at night … totally fun-filled positive educational inspirational sensational all-rounder … I can highly recommend to all booking yourselves to attend the future up-and-coming camps."