I am humbled to share with you my life's journey, and more importantly to convey a recent experience that has transmuted everything, opening up a new frontier of being more fully alive. I am beginning to see the invisible; or should I say I am beginning to feel it, because it is an inner experience.
First, a little cultural context. When I look at the distribution of wealth and the exploitation of resources on this planet, I am humbled. I was born into privilege, in a working-class/middle-class family where everything looked so pleasant on the outside – I was well-clothed, well-fed, physically safe in a comfortable, stable environment. At least it looked that way on the outside. On the inside, however, I felt like I was living in a war zone. I experienced such a profound lack of safety that it led to my clinging to anyone who offered a safe harbor or anything that could numb the pain.
By the age of 16, I did not grasp the underlying dynamics of the polarizing duality and irrationality of my life and the world. It was beyond my ability to comprehend because I had nowhere to go where I felt safe enough, and supported enough, to ask questions and try to get accurate answers so I could meaningfully put the pieces together. On one hand, I saw such peace and love in my community and the world, and on the other hand I saw and experienced fear, violence and war.
One day the cacophony boiled over into a spiritual emergency.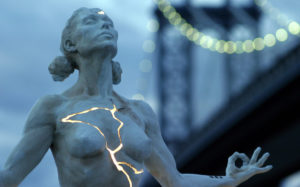 Looking back forty years, I now understand what happened. In a heroic act of integrity, my mind (in a deep way that I had never before experienced) reached for the authentic Lauren in an attempt to find meaning and purpose in my life. I needed support, an anchor, so I could move from monologue (where I was stuck) to dialogue – where I could awaken into a genuine, honest and respectful relationship. I needed someone to be with me on an island of sanity where we could breathe while being immersed in and inescapably surrounded by an insane world.
Instead of getting care that helped, I got locked up in a mental institution, put on increasingly heavy doses of psychopharmaceuticals and labeled with chronic schizophrenia. As you might imagine this made my life a little more confusing. It added layers of hurt, humiliation, misinformation and self-doubt.
Now, let's transition to the five most important lessons I have learned that helped me transform my consciousness. This story is still unfolding; new pathways of insight are being revealed. What drives me? A wind, a light, a strong desire accompanied by a focused tenacity to find my truth. Who am I? What is my life's mission, my purpose?
Lesson 1. Someone wise, whom I deeply respected told me there was never anything wrong with me. At the time I found that statement shocking and outrageous. She was firm in her belief, and after a while I realized I had nothing to lose by attempting to take on this perspective. I had tried everything else and nothing was getting me where I wanted to go. I had even worked as a therapist and still could not grasp that elusive thing that was missing in my life and left an emptiness in my soul. It took me years to wrap my mind around that concept. It meant understanding the larger social context of my spiritual emergency, which required that I understand the dynamics of oppression and the impact of trauma on myself and others.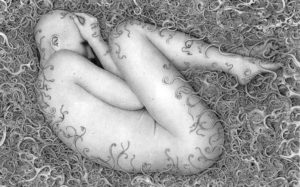 Lesson 2. Someone very accomplished and admired told me, "I believe in you." No one had ever told me that before, and it felt really good to hear those words and believe them. I realized, however, that I needed to believe in me. What a contradiction to everything life had taught me – especially my experience in the mental health system which had convinced me to not believe in myself, in the brilliance of my mind and the wisdom of the emotions.
The invitation is for you, the reader, to stop for a moment and ponder – what would your life look like if you believed completely in yourself? If every thought, every experience, every everything in your life was fused with meaning and purpose, wisdom and truth? Can you begin to grasp a different way of perceiving yourself? I find that as my self-perception deepens and my heart opens wider, the way I see others shifts and deepens, synchronistically. It seems to be a spiral path leading to presence and being in tune with the flow of life.
Lesson 3. Letting go & becoming unrecognizable to myself. In truth this process started years ago when a friend told me that to be completely open to change, I had to be willing to be unrecognizable to myself. Like a caterpillar fighting off the imaginal substances that carry the DNA of the butterfly, we don't recognize who we are becoming (or can become) until we let go of the battle to stay within the confines of who we think we are.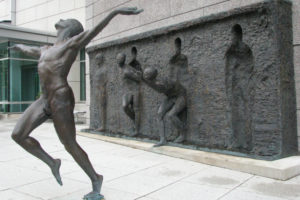 After many years of witnessing a friend become more liberated in her thinking and her way of living, I agreed to join her in an international workshop on Healing from War. She had attended them several times. We spent a year planning our trip to Poland where the eight-day workshop took place. There were two conference calls with the 15 people from the US who we would be joining at the workshop. The friend who drove us to the airport told us that others she'd known who attended the workshop had said it was life-changing. I said that preparing for the workshop was life-changing. Little did I know what was to come!
The workshop began with a 2-day tour of Auschwitz. A little more context is helpful here. Months before the workshop, and more intensively at the workshop, we learned about the multi-level dynamics (political, social, economic, etc) that came to be this "perfect storm" called World War II and the Holocaust. All of my adult life I had known that Spiro was a very unusual name. I almost never saw it spelled the way my family spells it, and I don't know any Spiro relatives other than my father (who died when I was 14) and his parents. During our first day at Auschwitz, there were vertical hanging boards listing every Jew murdered in the Holocaust. Of course, I immediately went to look for Spiros. There were four pages of Spiros, several hundred Spiros with complete name, date of birth, place of birth, and date and place of death. Impressive records the Nazis kept.
Another piece of information that helps illuminate my experience is that the Nazis had a problem – they had a great deal of ash to dispose of. This was important because from time to time the Red Cross did a site visit, and it was important to the Nazis that the camp appear to be a fairly decent place to live, with nothing too surprising to report. So a great deal of ash was dumped into the nearby river and a pond within the camp.
Towards the end of our second day at Auschwitz, I approached a small, beautiful pond.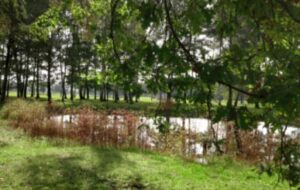 Without warning, a completely unexpected spiritual blanket came over me and said "something happened here"; meaning right here and somehow it was related to me. Suddenly tears began pouring down my face, and my friend held me. We had been instructed by the workshop leader that we were to be inseparable during our Auschwitz tour, and my friend's hug at that moment was beyond perfect. I knew that she was there – in body, mind and spirit – while something big was transpiring.
Before this 'pond' experience I was not particularly in tune with spirit, vibrations or any of those (what some might term) unusual processes. The exception to that was my spiritual emergency about 40 years ago.
This force of spirit was a wake up call to letting myself become unrecognizable to myself. I spent considerable time pondering the meaning of what happened by the pond. What happened there during the holocaust? What happened as I stood by the pond? What or who was reaching for me? How was all of this related to me? I have no knowledge of anyone else at the workshop – and there were 75 of us – experiencing a spiritual force like I did during our eight days together.
I spent a year doing a lot of emotional release work focused on exploring what happened by the pond. I opened up to inquiring, imagining, expressing whatever came to my mind with trusted allies. I let go of rage and fear, hate and terror. I did a lot of grieving for my people and all people killed by oppression and war. I grieved for those targeted by oppression and for those who were taught to be oppressors.
One year later I returned to the workshop and the pond. I was moved by forces that I wanted to better understand. This is the deepest exploration I have ever done. I knew more would be revealed if I continued on this path. I had no preconceived notions of what more there might be. My work was to be open to everything; to explore. The Lewis and Clark of my mind.
Lesson 4. The wisdom of the heart. Year two – I returned to the pond and the Healing From War workshop. This time at the pond there was no lightning strike or major breakthrough. What I noticed the most was the radiant white light pouring over everything, including the Auschwitz barracks behind the pond. The only word that came to me, and it was soft and gentle, was "forward." I interpreted this to mean going forward into the light, which was a validation of my journey and my findings so far. I was on the right path.
I did notice a giant rust-colored dragonfly that flew back and forth by the pond for several minutes while I stood (with three allies surrounding me) with my heart open, asking: What happened here? How is it related to me? I later learned that the dragonfly is a phoenix, a symbol of transformation.
I didn't think much more about my experience by the pond during the remaining days of the workshop. We were immersed, 16 hours a day with 75 amazing people from 20 countries. Some had been prisoners of war; some had parents who had been prisoners of war. All of us had relatives who had fought in a war or resisted the Nazi occupation.
On the last day of the workshop we had our final small Sharing Our Stories support group. I shared some of my story for a few minutes (as each of us did, one at a time), and the support group leader said to me, "You found them."
I immediately felt some pressure next to my heart, and a few seconds later the tears came. My mind realized what my heart and body already knew – that I had found my family buried in that pond. This had not previously occurred to me.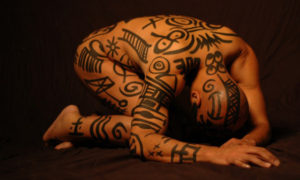 This lesson is about the wisdom of the heart. My heart knew before my thinking brain knew that this was true. My family, the Spiros were buried in that pond. It made sense. There was a connection that happened. That spiritual blanket was them, or some force of sorrow of the souls, reaching for me. There is great wisdom in my body, and I am thankful that I now know how to be a better listener. This lesson leaves me feeling profoundly connected to my people and to all people who ever lived, are living and will live.
Lesson 5. Listening to my heart led me home to my soul. What I know to be true is my experience. The process of transforming my consciousness came through my heart and my body as opposed to my thinking brain. Listening deeply taught me that my heart knows what is true before the mind does. When I engage in inner battle with my ego (or my learned identify), and I struggle or perhaps feel suffering, I don't know where home is. I may feel adrift, unanchored, wandering somewhere but not 'home.' However, when I open my heart and mind and embody inner peace, I know that home is everywhere I go. I set sail every day being carried by the light, being one with the wind.
In summary – my spiritual emergency was, in fact, my mind's attempt to reconnect with my soul.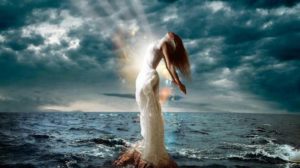 * * * * *
This post is an expanded version of my original five-minute Ignite presentation.
***
Mad in America hosts blogs by a diverse group of writers. These posts are designed to serve as a public forum for a discussion—broadly speaking—of psychiatry and its treatments. The opinions expressed are the writers' own.
***
Mad in America has made some changes to the commenting process. You no longer need to login or create an account on our site to comment. The only information needed is your name, email and comment text. Comments made with an account prior to this change will remain visible on the site.