I just wanted to do a brief followup on my last blog post about my latest psychotic break adventure. I am a recent Psychonaut exploring the inner workings of the mind, and finding out what was my reality versus Consensus reality.
A week later, I started to come out of the experience. It is like waking from a dream. Questioning one's self is a standard part of this process of coming back to consensus reality — at least for me.  It's good to reconsider some of the conclusions I've come to in the last month or so, when some of my inputs may have not been a part of consensus reality. But I'm getting stronger.
Keep in mind, I did not seek help for the psychosis. I merely find it a nuisance, so I sought "help," or psych drugs — which only some people define as helpful — for the lack of sleep and the suicidal thoughts, and the meltdowns I was having.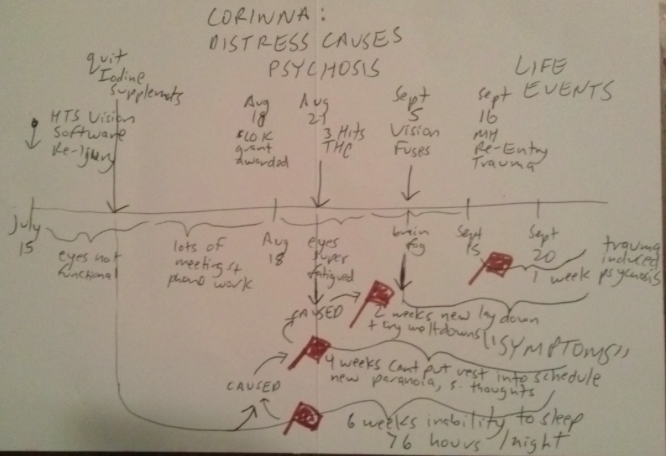 I drew a picture to show you what, at least in my experience, causes psychosis. I have a blog on the Wellness Wordworks site (that I used to maintain before I was injured) called "Emotional Distress Causes Psychosis," because it's not the other way around. It's not like a disease process causes psychosis, and the psychosis causes the emotional distress. The research is pretty clear that the distress causes the psychosis. So now I have a chance to fit my conclusions to my data just like the pharmaceutical industry does.  And it's good to see concrete examples of how life events cause psychosis.
So what started this off about six weeks ago was a nutritional supplement; namely, iodine supplements. They had been super helpful earlier in my injury. a lot of data on Dr. David Brownstein's website supports their use. But I realized they started revving me up and I got off them. So after 2 weeks of being revved up I had some fatigue built up and made a bad decision at a party.
Now I love marijuana. It is my first substance of choice. Followed, in this order, by sugar, nicotine, chocolate, alcohol, then caffeine. It is interesting to rank your substances of choice. And quite often the thing that's number one on your list will cause problems, whereas things that are number two three and four are more likely to be controllable. And I have found this to be true for pot. It makes me mean, and it makes me revved way to up. I know it helps other people, but not me. I believe that so much that I have smoked my last-ever marijuana at least 50 times. I have decided to never ever use it again. I'm sure some of you have made decisions like this.
But it had been about 3 years of not smoking it and I was getting bummed about my eye therapy not working right, and someone said "hey maybe this would help your eyes" and I thought; "hey, why not? Nothing else is. F*** it. Might as well try."
So that was the number 2 chemical input that caused much more revving-up of my system. I got caught in a feedback loop of "the less I sleep, the less I can sleep."
The third input was that the vision therapy actually did start working, and my eyes fused. That means that after 2 years of the two eyes not working together, all of a sudden they started working together. People on other websites that talk about vision therapy say sometimes they wish they could go back to one-eyed vision. That binocular vision is overwhelming. My eye doctor said that a lot of times when people see with both of their eyes for the first time they cry, the emotions are so strong. And vision uses about 60% of the brain area, so going from 30% to 60% is a big jump in demand And indeed I was overwhelmed.
And if I look at my timetable I see that the meltdowns started exactly at the time that 2 eyed vision came back. At that point, however, I was so over fatigued from being revved up and not being able to sleep that it caused all these meltdowns. And at that point I realized I could get some temporary help from the meltdowns. I realized I had had some suicidal thoughts for a bit also coming from the fatigue, and the lack of sleep was starting to become a problem I needed to address. So those three things were red flags that it might be a good time to get some (so-called) help.
I realized that, talked to my brain-injury coach. She agreed, so I started entering the mental health system. And that was extremely retraumatizing, as I detailed in my last post: actually getting the help caused the psychosis.
So now I have to convince the doctor that I wasn't getting help for the psychosis; I was getting help for the meltdowns and the lack of sleep. But I will do that, I am good at convincing doctors. I will come back off the meds in about 2 weeks and life will go on. Because like Duane from Discover & Recover says; psychosis is an event, not a person, and this is what caused my event. Not a disease process, but some life situations. This is a temporary thing and sometimes it might help to use some temporary drugs, AND it doesn't require drugs, AND it doesn't require mental health labels.
In fact my friend told me to get my drugs from the brain injury doctor. But like I told my friend; though the mental health doctors only know about half the story of Psych drugs, the brain injury doctors only know about 10%. So it will be nice when more psychiatrists catch on that life events cause psychosis; that emotional distress causes psychosis, and not the other way around. And it will be nice when we as a society can help people through gaps in consensus reality with tools besides labels. And when the drug use can be fully informed.
***
Mad in America hosts blogs by a diverse group of writers. These posts are designed to serve as a public forum for a discussion—broadly speaking—of psychiatry and its treatments. The opinions expressed are the writers' own.
***
Mad in America has made some changes to the commenting process. You no longer need to login or create an account on our site to comment. The only information needed is your name, email and comment text. Comments made with an account prior to this change will remain visible on the site.