A new study published in the Cochrane Library, and reviewed by the Cochrane Dementia and Cognitive Impairment Group, examined the impact of music-based therapeutic interventions on individuals with dementia. After reviewing 17 studies, they found evidence that these interventions lead to a reduction in depressive symptoms for this population.
In a press release to Medscape Medical News, lead author, Jenny T. van der Steen, PhD, states,
"The take-home message for clinicians is that they can prescribe a musical therapy intervention as a way to improve depressive symptoms in dementia patients."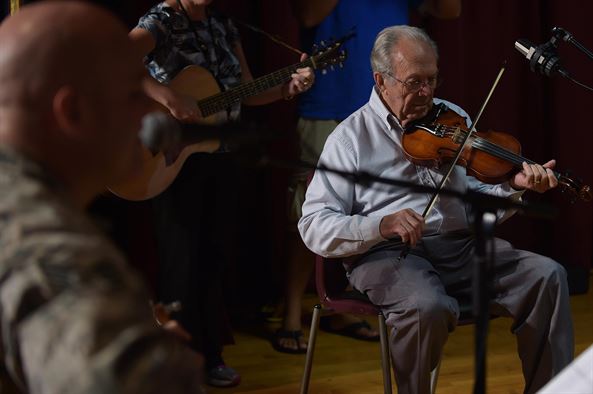 Depression symptoms are common in dementia and up to 40% of individuals with Alzheimer's are seen presenting with significant depression. Antidepressants are used to treat depression in this population, despite findings that there is little evidence to show the efficacy of these in treating dementia. Further, antidepressant use has been found to increase heart disease among the elderly, increase falls in individuals with dementia, and has been associated with sleep issues and cognitive impairment.
Although non-pharmacological interventions have received less attention, some techniques have been previously studied in this population, with prior evidence supporting physical activities and music therapy for agitation and other relaxation techniques for general elderly populations. Music therapy has also been recommended for reduction of cognitive decline, agitation management, as well as for pain management and promoting social behaviors.
For this study, two researchers conducted a review of the literature through major healthcare databases specifically targeting studies that assessed the impact of a music-based intervention on quality of life, negative affect, behavioral problems, social behaviors, and cognition. Studies were selected if they were randomized controlled trials looking at any of the aforementioned issues and if the intervention included at least five sessions.
Their results yielded 17 studies, with 16 of these contributing data from a total of 620 participants for the meta-analyses. The researchers found significant discrepancies in the methodological quality of the studies, which lead to their uncertainty about the effects of this intervention on all of their outcomes.
Results showed "moderate-quality" evidence that music-based therapy reduces depressive symptoms, however, they also found that these do not decrease agitation or aggression. In addition, they also found "low-quality" evidence that these interventions have little to no effect on emotional well-being, quality of life, behavior problems, cognitions, and social behaviors.
Despite lacking some confidence in their findings due to methodological issues, the researchers state, "Further trials are likely to have a significant impact on what we know about the effects of music-based treatments for people with dementia, and so continuing research is important."
****
van der Steen, J. T., van Soest‐Poortvliet, M. C., van der Wouden, J. C., Bruinsma, M. S., Scholten, R. J., & Vink, A. C. (2017). Music‐based therapeutic interventions for people with dementia. The Cochrane Library. (Full Text)