A new study, published in the Community Mental Health Journal, explores the impact of attending English Hearing Voices Network self-help groups on social, emotional, and clinical well-being. The results of the survey suggest that attending voice hearing groups provides a venue for meeting other voice hearers, support that voice hearers do not receive from other services, and a safe and confidential space where voice hearers can talk about difficult experiences. The researchers, led by Eleanor Longden from the Institute of Psychology, Health, and Society at the University of Liverpool in the UK, write:
"It is intuitive that providing a safe, communal forum in which individuals assemble to share coping strategies, validate one another's stories, and exchange wisdom and insights, can reduce shame and isolation and expedite a greater sense of acceptance for an experience that is both distressing and highly stigmatized."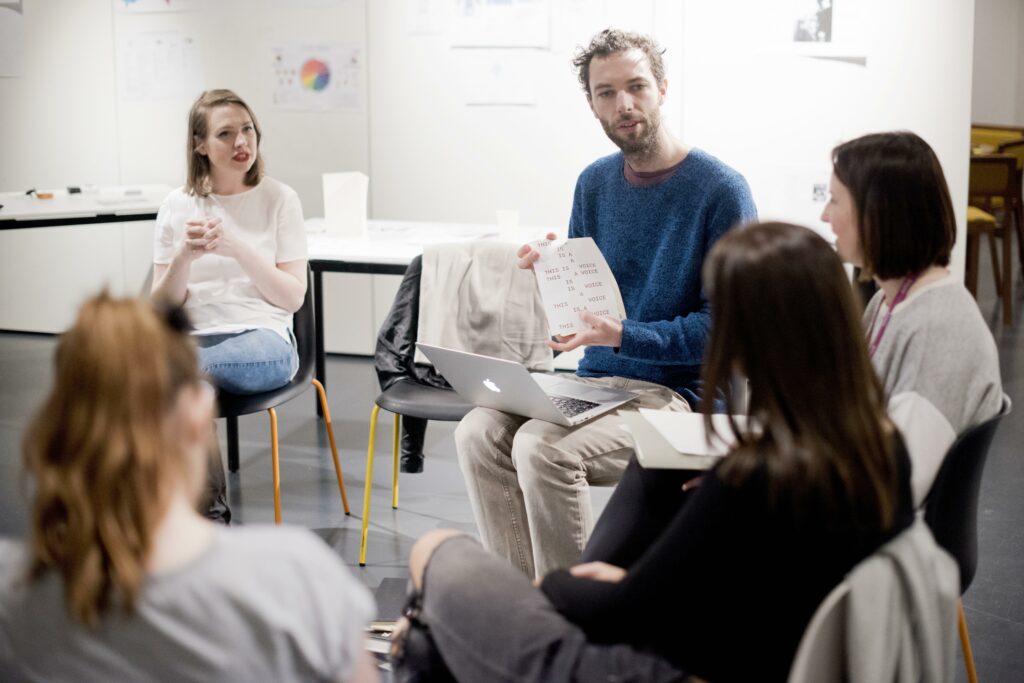 According to the researchers, "The English Hearing Voices Network (HVN) is a psychiatric service-user/survivor led organisation that promotes the needs and perspectives of individuals who experience voice hearing." The English HVN was established in 1988 and based on work by Marius Romme and Sandra Escher. It is part of a global Hearing Voice Movement that, the authors report, "identifies itself as a reformative social movement that privileges narrative and lived experience as a primary evidence source."
Self-help groups, or 'hearing voices groups,' are an important part of the HVN. The groups are user-led as members are considered experts by experience. Also, the goal of hearing voices groups is not to stop voice-hearing, but to understand and make meaning of the experience. These spaces are important as stigma around voice hearing can increase distress in voice hearers.
Despite the increasing prevalence of HVN self-help groups, there has yet to be a systematic evaluation of these groups. Therefore, the researchers sought "to provide the first quantitative survey of HVN self-help groups in order to assess members' perceptions of their impact and effectiveness."
The researchers designed the Hearing Voices Group Survey self-report questionnaire to be used in this study. The survey collected information on participants' experiences in the group, impact of group membership on participants' lives, and the effect of the group on participants' emotional well-being. The researchers recruited from 62 community-based English HVN groups and received survey responses from 101 individuals. The majority of respondents were White British (82%), had received a 'psychotic disorder' diagnosis (89%), and were receiving mental health services (95%).
"In addition to coping with voice hearing itself, groups were also credited with helping to improve a variety of social, emotional, and clinical outcomes as well as providing a safe communal space in which to share experiences and meet others who have endured similar difficulties."
Respondents most highly scored the statements: "(1) that it is useful to meet other voice hearers in the group; (2) that groups provide support around voice hearing that is unavailable elsewhere; and (3) that groups feel like a safe and confidential place to discuss difficult things." Just over a third of respondents (35%) stated that the group was distressing at times. However, this did not seem to impact the positive gains they attributed to the group. Medication use was not found to be affected by group participation.
The researchers found associations between statements about the group experience and life experiences outside the group: "The group feels like a safe and confidential place to talk about difficult things" was associated with feeling more confident in asking for help, "The group has given me helpful information about making sense of my voice hearing experiences" was associated with more confidence during social situations, and "The group has helped me to cope with my voices" was associated feeling more hopeful.
The authors emphasize that, while more research is needed on HVN approaches, it is important that this research avoids "clinicalization" of voice hearer experiences "by emphasizing outcomes that voice hearers themselves value and identify as relevant" and aiming to understand "the broader socio-political issues of identity, citizenship, wellbeing, and empowerment."
The researchers also call for more collaboration between HVN and healthcare workers. They suggest that this would improve referrals from mental health services to HVN groups, as well as improve professional's knowledge and confidence in working with voice hearers.
****
Longden, E., Read, J., & Dillon, J. (2017). Assessing the impact and effectiveness of Hearing Voices Network self-help groups. Community Mental Health Journal, 1-5. Advance online publication. doi:10.1007/s10597-017-0148-1 (LINK)