From CBS Baltimore: "Baltimore city and state leaders have taken the late Congressman Elijah Cummings' legacy and applied it to the statewide movement of healing those affected by trauma.
Now Charm City is a role model for the rest of the state, and potentially the entire country, through the Healing Maryland's Trauma Act.
Councilman Zeke Cohen helped bring this dream to reality in Baltimore City as the area erected its own Trauma-Informed Task Force.
'Let the healing begin in every corner of our state,' said Cohen as he announced the signing of the statewide bill aimed to carry out this work.
. . . Agency leaders across Maryland will be trained in trauma response and trauma-informed services will be provided to young people affected by hardships.
Cohen said, in doing so, lives will be saved.
'We know that trauma literally makes people sick,' he said. 'Accumulated adverse childhood experiences take years off of your life.'"
Full press conference remarks (video) →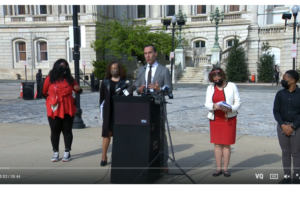 ***
Back to Around the Web