"I just want my life back…the conservatorship should end. I shouldn't be in a conservatorship if I can work and provide money and work for myself and pay other people—it makes no sense…. basically, this conservatorship is doing me way more harm than good."
—Britney Spears, June 23, 2021
For the past 13 years, the public and press have wondered how Britney Spears really feels about living under a guardianship, a legal arrangement in which an appointed third party cares for the needs of and makes decisions on behalf of an incapacitated person.
Now we know. She feels "traumatized."
Spears, who'll be 40 in December, has been under the conservatorship since 2008, when the mental health struggles chronicled by press photographers led her father, Jamie Spears, to request temporary and then permanent legal oversight over her money and personal life. On June 23, at an online court hearing livestreamed to the news media, the pop star asked Judge Brenda Penny in no uncertain terms to end the arrangement.
Her passionate testimony was filled with depictions of emotional and physical abuse and financial exploitation by her father and others appointed to oversee her life and well-being. If true, the situation she described has been as bad or worse than any "conspiracy theories" advanced by #FreeBritney activists:
Being forced to perform, sometimes seven days a week without a break, even with a 102-degree temperature. Forced psychiatric treatments, including drugging with dizzying doses of lithium and constant monitoring. Forced to use birth control and refused the right to marry and have a baby—or even travel in her boyfriend's car. Isolation, threats, and retaliation if she does not comply with demands. Warnings to keep quiet about her misgivings. Failure to inform her of her right to end the conservatorship. And, adding insult to injury, being forced to pay the salaries of those she claims are harming her. Comparing her circumstances to sex trafficking, Britney told the judge she wished to sue her conservators and be allowed to tell reporters "what they did to me."
Not So Unusual
The transcript of her testimony serves to vindicate the concerns of fans and disability rights advocates. It also highlights not only the issues that make guardianships in general problematic, but also the disrespect and dehumanization faced by people who, like Britney, have been labeled mentally ill and placed in the mental health system against their will.
Almost by definition, guardianships such as the one Spears is under can be infantilizing, removing ordinary civil rights and substituting the guardians' choices for the ward's.  According to Spears, she is constantly directed what to do and feels "like I work for the people whom I pay." Though her conservatorship is supposed to protect her, she said any unapproved actions are punished by removing privileges such as seeing her children or taking a vacation.
Spears also claims she was pushed into four months of "rehab" after she disagreed with conservators over a choreography routine, subjected to  10 hours a day of non-optional therapy meetings with unfamiliar doctors, and never left alone even to dress. The "treatment" involved forced drugging with lithium, which she said left her virtually unable to function. And she's been required to attend therapy three times a week in a public building, where "scummy paparazzi" photograph her leaving sessions in tears. This type of adversarial mental health treatment has been documented in countless personal stories on Mad in America and elsewhere.
So has a lack of credibility; mental health patients' complaints of drug side effects or psychiatric abuse are often not believed.  As Britney told the judge, "The last time I spoke to you, by just keeping the conservatorship going, and also keeping my dad in the loop, made me feel like I was dead—like I didn't matter, like nothing had been done to me, like you thought I was lying or something."
Of declining to speak to the press or tell fans of her woes, she explained, "It's embarrassing and demoralizing what I've been through. And that's the main reason I've never said it openly… because I honestly don't think anyone would believe me."
Perhaps most disturbing was her allegation that the conservators won't let doctors remove her IUD so she can try to get pregnant with her longtime partner. Some commentators have compared this type of medical control to forced sterilization, historically practiced on people deemed "unfit" or mad and codified in the notorious Buck v. Bell case involving an institutionalized woman named Carrie Buck.  Deemed "feeble-minded" and "promiscuous," Buck was sterilized after the Supreme Court ruled that "public welfare" superseded her individual rights.
Media Scrutiny  
As with the revelations in February's documentary "Framing Britney Spears," the press reaction to her speech was swift and shocked, with network talking heads and commentators from conservative talk show host Megan McCain to the liberal legal columnist for The Nation now calling to #FreeBritney. Major media outlets and politicians alike noted the links between Spears' case and the larger issues of disability and reproductive rights.
MSNBC anchor Joy Reid featured the hearing in her "The Absolute Worst" segment, reporting, "Britney Spears' case of alleged conservatorship abuse could happen to anyone," and pointing out that guardians control at least $50 billion in assets. Reid cited violations such as placing a DNR on an elderly man who did not want to die, and summed up, "Britney's case is getting the scrutiny it deserves, and maybe it will spark changes to a toxic system much in need of reform. Free Britney!"
Britney's claim that she is forced to use contraception came in for particular criticism. For example, a New York Times story on the case quoted attorney and reproductive rights advocate Ruth Dawson, who explained that whatever the conservators' rationale, "Forcing someone to be on birth control against their will is a violation of basic human rights and bodily autonomy, just as forcing someone to become or stay pregnant against their will would be." A health law scholar told the Times, "It's unspeakable."
One thing the media have yet to reflect on is their own failure: Spears said her family lied about her to the press, including about what she described as a months-long stay at a psychiatric facility and that—unlike what has been reported—she had not stopped taking her regular medication and did not go willingly. She also admitted that postings on her perky Instagram account, where she's claimed she is happy, reflected "denial"—an effort to "fake it till you make it." Why were outlets so quick to believe the spin control? And if, as the New York Times reported, records show she has been trying to end the conservatorship for years, why is that information coming to light only now?
What's Next?
One would think that, after hearing Spears' allegations and desire to sue her family and conservatorship team, the judge would call for an investigation. But at press time, nothing further had happened. For Britney to dissolve the conservatorship, her next step is to file official paperwork requesting that. (She has reportedly been asking her attorney to do so for some time.) In the meantime, the judge can consider her demands for changes, including allowing the star to choose her own attorney and therapist.
Even if Britney does file, her independence is far from assured, according to lawyers quoted in press interviews on the matter.
To be removed from guardianship, a ward "would have to state facts showing that the conservatorship is no longer required or that the grounds for establishing the conservatorship no longer exist," family law attorney Alexander Ripps told the BBC. But showing one is capable of managing one's life is not easy to document when control over that life is removed. Another lawyer, Christopher Melcher, wondered, "Can she bring in acquaintances that have seen her daily activities, who can attest that there's been no erratic behaviour? Or has she been isolated so much that she doesn't have any of those favourable witnesses?"
This Catch-22 is complicated by the fact that Britney stated numerous times that she is unwilling to undergo the evaluations usually required to terminate a conservatorship. As she put it, "I don't feel like I should even be in a room with anyone to offend me by trying to question my capacity or intelligence, whether I need to be in this stupid conservatorship or not. I've done more than enough."
Also, if—as is likely—her conservators challenge her request, it could lead to protracted litigation. Sarah J. Wentz, an attorney specializing in conservatorships, told Variety "Trials can take years…. I would imagine this would be a case with a lot of depositions, so you're talking about a full-blown trial."
And if a court battle ensues, her family and other guardians may have the upper hand in the "he said/she said." Because Spears has a mental illness diagnosis, they (or a hired doctor) could argue her testimony is a sign of anosognosia, or being unaware that one is ill. They could describe her abuse allegations as paranoid delusions. And they could portray her rage, and admission that she cries every day, as signs she may be at risk of harming herself or others, criteria often used to continue involuntary psychiatric treatment.
As for the forced contraception, it is probably illegal. According to the Times, it is rare in a conservatorship and despite America's "dark history… more recent rulings and legislation suggest it would violate a basic right."
On the other hand, according to Wentz, Britney can indeed sue her conservators for breach of fiduciary duty: "If certain statements that she made proved that they did things in their own self-interest to line their pockets versus hers, that's an easier case to prove than some of the softer issues, which are really hard to prosecute on because they will say that they were trying to act in her best interest."
Larger Lessons
Whatever the outcome, one thing is sure: Britney is using her voice to assert her competence, her rights, and her wishes. And, at least by some, it's being heard. But as she told the judge, many people out of the spotlight are in the same boat: "We can sit here all day and say oh, conservatorships are here to help people. But ma'am, there is a thousand conservatorships that are abusive as well."
And that includes those guardianships overseeing disabled people who can't work and who struggle with everyday tasks. In a Twitter thread about Spears' statement, peer-support network Project LETS stated, in part: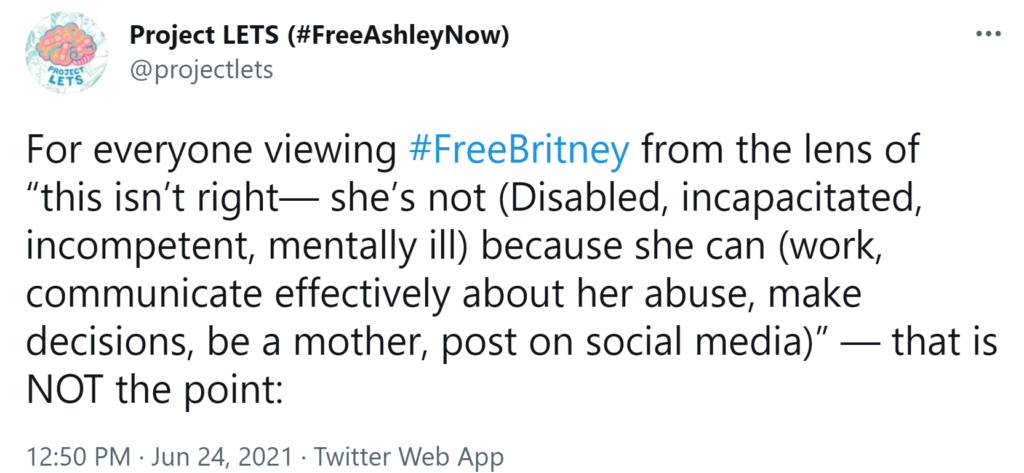 The saga of Britney Spears illustrates how vital it is for the courts and press to give a platform to the voices of people with lived experience in the mental health system and their advocates.
It also shows the need to overhaul a system that government and media reports alike have found to be minimally monitored. Richard Calhoun, co-founder of the Coalition for Elderly and Disability Rights, an advocacy group focused on human rights of those under conservatorship, told Mad in America, "The courts in general and the LA Court in specific provides so little oversight, a court-appointed professional can routinely submit invoices billing more than 24 hours per day and nobody raises a red flag saying wait a minute, this is not even possible. Only when the general public realizes they could be the next victim… will the widespread profitable abuse of conservatees stop."
In the meantime, said his CEDAR co-founder Linda Kinkaid, MPH—who described guardianships as "civil death"—"Britney's case is definitely moving the needle on conservatorship in California. The change is not because one person, in this case Britney, addressed the court. The change is driven by civil rights advocacy and media coverage. For the first time, the average person understands."
Editor's Note: At press time, Britney Spears' attorney had not yet filed the official paperwork to end her conservatorship. But on June 30, Judge Penny declined Britney's request, filed in fall 2020, to remove her father Jamie Spears as co-conservator of her finances. The next day, recently confirmed co-financial conservator Bessemer Trust asked to resign from the role after learning that Britney's conservatorship is not voluntary. Meanwhile, Jamie Spears has called for an official probe of his daughter's allegations (which, seemingly, would mean having his own actions investigated). The next hearing in Spears' case is expected on July 14.