From CounterPunch: "The pernicious mainstream narrative that dissent is a mental health problem crops up in the strangest places. Soviet commissars deployed it against protesters, whom they packed off to mental hospitals, mostly in the 1970s. This abuse then received lavish attention in the western media, which portrayed it, amid great hysteria, as more evidence of brutal communist totalitarianism. But in the U.S. something similar, though perhaps more subtle, was going on. Here, the notion that dissent derives from traumatic stress or neuroses achieved common currency toward the end of the Vietnam War.
That was when dissenting POWs were repatriated – to a country averse to hearing their criticisms of the war. Instead, U.S. media, politicos and military bigwigs pathologized these protesters, implying that they were weak and had been tortured into supporting the North Vietnamese. Or they had been brainwashed – something communists supposedly excelled at. The word 'trauma' was bandied about, and the proper place for these protester's views was deemed the psychiatrist's office.
A new book, Dissenting POWs, by Tom Wilber and Jerry Lembcke assails this nonsense that protest is pathological, by detailing how such rubbish littered public discourse since the late 1970s. The book announces its aim: to restore 'to proper prominence the record of antiwar voices within the POW population.' A big part of that is removing the mental illness smear, which has enabled interested parties to smother critiques of war, critiques that are based on politics and morality, not an emotional debility. The chief interested party is the military, but there's also the rest of the imperial government and its stenographers in the media.
. . . [Iraq Veterans Against the War (IVAW)] confront the legacy of the medicalization of dissent, dating from the Vietnam War era. As one anti-Iraq-war organizer put it: 'Everywhere we go, all people want to talk about is PTSD.' It's a great distraction. But the very fact that IVAW came into being contributes to defeating the toxic lies about pathology. The mere existence of such antiwar veterans' groups announces to all that knowing right from wrong is not a medical condition."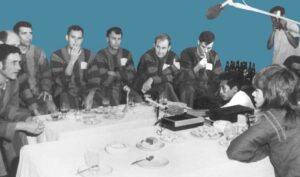 ***
Back to Around the Web