I was recently contacted by a very distraught mother (through my practice as a holistic psychiatrist). She told me the story of how her son (let's call him Jason) had started having problems with attention and focus. Like mothers are encouraged to do in our culture, she took Jason to a psychiatrist who diagnosed him with ADHD and started him on a stimulant medication.
The medication seemed to help at first, but then Jason's mother noticed that he was actually doing worse than before he had started the medication. Eventually her son started having severe insomnia, became constantly irritable, and then started acting very bizarrely and saying that he was the son of God. Jason's mother did what she was encouraged to do and brought her son to the local emergency room. There, Jason was thought to be manic, was diagnosed with bipolar disorder and was started on a mood stabilizer and an atypical antipsychotic medication.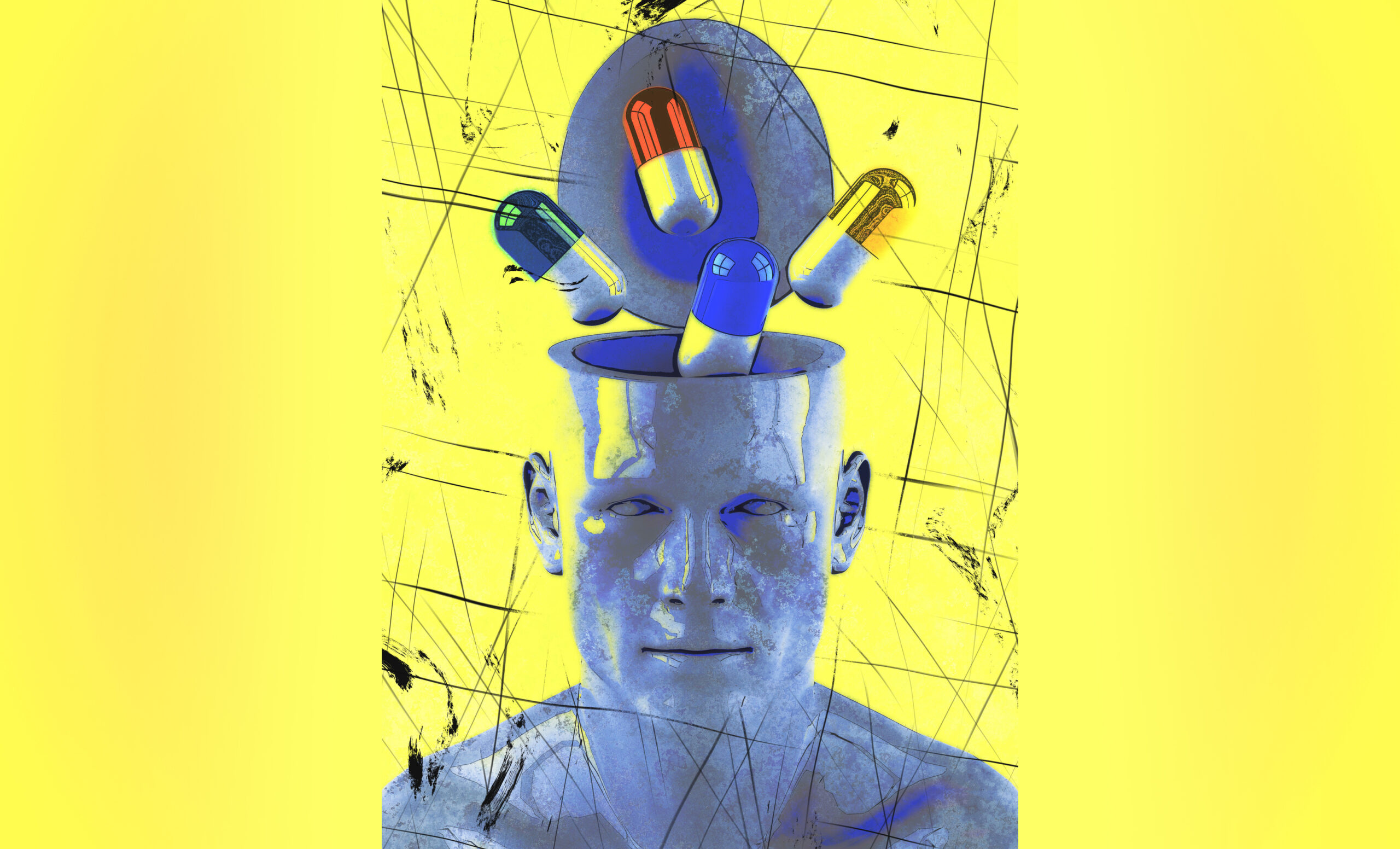 When Jason was discharged from the hospital several weeks later, he was no longer recognizable. He had gained 30 pounds and could barely speak. He appeared zombie-like and frequently talked about suicide. Jason's mother contacted me because she had read about holistic psychiatry and wanted to know if I would be able to help.
I have heard variations of this story countless times. Sometimes the diagnosis is different, and the medications are different, but the course is the same. Another common version of this story involves someone who had experienced symptoms of anxiety or depression and had been prescribed an antidepressant medication, which subsequently induced manic symptoms and then led to a bipolar disorder diagnosis.
Despite the details, the general theme is the same: someone starts having "psychiatric symptoms," they are diagnosed with a psychiatric disorder and prescribed medication. Due to the medication, they experience even more severe psychiatric symptoms and then they are diagnosed with another, and usually more severe, psychiatric disorder. The story continues with more and more medications and diagnoses being added over time. In addition, patients also begin experiencing side effects to the medications, which are often labeled as new symptoms, leading to even more diagnoses and of course even more medications. Once the vicious cycle of medications, symptoms, and diagnoses is started, it's like a runaway train.
If I were a conventional psychiatrist, I would say that the case described above illustrated that ADHD and bipolar disorder are "comorbid conditions," meaning that they frequently occur together in the same person. Conventional psychiatrists use the DSM-5 ("psychiatric bible") to diagnose psychiatric conditions based on a checklist system. If you have x, y, and z symptoms, then you have that disorder.
It is extremely common that one person will meet the criteria for and be diagnosed with multiple psychiatric disorders. In fact, I may have only seen a handful of patients in my entire career who had only been diagnosed with one psychiatric disorder.
Once a diagnosis is made from the checklist, medications are then prescribed to treat the so-called disorder and symptoms. This is regarded as a rational approach by most conventional psychiatrists.
I will now tell the same story above, but from my (holistic) perspective. Jason grew up in a loving home. However, when Jason was 5, he was molested by his uncle and his family was not aware. This impacted Jason deeply, and in fact it affected him on a mental, physical, and spiritual level. The trauma was never processed and hence it continued to re-appear in Jason's life on all three levels.
Jason blamed himself for the molestation and subconsciously carried around the belief that he was a bad person who didn't deserve love. This subconscious belief was expressed in multiple ways, including in relationships with others and even in the unhealthy food choices that Jason made. Eventually, the physical impact became so severe that Jason's body began giving him signs that things were not okay. His brain stopped functioning smoothly and he had problems focusing and maintaining attention.
These bodily messages are usually called "symptoms" by psychiatrists, but they are actually the body's way of communicating information about being in distress. So-called symptoms are opportunities and invitations from the body to change, learn, and grow.
Unfortunately, these messages were interpreted as symptoms of ADHD by Jason's psychiatrist, who assumed the cause was purely biological, and Jason took the prescribed stimulant medication. Since psychiatric medications are only intended to treat symptoms and do not address the underlying causes, they only temporarily mask the symptoms, at best. In Jason's case, not only did the stimulant medication not actually treat the underlying problem, but it caused many side effects.
Chronically consuming a stimulant medication can cause numerous health problems as the body attempts to maintain homeostasis. In this case, the stimulant ultimately caused the exact symptoms associated with bipolar disorder (insomnia, irritability, and psychosis). Jason's presentation to the emergency room was likely due to a combination of medication side effects and the untreated original issues. When the initial messages from someone's body are ignored, the symptoms tend to progress in severity, and that is what happened in Jason's case.
After being diagnosed with bipolar disorder, Jason was started on a mood stabilizer and an atypical antipsychotic medication, which is the standard protocol in conventional psychiatry. Unfortunately, the first mistake was replicated again, and hence not only did Jason not feel better, but he felt significantly worse. Mood stabilizers and antipsychotics do not actually treat the underlying issues and come with tremendous side effects. Again, Jason's body's pleas for help were ignored and powerful medications were loaded into his body, causing his obese, zombie-like state.
Feeling horrible and desperate, many patients in Jason's shoes beg and plead to stop taking their medications. However, these pleas are usually labeled as "non-compliance" by their psychiatrists and family. In addition, if Jason were to try to stop his psychiatric medications, he would likely experience severe withdrawal that could look like worsening psychosis or even suicidal thoughts. However, his withdrawal symptoms would be labeled by conventional psychiatrists as a "relapse" and proof that Jason needed to continue taking these medications for the rest of his life.
In Jason's case, he was lucky that his mother found another option. However, the sad reality is that most patients aren't so lucky.
When Jason's story is viewed from a holistic perspective, it's clear that being molested at the age of five and not sharing this with anyone impacted him profoundly. We know that unhealed and unprocessed trauma can lead to psychological, medical and spiritual problems until it's appropriately addressed.
A holistic treatment approach to Jason's symptoms would look quite different from a conventional, medication-focused approach. As a holistic psychiatrist, I would prioritize healing Jason's trauma. In addition to implementing psychotherapy, I would recommend making dietary changes to nourish Jason's brain and body and promote healing. I would also work with Jason to re-connect to his own body, his family, his friends, his community, and his spirit.
I have worked with many patients with very similar stories to Jason, and I have found that using a holistic approach allows me to partner with them on their healing journeys. Instead of simply prescribing medications to treat symptoms, we take a deep dive into their issues to understand what is happening inside their bodies, minds, and spirits. By helping patients to re-connect with their authentic selves, I am able to walk with them to heal dis-ease and distress. Through a holistic approach, we are able to completely avoid medications altogether or stop the medications started by conventional psychiatrists.
In Jason's case, his initial problems with attention and focus can be traced back to unresolved early childhood trauma. I have found that trauma and other stressors are frequently at the root of many eventual psychological and medical issues. Looking at Jason from this perspective, one can easily see why medications would never be the solution. Medications are not only ineffective at treating trauma, but they can often further worsen the disconnection caused by the initial trauma.
This story highlights a powerful departure from conventional psychiatric thinking. Psychiatry sells us the story that people have biologically-caused psychiatric conditions which should be treated with psychiatric medications. They perpetuate a myth about the prevalence of severe mental disorders and the need for more and more medications to treat them.
However, this is the exact opposite of the truth. I believe that psychiatric disorders are actually collections of messages that something on a deeper level needs to be addressed. They are a call to arms by the body to help heal an unresolved conflict. In addition, not only do psychiatric medications fail to treat the unresolved issue, but they only further perpetuate ignoring and repressing the issue, which means the body has to send louder and louder messages to be heard. On top of that, they cause side effects which are then interpreted to be even more severe psychiatric disorders, requiring even stronger medications.
When viewed through the holistic lens, one can see with clarity that conventional psychiatry will never actually be effective. Instead, it only perpetuates the very problems that it purports to treat.
***
Mad in America hosts blogs by a diverse group of writers. These posts are designed to serve as a public forum for a discussion—broadly speaking—of psychiatry and its treatments. The opinions expressed are the writers' own.
***
Mad in America has made some changes to the commenting process. You no longer need to login or create an account on our site to comment. The only information needed is your name, email and comment text. Comments made with an account prior to this change will remain visible on the site.