From The New York Times: "The chair of the Columbia University Department of Psychiatry was suspended on Wednesday, 'effective immediately,' after referring to a dark-skinned model as possibly a 'freak of nature' on Twitter.
'Whether a work of art or freak of nature she's a beautiful sight to behold,' the department chair, Jeffrey A. Lieberman, tweeted on Monday in response to a photo of Nyakim Gatwech. Ms. Gatwech is an American model of South Sudanese descent; her fans refer to her as the 'Queen of the Dark.'
. . . In an email to his colleagues on Tuesday before he was suspended, he apologized for the tweet, describing it as 'racist and sexist.' He added that he was 'deeply ashamed' of his 'prejudices and stereotypical assumptions.'
'An apology from me to the Black community, to women, and to all of you is not enough,' Dr. Lieberman wrote in the email. 'I've hurt many, and I am beginning to understand the work ahead to make needed personal changes and over time to regain your trust.'
. . . 'We condemn the racism and sexism reflected in Dr. Lieberman's tweet and acknowledge and share the hurt, sadness, confusion, and distressing emotions you may be feeling,' Thomas Smith, the new acting director, and other leaders said in an email to staff on Wednesday afternoon.
Department leaders at Columbia called a meeting for faculty and staff on Wednesday afternoon to discuss the situation, and to announce that an interim chair would be named. Several hundred people attended the Zoom meeting, according to a person who attended, and the tone was serious and grave. The head of the hospital described the tweet as 'outrageous,' the person said."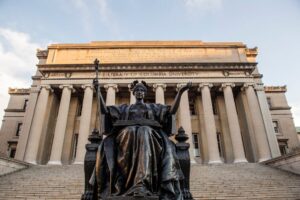 ***
Back to Around the Web